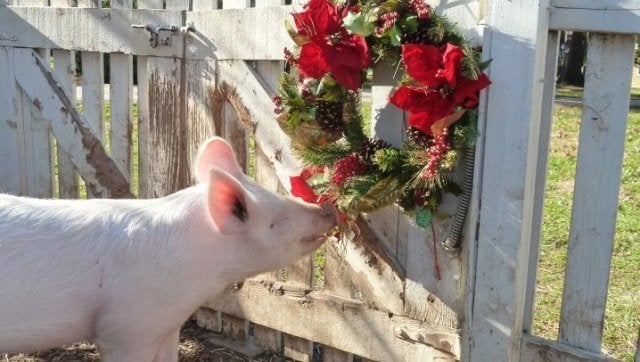 Jenny stepped quickly off the trailer into her new home, striding over to Jack, who seemed interested in the fresh arrival.
The two donkeys leaned their gray faces toward each other for an instant, then Jack followed her around a bit before Jenny trotted off, exploring the far ends of her fenced pasture.
The gray and white Jerusalem donkey became the 18th livestock resident of the new Burleigh Manor Animal Sanctuary and Eco Retreat in Ellicott City, but that's if you don't count the tabby cat, Barnie. She doesn't qualify as livestock, although she arrived recently with her buddies, Jack the Sicilian donkey and a big pale horse named Doogie.
Livestock is the speciality at this historic manor house with 10 acres, recently turned into Howard County's only haven catering chiefly to farm animals. There's a horse rescue in Lisbon and Frisky's Wildlife & Primate Sanctuary in Woodstock, which mostly takes in primates and wildlife, but Burleigh Manor appears to be the county's first animal rescue with this focus.
"I think this is just the way I was raised," said Lisa Davis, the proprietor, who grew up on a horse farm in Chester County, Pa., and did the horse show circuit as a child. "My parents loved animals. I'm for the underdog."
Many of the animals here -- horses, donkeys, mules, goats, pigs -- count as underdogs. Some came from good homes where their owners, for reasons of illness or life changes, could no longer care for them. Others were rescued from neglect or the slaughterhouse.
Six were saved from "kill pens" at auction houses in Pennsylvania and Maryland, where horses are sold for dog food.
"Some came with the stickers on their tush from the kill auction," said Lise McKinnon, who volunteers at the sanctuary. She has five cats and two dogs at home, and finds her weekly visits to Burleigh Manor help control her habit of adopting animals.
"It keeps me from getting a divorce," she said.
Davis has had little trouble gathering animals into her care. Through word of mouth and a Facebook page that she put up after she and her family moved into the house in June, she's been getting a steady stream of referrals to animals needing help.
The first two to arrive were Vogue, an aging black thoroughbred horse, and Pagan, a senior appaloosa. Davis heard from the granddaughter of the man who had them on his land in Waldorf. It wasn't a case of willful abuse, but of an elderly man who could no longer take good care of the horses.
When the granddaughter saw the animals -- underweight and stuck in a field of mud rather than grass -- she put out the word that two horses needed a refuge. Davis got the call.
Vogue lost the sight in her left eye because of an infection that went untreated too long, and Pagan is entirely blind, but both have adjusted nicely to their new pasture. As far as Davis can tell, Pagan is "very comfortable with his blindness."
He and Vogue have been living in the intensive feeding area, putting back much of the weight they had lost through neglect. The two share a pasture with Amir, a pale Arabian and Brisk, a brown horse who went by the name Brisk Interlude in his harness racing days. Too slow for racing, Brisk was probably overworked on farms, Davis said, then cast off to the auction lot.
Now he's getting ointments for his back and legs, and a food supplement to help his joint movement.
Brisk and most of the other animals share quarters on occasion with two goats, Faint and Alpie, who came to the farm as casualties of a divorce. Davis has a notebook she keeps for sanctuary business, with a sheet about Jenny, but Alpie ate most of that page.
Jenny was picked up last month in Relay, where she'd been staying with Joe and Jean Bennett. They were caring for the horse for Joe's sister, Margie, an Eastern Shore resident who was not able to care for Jenny any longer.
On the bright morning of her move, Jenny walked with Davis up the long driveway from the Bennett's barn, and with the help of a little coaxing and some apple treats, stepped right into the trailer. Margie Bennett was there, rubbing her face goodbye.
"I promise I'll come see you," she said.
It's not so sad a parting as it might be, she said, because "I know she's going to a good home."
Davis has been traveling in the past six months, hitching a trailer to a Lexus SUV and retrieving lost souls, sometimes with her father, Eddie Davis, at the wheel. She's been to western and southern Maryland, to auction lots in New Holland, Pa., to Dover, Del., and even back to her home turf of Chester County to retrieve a black Vietnamese pot-bellied pig name Arnie.
She's been working at this while shifting out of her life in the corporate world. Davis, who holds a doctorate from Hopkins in neuroscience and nutrition, still puts in one day a week at Medifast, the weight-loss products company based in Owings Mills, where she has worked as vice president of scientific and clinical affairs.
Two years or so ago, she started thinking about pursuing a course that was very different, but hardly out of character. When she mentioned her notion for an animal sanctuary to some of her old friends, she said, "they were all, like, 'we thought you would have been a vet or a farmer.' "
She incorporated the sanctuary in June, and in August it became a nonprofit. A web site went up in the summer, showing ways to "adopt" an animal through donationand offering tours. They're planning an "animal cam" so folks can visit online.
Centuries ago, the farm was part of the enormous estate of the Hammond family, who built the brick manor house in the early 1800s. Five Hammond family members are buried under trees and simple headstones out back.
Davis lives here with her husband, Dr. Lawrence J. Cheskin and their 11-year-old daughter, Libby, and Davis' father. It's a big center-hall manse listed on the National Register of Historic Places, with a gate house, smoke house, pool house and finished barn, but room for animals is quickly filling up.
Plenty of room remains left for smaller beasts such as sheep, goats and chickens, but Davis says the grounds are nearing capacity for the larger ones, who need a half to a full acre each.
"Although I am saving space for a cow," she said. "I love cows."
arthur.hirsch@baltsun.com ___
(c)2012 The Baltimore Sun
Distributed by MCT Information Services
Calling all HuffPost superfans!
Sign up for membership to become a founding member and help shape HuffPost's next chapter
BEFORE YOU GO
PHOTO GALLERY
ZooBorns Top 25 Cutest Baby Animals