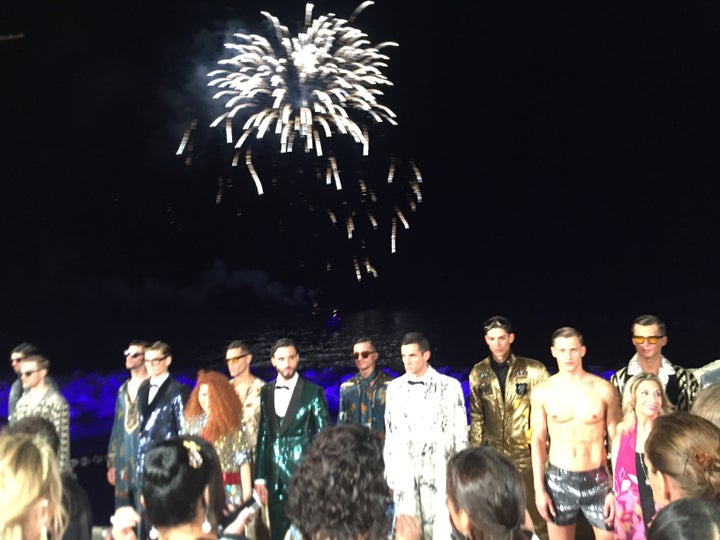 NAPLES, ITALY: It was all beads and embroidery, soaring headpieces and gilt capes under the stars of Napoli at the Dolce & Gabbana Alta Moda spectacolo. With suitcases stuffed with vintage and new pieces from various collections of Dolce & Gabbana I descended into the seaside city for four nights of what would remind me that burlesque is alive and well in haute couture.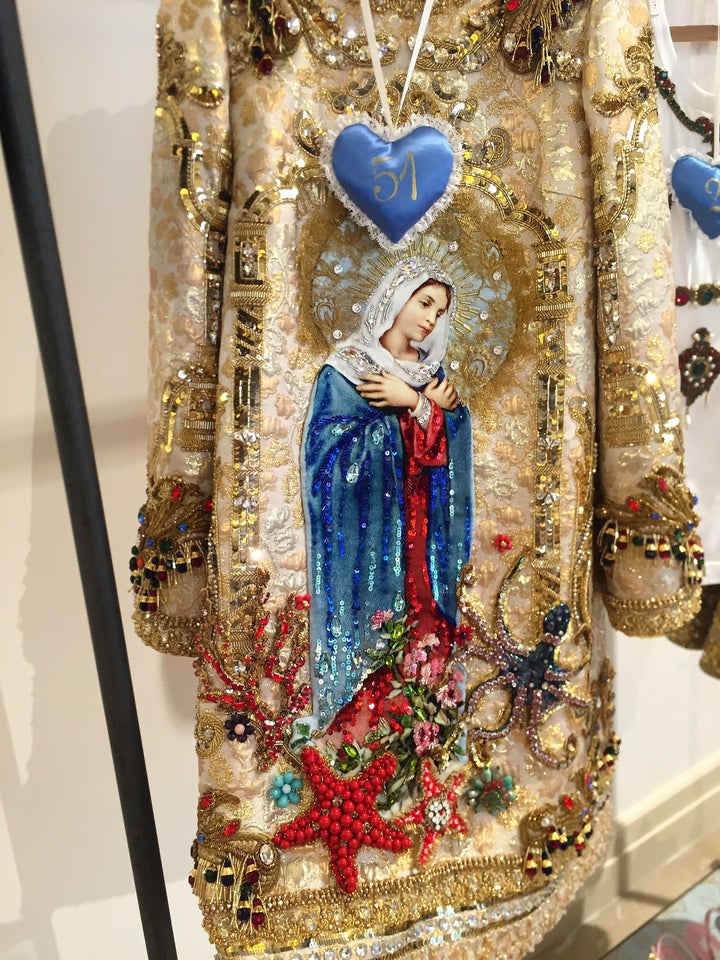 After checking into the Grand Hotel Vesuvio across from Castel dell'Ovo (Egg Castle and the oldest fortification in Naples) I ran down to the pop up store to check out just how much Dolce & Gabbana was inspired by burlesque. Did they even know they were?
The Financial Times said of the 30 year old company that they (Domenico Dolce and Stefano Gabbana) can "teeter towards pantomime." Which is really saying "parody" which is saying "burlesque." Overlooking the bay of Napoli were racks of Swarovski-embellished everything; purses, sandals, sunglasses, cell phone cases, scarves and tiaras; all accessories that any burlesque queen of note would have owned.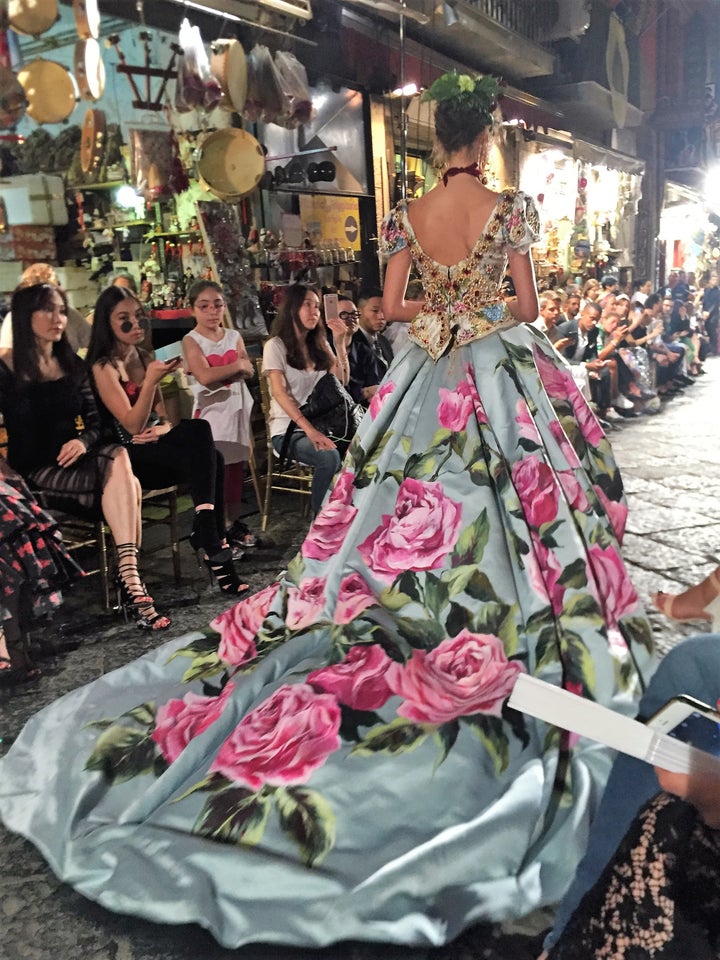 The very definition of burlesque is excess, over-the-top, humor and that which has a topical bent. There were accessories at the pop up celebrating all families, be it one with two fathers or one with two mothers.
Every good burlesque act has a gimmick.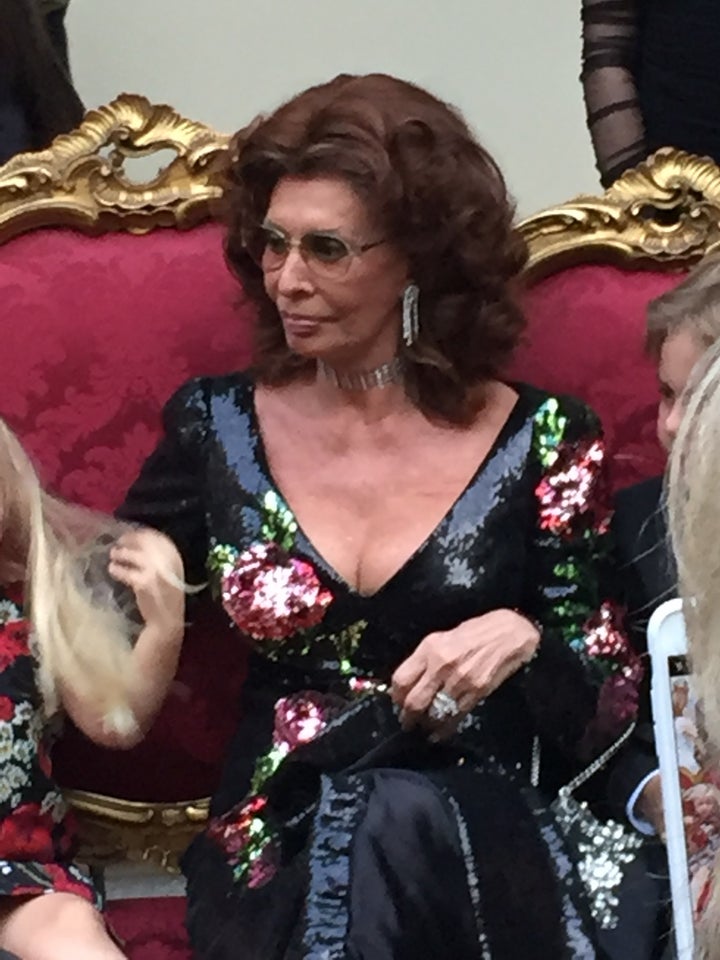 The Alta Moda clothes are part homage to D&G's muse Sophia Loren. The "gimmick?" Roses (Loren's favorite flower), Napoli (Castel dell'Ovo was embellished on at least one piece), the gold of the church and saints, some of which adorned the clothes. One cape I tried on was gold and entirely jeweled. It reminded me of a gown in my burlesque collection, hand-sewn by Blaze Starr that took her 6 months to make. She told me because of the weight "As soon as I got on stage I couldn't wait to strip. It was heavy."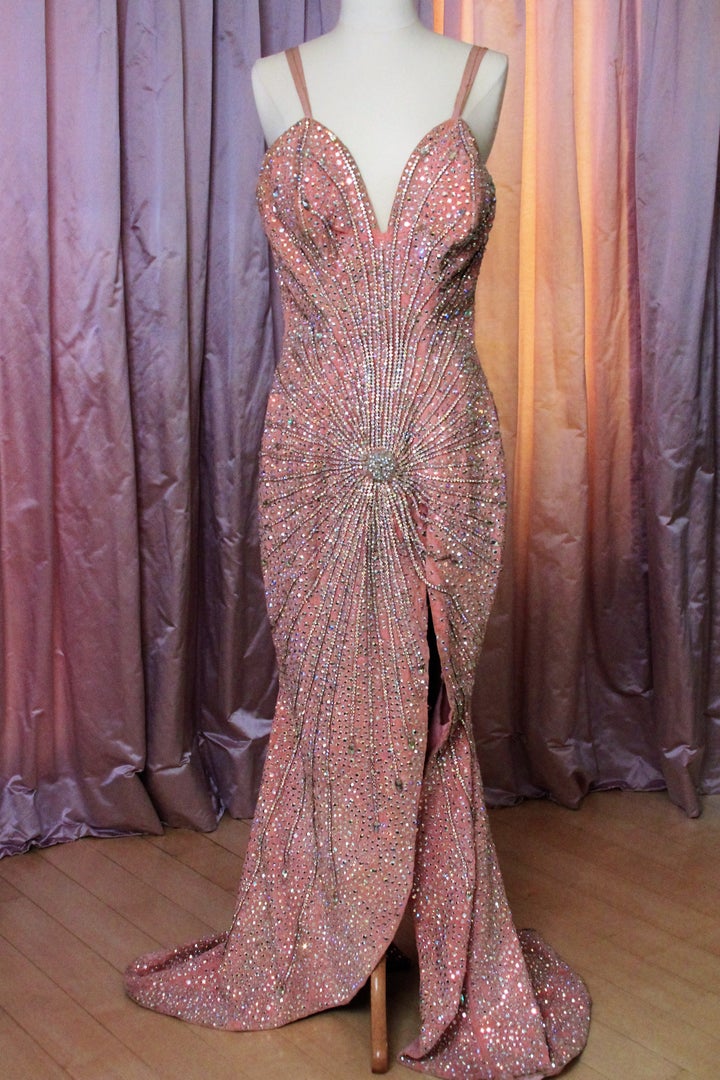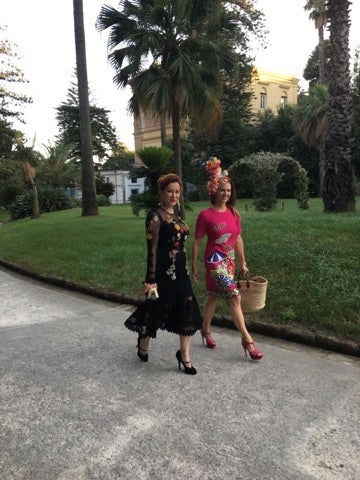 On our first night under huge portraits of Sophia throughout the years, from Domenico and Stefano's mood boards, guests mingled at the Villa Pignatelli, a neo-classic former museo, sipping over-sized saucers of Dom Pérignon that even a Dita Von Teese could have fit into. The Alta Gioielleria collection was a burlesque of a more refined jewelry with elaborate, colorful pieces everything from tomatoes to ballerinas. Comparing Dolce & Gabbana jewelry to Harry Winston might be compared to Broadway to burlesque. Drooling over numerous cases of jewels imitating (burlesque is imitation) everything from overgrown strawberries to sewing scissors, with matching watch shaped as a giant pincushion, to a stunning ring that had a pair of birds sipping at a round blue jeweled "bird bath." A piece that 1930s stripper Rosita Royce would have worn. Royce's gimmick was one of having live doves strip off her clothes by sewing seed into strategic locations. Other jewels at Dolce & Gabbana included giant chandeliers that an Immodesty Blaze might strip under.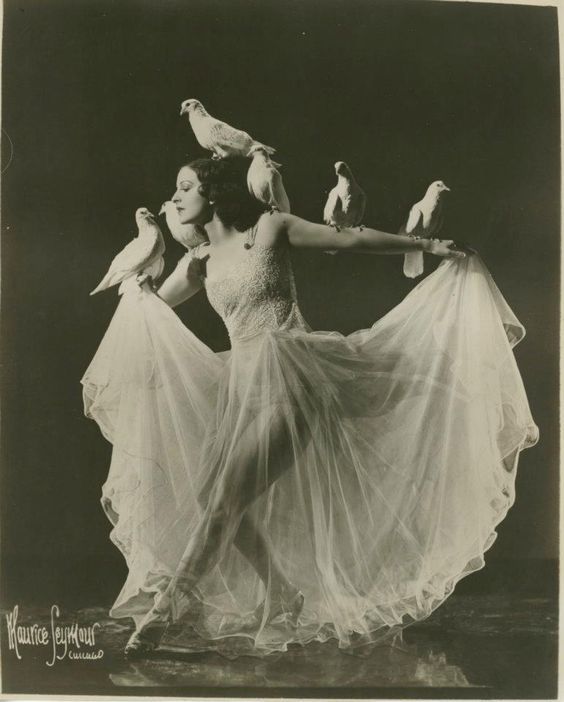 Via San Gregorio Armeno is in the heart of old Naples. The street is lined with artisan shops selling charming, elaborate nativity figurines. The area has a reputation for danger and tourism, like the burlesque clubs of days past, where some theatres sheltered in dim and dusty neighborhoods. But the Alta Moda show was well policed and safety was never an issue.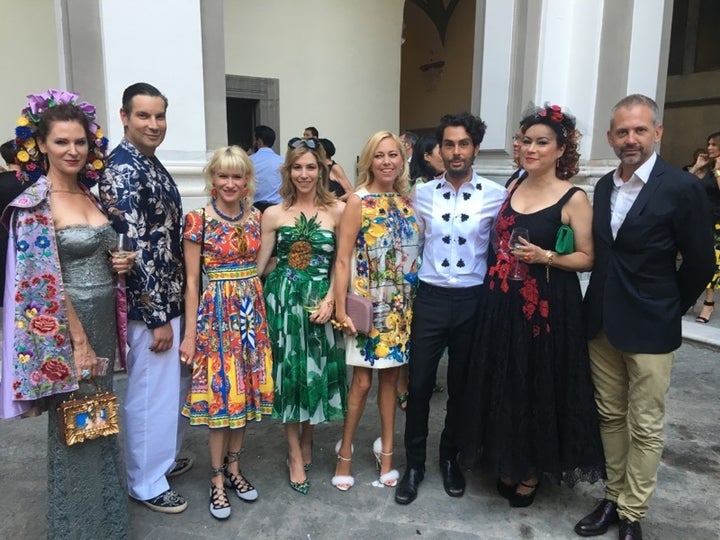 Guests started the evening sipping Prosecco in Chiesa di San Gregorio Armeno's courtyard amongst robed friars while awaiting the arrival of Sophia Loren who was being honored both by the designers and the citta of Napoli.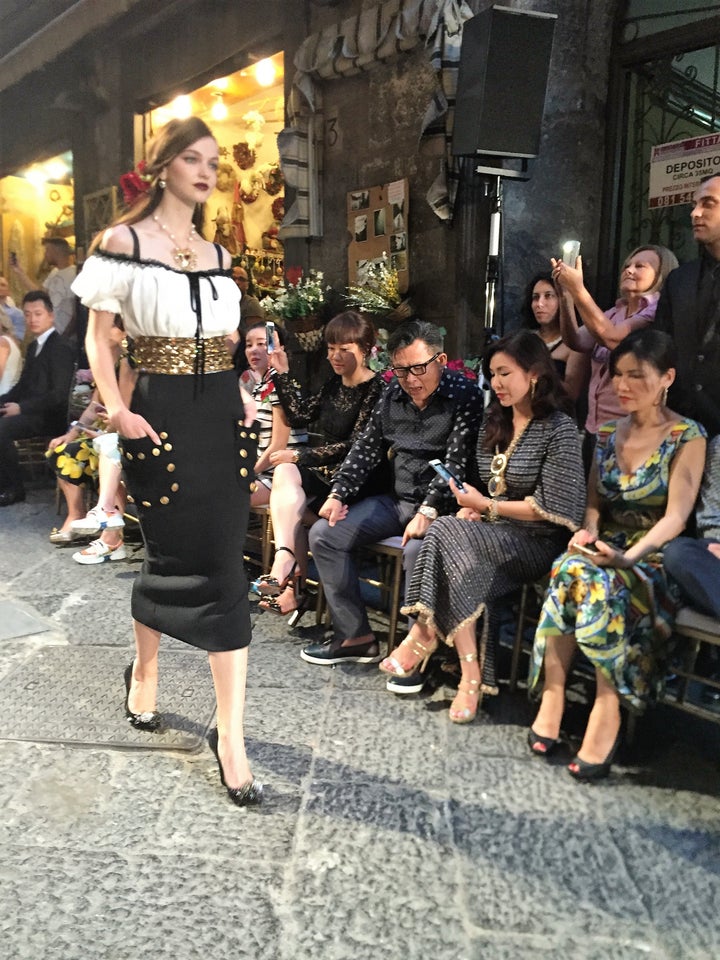 Hours later the Dolce & Gabbana clients watched as models sashayed down the narrow cobblestones where all enjoyed a front row seat. The clothes were perfection. There were elaborate headpieces (one the shape of a shrine. The next day I tried it on and it was lightweight and I think made of paper), some were veiled, others silk and ribbon. It and others were exaggeration and tease, stripped of all pretension to be serious. It was a wink and a nod to high fashion. Like burlesque icon of the 1950s Lili St. Cyr who once wore a 3 feet long confection of feathers, Vegas showgirl-style, before there were Vegas showgirls. (An aside, Lili was the first strip to strip on the Strip in Las Vegas). Other mannequins wore bejeweled crowns and tiaras that would make any burly babe beam.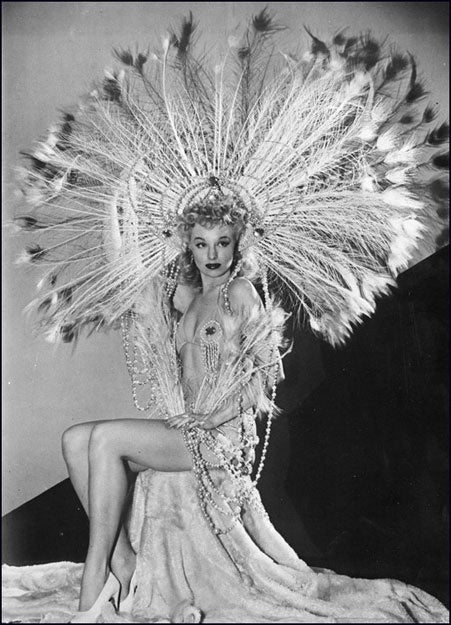 Some of clothes were inspired by Loren's film The Gold of Naples. There was a gold-encrusted cape, gold sequined dress amongst other multi-jeweled capes and gowns. As the music swelled over our heads the models sailed forth their encrusted heels glimmering over the grey stones, while artisans lining the streets cheered and neighbors hung off their balconies snapping photos. La Loren, deeply tanned and still incredibly alluring at 81 was ensconced on a red-velvet oversized throne.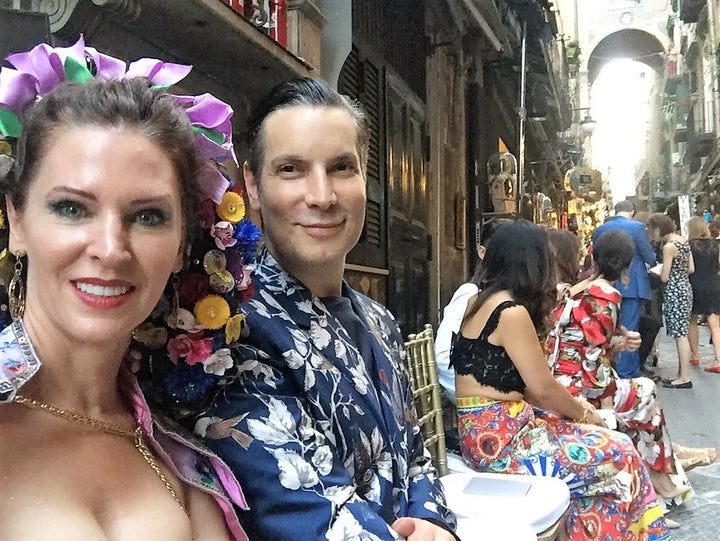 The production of a burlesque act in days gone by (and often still today) was usually sensational and glamorous, with just enough something different to make each performer standout. As Dolce & Gabbana clothes stand out for their whimsy, nod to southern Italian Catholicism and the Mediterranean woman, burlesque performers like Sally Rand were known for her giant ostrich fans, Blaze Starr for her variety of cats (panthers and mountain lions). There were a host of Divinas who stripped from giant water tanks. And modern muse Michelle L'amour's new act involves an elaborate shower on stage.
Like Dolce &Gabbana burlesque was beaded, corseted and embroidered. St. Cyr dressed as a Toreador. One of the shirts I wore this past weekend was from a former Dolce & Gabbana collection inspired by bullfighting and found for me by vintage store nirvana, Decades Founder Cameron Silver.
Many performers in burlesque – men include – hand sew their own costumes, or have them made by couturiers. Catherine D'Lish is one of today's foremost burlesque designers using jewels and ostrich feathers. Burlesque has always taken its inspiration from culture and history. Dolce & Gabbana have stated they are inspired by Italy's culture and history. Sometimes dismissed, sometimes marginalized, shiny and sequined, both burlesque and Dolce & Gabbana share a unique place in our society.
With an after party at the charming Borgo Marinaro amongst the trattoria serving sea food and pasta, Pink Martini crooned under the steamy night while a radiant Domenico Dolce charmed and greeted guests. The international crowd were themselves burlesqued, attired in sparkles and roses and everything Dolce & Gabbana.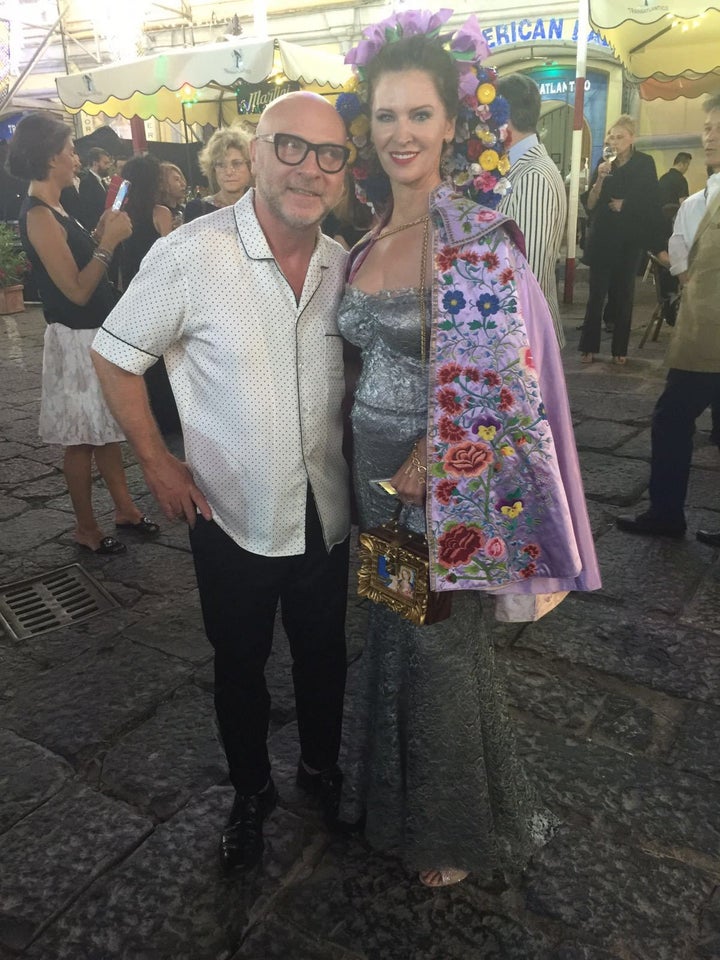 Men too are having their moment in burlesque and the next night it was time for the Alta Sartoria held at the Castello dell'Ovo conveniently located across from where I was staying (so only a short painful walk on blistered feet across the cobblestones. Actress and friend Jennifer Tilly was cheered on the red carpet when she changed into a new pair of couture shoes). Dom Pérignon in hand, the blaring of that old burlesque standard "Hey Big Spender" by Shirley Bassey got everyone in the mood.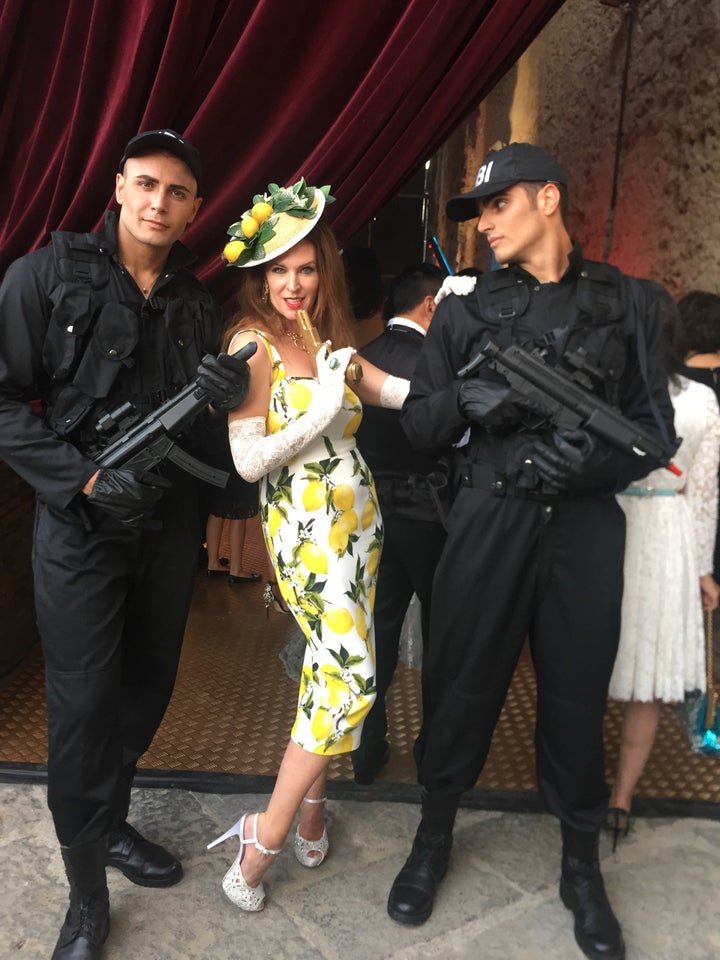 The night's theme was James Bond meets the early Renaissance. I was greeted by chiseled-jawed actors portraying FBI agents and ladies wearing extravagant headpieces (one had a boat in her head, very Marie Antoinette). The men's collection was equally luxurious and beaded. Ninety-three men swung their slim hips and teased with glimpses of hardened abs, in looks that included iridescent tuxedos, a tailored suit – for scuba diving! – tightly fitted motorcycle gear. The dressing gowns would have been the envy of Hugh Hefner with images of race cars speeding across the hunky models' figures.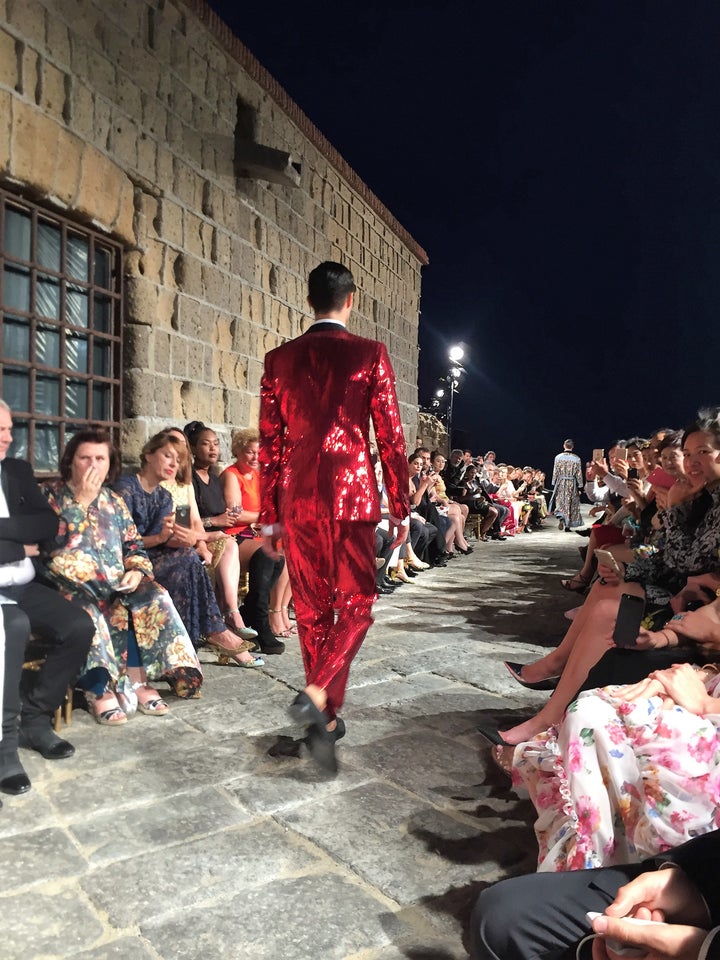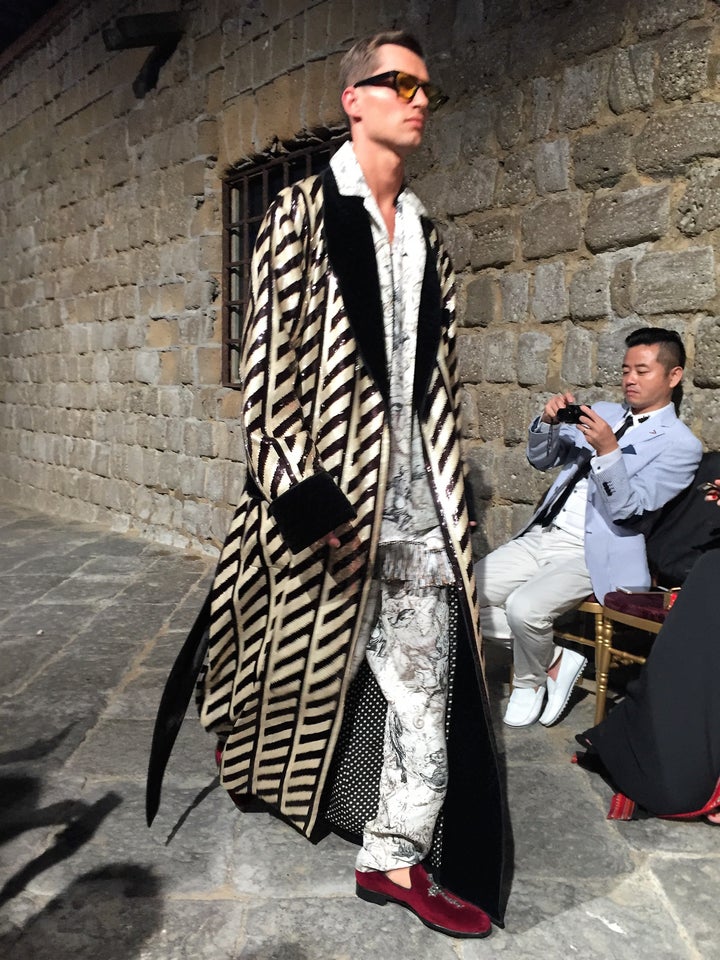 Again the clothes continued to burlesque the Italian – and in particular Napoli – culture. One bejeweled jacket was decorated with the image of Mount Vesuvius. Bassey continued to blare over the speaker system and I could imagine an excellent strip done to her "Kiss Me, Honey Honey."
There were crocodile accents everywhere, including in gift boxes for guests, delivered by the uber efficient Dolce & Gabbana team who had to sort through the nightmare of travel, security, and throngs of paparazzi and locals hoping for a glimpse of outrageous outfit and Loren. At the end of the show fireworks burst over the luxury tuxedoed-shoulders of the models as guests hopped up for an orgy of selfies. And though ultimately I did not see a single model, or guest for that matter, perform a strip Dolce Gabbana's Alta Mode was pure, tantalizing burlesque.
Dinner was served under the stars at the castle, the first time the City of Naples has allowed such an event, as Mr. Dolce told our table. He was effusive, happy, friendly and relieved the shows were over.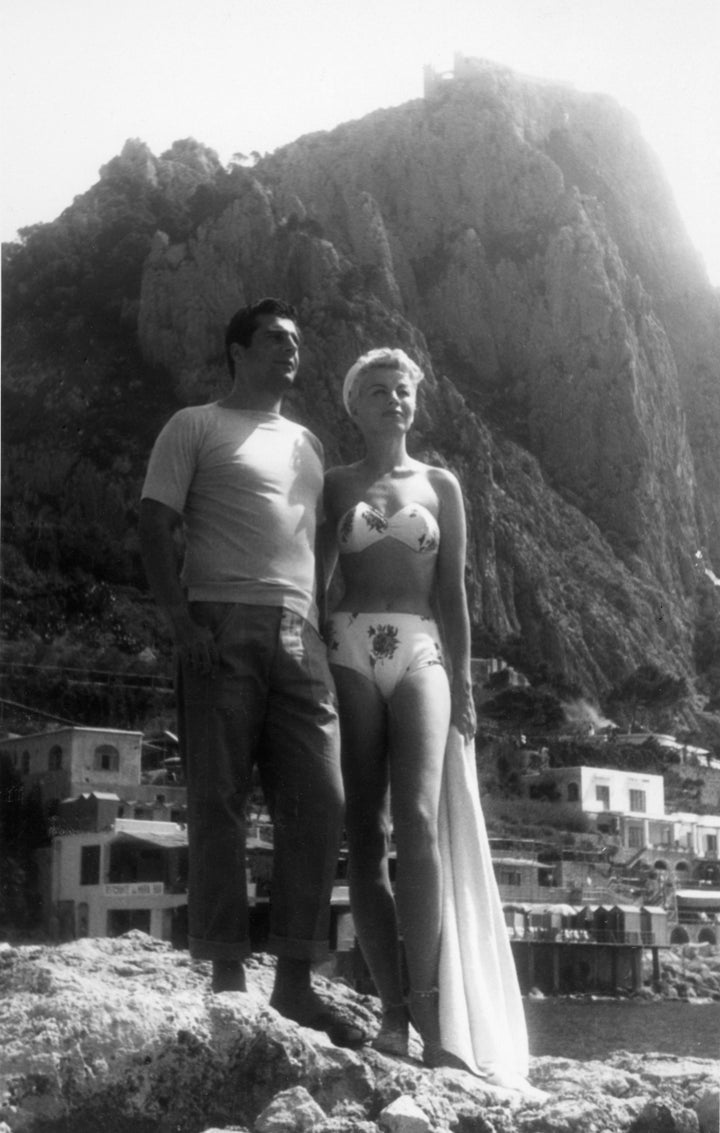 The next day I managed a quick to Capri where Lili St. Cyr, the subject of my current book, "Goddess of Love Incarnate" honeymooned with Italian hunk Armando Orsini of New York's former famed restaurant "Orsini's" where Jackie O. and Anderson Cooper's mother Gloria dined and were charmed by the Roman. Both Lili and Armando loved fashion and would have swooned over the delicate fabrics at the Dolce & Gabbana shows. Both loved well-made couture. Lili turned burlesque on its ears by stripping out of gowns from Dior and Balenciaga on stage.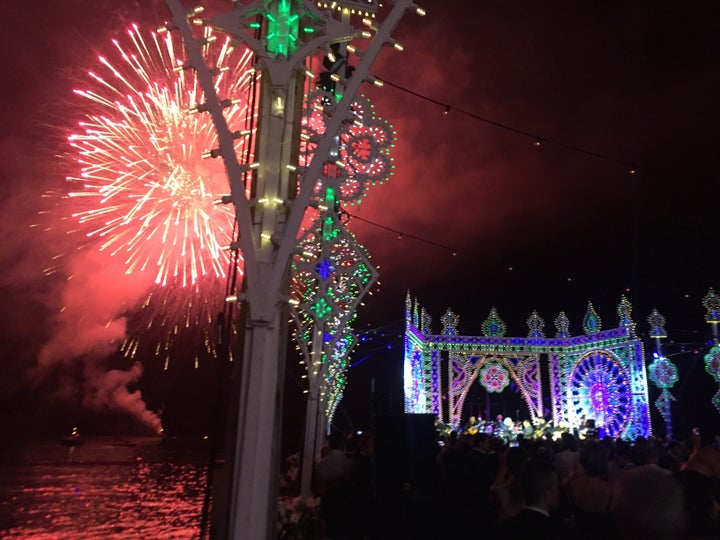 The D&G closing night party was burlesque at its best with a theme of Mambo Italiano. Like Bubbles Darlene who in the 1950s stripped to mambo music, hundreds of guests danced to the Gypsy Kings on the beach of Naples while the Neapolitan people cheered and watched a magnificent firework display over the water. Some guests were already dressed in their newly purchased couture. Appropriately, my friend Cameron Silver wore a Marilyn Monroe printed Dries Van Noten suit. Marilyn Monroe was inspired and a sort-of stalker of burlesque legend Lili St. Cyr, imitating everything from her walk, to the way she spoke.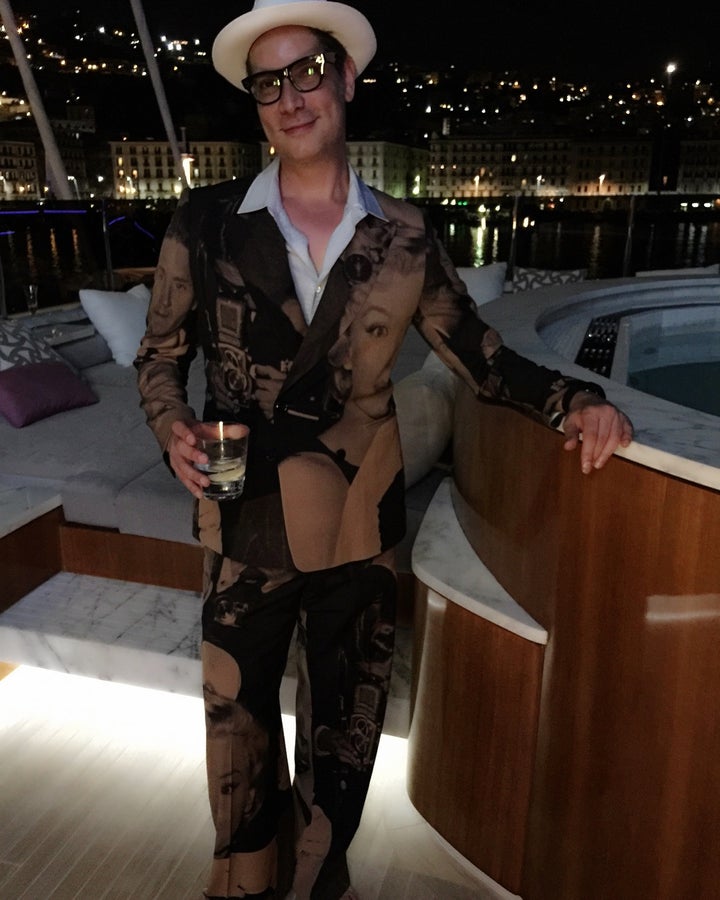 As I looked around the hip-shaking, martini swigging crowd I couldn't help but hope that haute couture like burlesque has, sees a revival and appreciation of the art that it is. The desire one has to express themselves individually and to add a bit of sparkly. After all who wouldn't want to be like Bubbles Darlene and wear intricate headpieces like the horns she wore, or a giant upside down chandelier? Perhaps Domenico and Stefano have heard of her?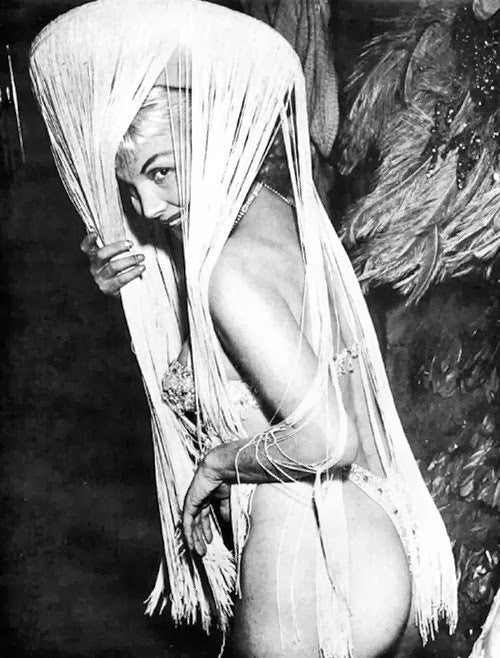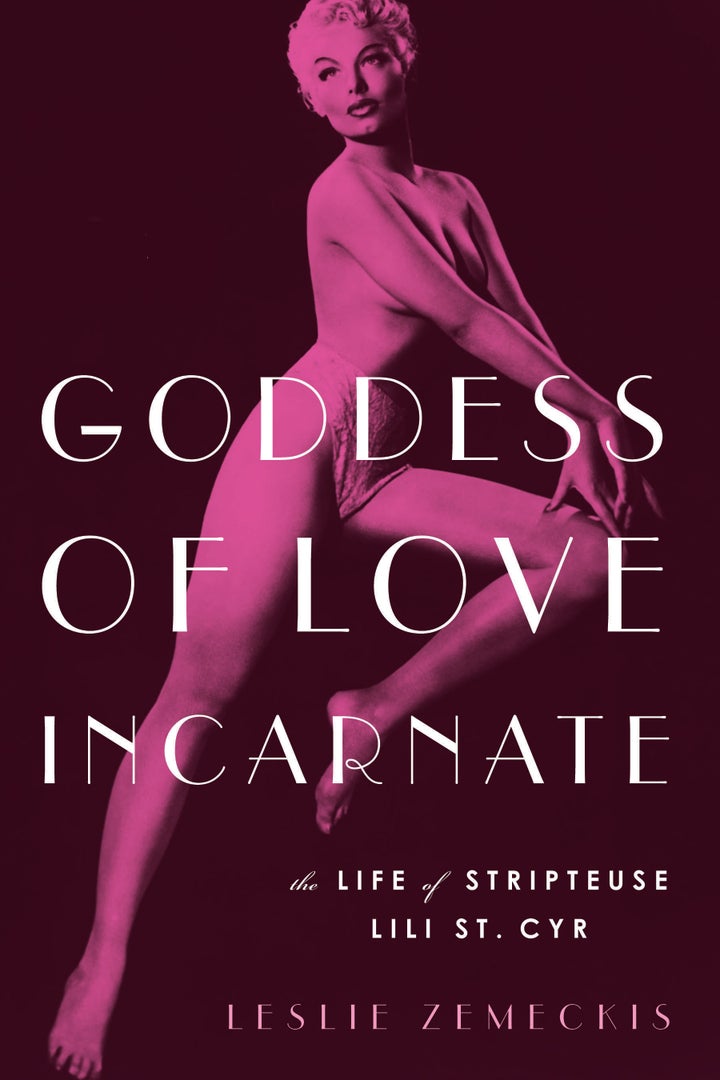 Leslie Zemeckis is an award-winning documentarian whose film "Behind the Burly Q" chronicles the history of burlesque. Her film "Bound by Flesh" is a Netflix hit about Daisy and Violet Hilton of "Sideshow" fame. Zemeckis authored "Behind the Burly Q, the book based on her film and "Goddess of Love Incarnate", about burlesque stripper Lili St. Cyr. She is busy writing her third book on burlesque and her next documentary on famed tiger trainer Mabel Stark will premier in the Fall of 2016. Zemeckis continues to chronicle the vast untouched history of burlesque and has one of the largest collections of burlesque memorabilia. @Lesliezemeckis, www.lesliezemeckis.com Follow Leslie Zemeckis on Twitter: www.twitter.com/lesliezemeckis
Related
Popular in the Community