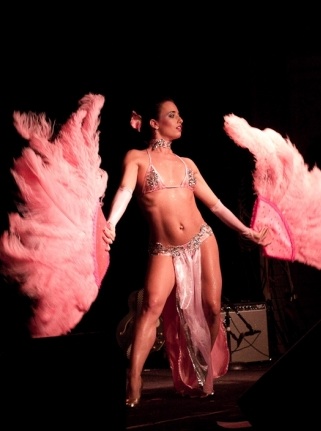 Last night at the Howlin Wolf in New Orleans, the women of Coastal Heritage Society of Louisiana hosted their second Burlesque for the Bayou fund raiser featuring the best in New Orleans burlesque.
Dancers including the Rev. Spooky LeStrange, Dorian Faust, Roulette Rose, Sparro D'Luxe and Lana Allure were joined by house band The Unnaturals; emcee Sharkey von Tiki and comedian Bobby Frilot. All donated their time and talents to help raise funds for the CHSL outreach profiled recently in The Huffington Post by Rocky Kistner of NRDC.
CHSL founders Joannie Hughes, Vickie Manning Perrin and outreach coordinator Kindra Arnesen have been working tirelessly to collect everything from boxes of food to medical supplies for coastal residents out of work since the BP Oil Spill in April.
One of the most active groups in areas hit hard by the oil spill, CHSL is providing special holiday dinner care packages to the families in need, and toys and gifts for the the children in those families. The Coastal Heritage Society asked its friends in New Orleans dance, comedy and music to pitch in and raise funds for coastal residents, and this is the second time since the oil spill that Burlesque for the Bayou has come together.
The need for help is still great. Kistner noted in The Huffington Post that "Katrina battle-hardened residents are being tested as never before. BP has layed off most of its local cleanup workers and claims are now being denied in record numbers. Nearly 100,000 claims denials were issued in just 10 days recently, nearly a quarter of the total number of emergency oil spill claims that were submitted."
If you couldn't make it to New Orleans for the show, a limited edition Burlesque for the Bayou T-shirt or cap is available through December 15th.
Popular in the Community