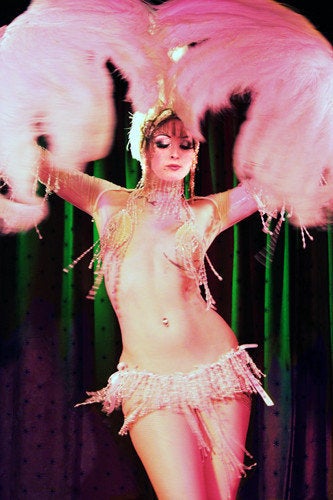 The Huffington Post recently got to sit down with Slipper Room proprietor James Habacker to ask him a few questions about the venue, its Vaudeville-like variety shows and the trials of being "burlesque."
HP: Can you just give a smorgasbord of examples of stuff that you can see at the Slipper Room on any given night? Balancing acts, aerial acts, comedy, burlesque, go!
JH: All of that, and also contortionists, magicians, firebreathers, striptease, hula hoopers. Animal acts, puppetry, musicians, we have on Friday a theremin player in the show. That's a good sample.
HP: What gave you the idea to do a burlesque theater?
JH: I had a dance club in the meatpacking district in the 90s, a place called Plush, and I started doing shows there, started doing variety shows in the lounge at Plush, and my partners were freaked out by it.
JH: I mean, it hadn't really come out in the scene in '96. There wasn't really a burlesque scene like there is today, but it was more downtown performance artists, drag queens, novelty acts, so it was the beginnings of the idea of the burlesque scene. And some people who are around right now, like Dirty Martini, certain performers were doing it back then. But I think my partners at the time didn't really understand what it was and it was just weird and scary to them. And we had a pretty successful dance club that was busy every night.
So I decided that I just wanted to open a place that had a stage -- we're performers ourselves. So to me the dream of any performer is to have a theater and be able to present whatever they choose to present. There's no limits here. We just spent the last two years doing shows in other people's venues and getting thrown out constantly. We'd get a show going and by the third week they'd throw us out because it'd be too much, too extreme.
HP: What other venues were you performing at while the Slipper Room was closed down?
JH: Well, we were doing shows at The Players, over at Gramercy Park, we got thrown out of there. We were doing shows at Kenny's Castaways over on Bleeker Street, we got thrown out of there. So if you get thrown out of the high end and the low end you can't win. But then we did a show at Casa Mezcal, which is right down the street, on Orchard and Broom. We did that Thursday nights for about a year, that went well. But it was just one night a week, so it's nice to be back to trying to ramp back up to our full programming of four nights a week of variety shows.
HP: Define 'variety show' for these purposes.
JH: Well, I mean the Slipper Room style of variety show is comedy-based, mostly. But you'll have a host, usually a comedian, a character who will unify the show by coming out between each act, introducing and doing a bit of schtick, and it has anywhere from 8-10 performers who are doing anything like aerial work, like silks... we've had animal acts, ventriloquism, magic, puppetry.
We had this reputation at the Slipper Room as this place that showcases striptease, which is true, but it's much more than that. And I'm pretty adamant about that -- it's variety. Striptease is about a quarter of it, probably. I guess that got a lot of attention, all the issues of female empowerment that got politically charged and became part of the burlesque scene.
JH: Well, I mean I think it's just a natural outgrowth of what was going on with the burlesque scene. I was always up for booking performers with any different body type. It was never trying to showcase this ideal of what a model is supposed to look like. It's always been more about allowing anyone to express themselves and allow them to feel and be beautiful. That became something people could grab onto. And it's legitimate, there's absolutely that element to it, but I feel like first and foremost it's showbiz, it's entertainment. That's our take on it.
HP: Have you gotten backlash because of the burlesque elements of your shows?
JH: We did. We got a lot of that. The Slipper Room, when it first opened, [Rudolph] Giuliani had just shut down all the topless bars. And here we're doing this and saying "Oh no, it's art." And we fought for years to be able to do what we do. I think at this point it's fairly well-established. The one I think we're gonna be bucking up against are people associate the Slipper Room with striptease; nudity has been part of our shows for years as a free expression type of thing. But there's more to it than that and people really latched onto the nudity.
HP: Are there any places in New York that you'd think of as your counterparts?
JH: I have a great affinity with the freak show at Coney Island. Absolutely, I feel like the Slipper Room is connected to it in that I feel it has a similar mission. But I don't feel like there are any other theaters like the Slipper Room. When we were closed people would ask me, "Where can we go instead?" And there are other places that have shows but I don't think anything like the Slipper Room.
Related
Popular in the Community