The world of burlesque is a sensational realm filled with pasties, tulle, wigs, tassels, boas, and bustiers. These are but a handful of the props men and women like Dr. Gingersnaps and Dolly Longlegs flaunt on stage, when they're embracing characters that harken back to the vaudevillian spirit of yore.
For a practice that began, in a much simpler form, a few hundred years ago, burlesque has more recently morphed into an art form for the socially and culturally adventurous. What was once a type of parody that incorporated risqué theatrical techniques, is now a genre-bending, dance-meets-comedy-meets-striptease performance brand widely accepted as an empowering and ever-political kind of art.
As a result, the transformation from contemporary artist (meaning, the individual behind the costume) to his or her burlesque persona (the tassel-baring provocateur who takes the stage), can be beautifully diverse.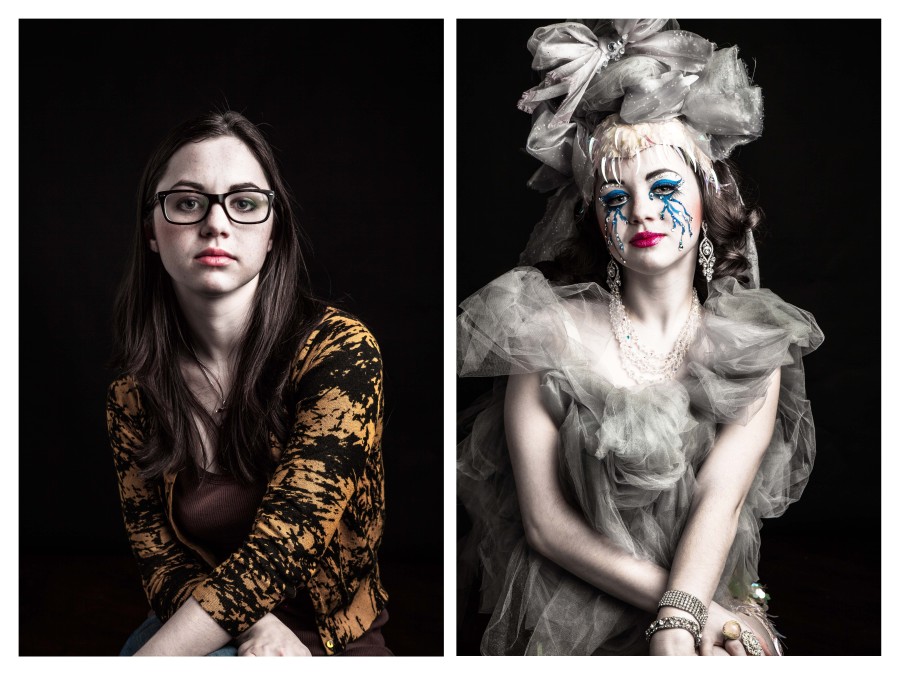 Marla Meringue
In his series, simply titled "Burlesque," photographer Sean Scheidt explores this transformation by situating portraits of burlesque performers sans costume next to images of the men and women stage-ready. Whether a change in appearance and demeanor is barely noticeable or strikingly apparent, his subjects demonstrate the exhilarating power of face paint and flashy ensembles, as well as performance and attitude.
Scheidt was inspired by a video he saw of Judy Garland, which showed both a moving performance and the less-than-impressive rehearsal that preceded it. "It was really amazing, she appeared to be a drunken mess, or sleepy or whatever, but a wreck, mumbling words, etc," he explained to HuffPost UK. "A few hours later she was just ON and amazing. She had transformed completely for the stage. I saw this exact transformation backstage during the burlesque show (not from a wreck to something spectacular, but a transformation nonetheless). So, I began to reach out to the burlesque community to try and photograph this process of transformation."
Most of the performers Scheidt photographed appear notably more restrained in their "before" photos, breaking out into personalized poses and defiant stances in their "after" portraits.
"All of the subjects, both girl and guy reacted a bit differently but I think I was most struck by at first a slight timidity among most being photographed," he added. "But then quickly followed by a willingness to open up to me on a very personal level. I think I noticed this the most because a lot of these performers I had until then only seen perform on stage. A place where they are in complete control."
REAL LIFE. REAL NEWS. REAL VOICES.
Help us tell more of the stories that matter from voices that too often remain unheard.
BEFORE YOU GO