When photographer Josh Dick embarked on an independent trip to document the development of medical schools in Burma's Karen state, he half-expected a primitive, makeshift operation.
Instead, what he found was a highly organized and well-run school system equipped with classrooms, a qualified teaching staff led by internationally and locally trained doctors and medics, a clinic established for medical training and health-care services for locals, and even dormitories. In all, an impressively streamlined educational facility nestled in the jungles of war-ravaged Burma.
Both structures were built by the local Karen villagers using locally grown resources. Blankets on the floor take the place of clinical beds, and instead of desks students complete assignments on metal folding tables. But the facility's very existence means access to a level of health care and health education that was desperately needed.
"Many of these villagers, the school's students and staff, have been living in a conflict zone their whole lives," Dick told The Huffington Post after his five-week stint in Karen. "They're now learning to operate [a school] in this environment, learning how to deal with the logistics and barriers presented by the area's geography and environment, plus threats such as the Burmese Army. It's a huge and incredible undertaking."
The Jungle School of Medicine Kawthoolei, also known as JSMK, is an initiative of the Free Burma Rangers, a local, non-profit humanitarian organization established in 1997. Though the FBR had initially set up one-to-two month training programs to train local students as medics to be mobile support teams in conflict zones across Burma, a growing need for health care highlighted a need for a more formal, permanent school that would run year-round and teach about jungle-specific diseases.
So, in February 2011, with FBR's Dr. Mitch and Dr. John at the helm (surnames omitted for security reasons), JSMK was born.
The school currently has 22 students and 20 graduates, who completed their year-long program in February. Though there are Western-trained staff who rotate through the school for a month at a time, there is a regular local staff of Karen villagers -- three female and six male medics -- who also run the school, teach students and administer health care.
This, according to Dr. Mitch, is the ultimate goal of FBR: to equip the Karen people with the education to eventually run their own health-care operation. Other crucial knowledge, particularly regarding "the deeper things in life," Dr. Mitch said, the villagers teach others -- including those who volunteer at JSMK.
"Our aim is give our Karen friends the tools to provide world-class medical care themselves, so we teach a specific skill: medicine," Dr. Mitch told The Huffington Post from Burma. "But the local staff and students teach us joy, peace and love. These young men and women have lost so much, they have almost nothing. And yet many still have a genuinely joyful outlook on life. They are striving to learn. That's the real story here."
His sentiments are echoed by FBR founder and president, David Eubank, who says the success of the school in its infancy can be credited in large part to the local staff and students' resourcefulness despite the continual threat to their environment by the Burmese Army. In fact, the locals continue to bring resources into the village -- school supplies, medicine, food -- by foot, on their backs and on mules, in order to keep the school operational.
"Everything we do is dependent on the villagers. We can't do anything without the local people," adds Eubank, who grew up in neighboring Thailand.
Similarly, Dick observes that despite the hardships and paucity of resources -- the school is almost entirely reliant on donations through the FBR -- the students manage to keep a grateful and positive attitude.
"They (staff and students) get up at 4 a.m., light fires, cook food for themselves, do dishes and chores, clean up, then go to school," Dick details. "You can take away so much just by seeing how empowered they are in their daily lives, doing things that we take for granted. It's incredible and inspiring."
Donate to the FBR's Jungle School of Medicine Kawthoolei here.
Learn more about Josh Dick's experience with FBR. See a slideshow of his photos below.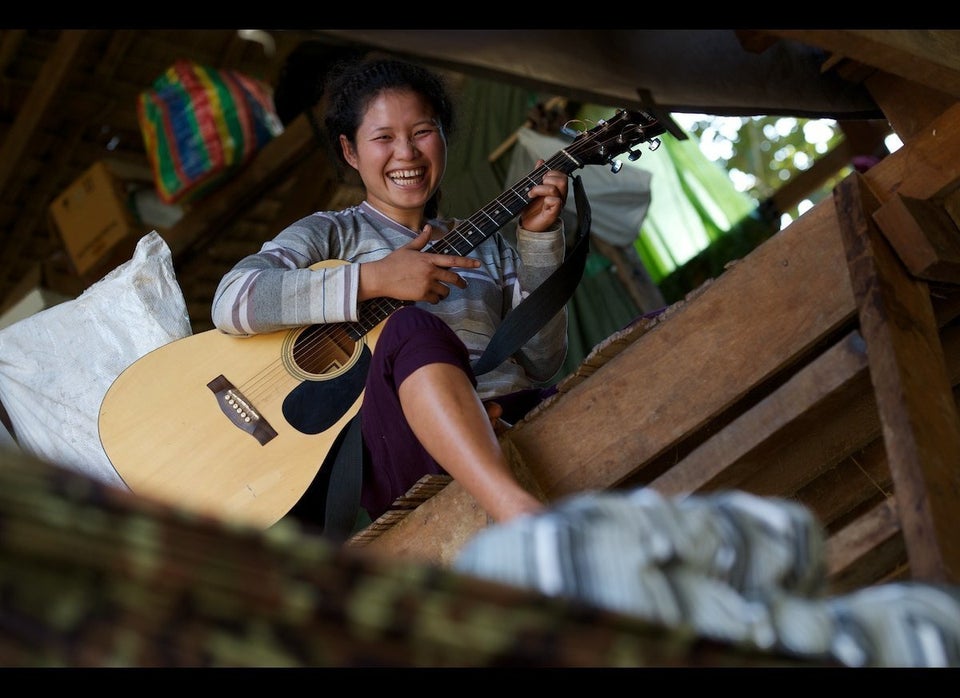 The Jungle School and Burmese Villagers
Related
Popular in the Community