The immediate details of the fire were murky, but one thing was clear: 13 muslim children were dead. In the early hours of April 2, a blaze swept through the dormitories of a religious school in eastern Yangon, Burma's largest metropolis. While authorities blamed an electrical shortage, tensions were high as the city's Muslims wondered whether the religious violence that had plagued the country's restive western region for the past year had finally reached their doorstep.
The fire came just weeks after sectarian violence erupted in Meiktila, a town in central Burma. Until then, anti-muslim violence had largely been confined to Rakhine State, the country's western-most region that shares a border with Bangladesh. But, in the days following the riots in Meiktila, the violence spread to towns across central Burma.
In the end, the fire in Yangon was indeed the result of an electrical shortage, but the suspicions surrounding the incident underscored a new normal: the brutal violence directed towards Muslims was now a national crisis.
On Tuesday, Physicians for Human Rights (PHR) released a report documenting the full scope of attacks on Muslims in Burma. The report chronicles the proliferation of sectarian violence over the past fourteen months, and the government's failure to hold perpetrators to account.
The map below outlines the time and location of attacks. You can read the full report here.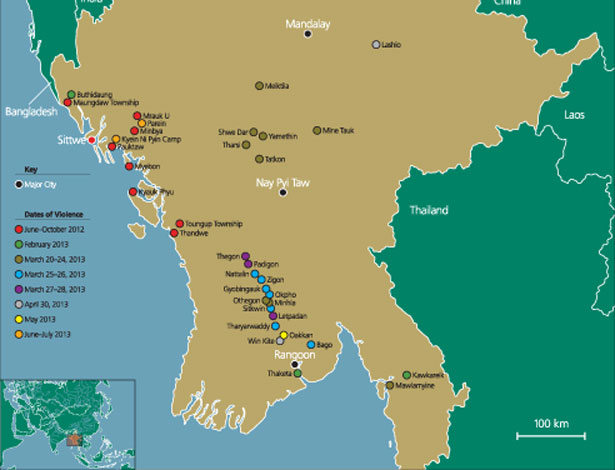 (Physicians for Human Rights)
REAL LIFE. REAL NEWS. REAL VOICES.
Help us tell more of the stories that matter from voices that too often remain unheard.