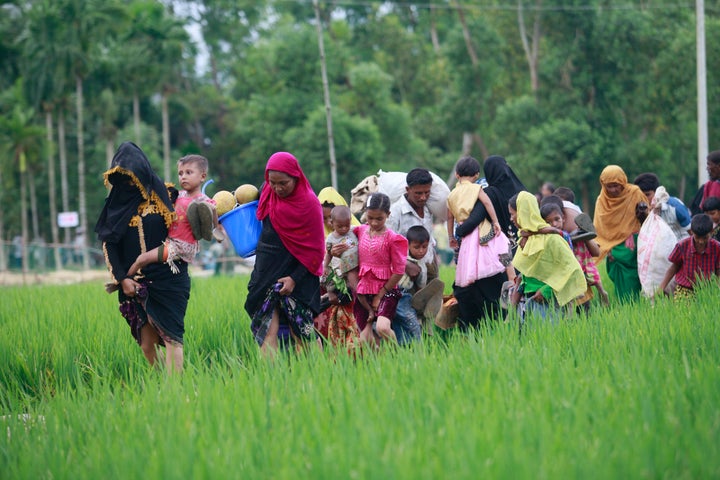 As an American civil rights lawyer who was born in Myanmar (or Burma, as I still call it), I watched with horror this summer as the Myanmar government clamped down hard on innocent Rohingya civilians in response to an attack by the terrorist Arakan Rohingya Salvation Army (ARSA). While the Burmese military has long been brutal, the fact that this crackdown on civilians having no identified ties to ARSA occurred without any outcry by the country's leader Nobel Peace Prize winner Aung San Suu Kyi or few others in Myanmar's pro-democracy movement, just when it looked like the country might be turning the corner, was devastating.
I've lived most of my life in the United States, and am accustomed to being a racial and religious minority, like the Rohingya in Myanmar. The atrocities in Myanmar forced me to grapple with a different and uncomfortable vantage point – that of the majority and the oppressor. My father was born in Sittwe, a city in western Myanmar which has been a focal point of unrest between the Muslim Rohingya and predominantly Buddhist Rakhine ethnic group. My mother is from central Myanmar. My family is staunchly Buddhist like the majority of Myanmar's population, and comes from a class of educated professionals who make up the Myanmar government's civil service, or serve as officers in the military. While my own parents were civilians, several of my relatives were Burmese military officers and government officials. The Rohingya crisis has brought me face to face with my own privilege as a child of the social class running Myanmar, and of the pressing need for more of us to speak out about the humanitarian disaster unfolding there. Few Burmese expats have condemned the genocide, and the Myanmar population's almost universal hatred of the Rohingya is well documented. As a Burmese Buddhist, I have struggled to understand this. I've heard Burmese people make xenophobic or racist comments about the Rohingya and seen anti-Rohingya comments on social media. The core contention is that the Rohingya are fundamentally not Burmese, and Myanmar is a country of and for the Burmese people (the majority Bamar population and ethnic minorities like the Rakhine who are perceived of as "native" to Myanmar). The argument also has a religious component, as the nationalists believe Myanmar's culture and identity as a Buddhist nation is at risk and under attack by the Muslim Rohingya.
I understand that separatists have at times wished to establish a Muslim state in western Myanmar. I also recognize that although Rohingya have been in Myanmar for centuries, newer arrivals from Bangladesh may have entered the country more recently. I acknowledge that the long arc of nation building necessitates a partnership between Aung San Suu Kyi's National League for Democracy and the Burmese military after too many decades of bloodshed and dysfunction, and appreciate the Burmese citizenry's reasonable desire for peace and stability. I appreciate the country's widespread reverence for and the unifying force of Aung San Suu Kyi herself, whose leadership I still consider to be Myanmar's most likely path toward a peaceful and stable democracy. And I know that within Myanmar itself, after decades of state-controlled media and censorship, much of the citizenry relies on social media for news but may be untrained at distinguishing the real from the fake, and those sympathetic to the Rohingya may be afraid to speak out for fear of backlash.
But what of the Burmese diaspora abroad, and why aren't more of us actively denouncing Myanmar's descent into hate and malice? We've seen numerous credible news reports that almost 600,000 Rohingya – the overwhelming majority of whom have no documented connections to ARSA – were driven from their homes in Myanmar. Furthermore, while this most recent exodus is unprecedented in scope, it's well established that the Burmese military have been persecuting and driving out Rohingya for years. Even if one accepts the flawed premise that all Rohingya are illegal migrants from Bangladesh, the systemic discrimination against and subsequent expulsion of Myanmar's Rohingya population is indefensible. And what of Buddhist nationalists' sickening perversion of our religion and it's central principle of non-violence?
The Rohingya catastrophe highlights how Burmese nationalism has evolved from a powerful unifying force around which an extraordinarily diverse British colony rallied for independence into a tool of oppression. It's no longer a theory of liberation and self-determination, but one of exclusion and hate – an arbiter decreeing who belongs in and who is an outsider in Myanmar. Ultimately, Buddhist nationalists who contend the Rohingya and other Muslims will bring down Myanmar's Buddhist identity unless expelled are the intellectual brethren of white supremacists who claim that the Aryan identity of the United States is at risk if immigration isn't halted. As Myanmar spirals back toward its long held status as a pariah state, more Burmese Buddhists living abroad must speak out in outrage. Not only is it our moral imperative to do so, but we will live alongside Rohingya refugees in our countries of adoption for years to come. We must reckon with - and ultimately leave behind - Burmese nationalism and its outdated, sectarian underpinnings to begin the process of reconciliation with our Rohingya brethren.
Khin Mai Aung has written about civil rights issues in publications such as the New York Times, San Francisco Chronicle, and Salon, and was formerly a lawyer at the Asian American Legal Defense and Education Fund. The views contained in this article are solely her own.
Popular in the Community