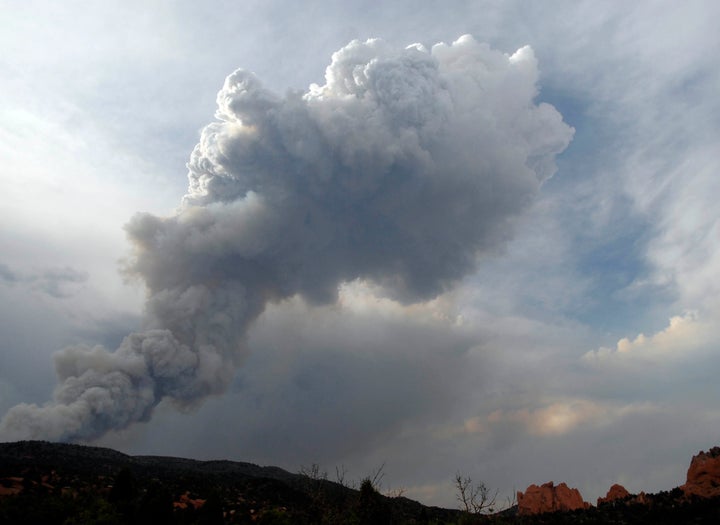 The State of Colorado is on fire. The day after the landmark Supreme Court decision on the Affordable Care Act, Colorado's fires are so bad that President Obama is in Colorado Springs to tour the damage. On Thursday evening, the federal government approved Governor Hickenlooper's request for the state to be considered a major disaster area.
From where I write this in Estes Park, CO, smoke is blanketing the mountains, coming from the biggest fire of 8 current fires in the state, the High Park Fire just west of Fort Collins. This fire has burned almost 90,000 acres and destroyed over 250 homes.
It's the Waldo Canyon Fire in Colorado Springs, however, that is drawing the most attention. It is only 15% contained, has caused over 32,000 people to be evacuated and has destroyed 350 homes. This "super fire" is so hot that it's causing houses to catch fire from the inside due to the high temperatures alone. (Check out some incredible photos here.)
Is climate change to blame? No one around here in Colorado is talking about it, but it's the elephant in the room. One way to tell? Look to the insurance industry. Carol Walker of the Rocky Mountain Insurance Information Association says: "As we look toward the future and this wildfire threat growing ... that does start to affect what people pay for insurance." The insurance industry might not be coming right out and saying they see climate change in the numbers, but their actions speak for themselves.
Here's what climate change adds to wildfire risk:
Heat. Right now, Colorado is experiencing a heat wave that makes firefighters' jobs tough. If there's one thing that climate change means for the future, it's warmer temperatures.
Drought. Much of Colorado is considered part of the desert southwest, an area predicted to reach 1930's Dust Bowl conditions in the next several decades.
Lower snowpack. Less snow means spring runoff happens earlier and that means forest fire season can start earlier, too. This past winter was one of the smallest snowpacks ever for Colorado. As of June 1, snowpack was at 2% of normal.
Dead trees. The mountain pine beetle, a native to Colorado, has been on a rampage for the past decade. Warmer winters allow these beetles to thrive, killing 90% of some forests. Think of these dead trees as matchsticks.
So, as always, climate change is in the mix. It might not be the #1 factor in this crop of fires, but that's not to say it's not a significant one. Perhaps the current cocktail of all these factors will spark something more than another wildfire -- maybe it can also spark a public conversation around the fire-climate change connection and let people see the forest for the trees.
Popular in the Community