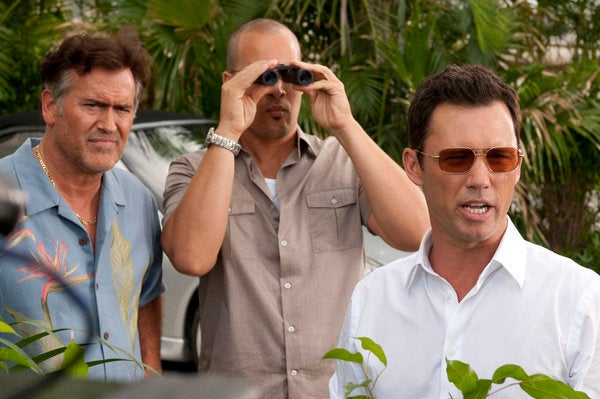 It's about time to start investigating what the "Burn Notice" espionage operatives will be up to when they return later this year.
Season 6 of the USA show arrives this summer, and though no exact return date has been set, the show has already begun lining up notable guest stars.
The Huffington Post can exclusively reveal that John C. McGinley, best known as Dr. Perry Cox on "Scrubs," will have a recurring role in the new season of "Burn Notice" as Tom Card, the CIA training officer who taught Michael Westen (Jeffrey Donovan) everything he knows.
When Tom and Michael cross paths again, Tom is extremely keen to work with his old protege again; the two weren't in touch after Michael was burned, but Tom always supported Michael's quest to be vindicated and reinstated. And working with Tom could have serious advantages for the formerly burned Miami spy: Not only is Michael's former training officer extremely adept at intelligence gathering and analysis, his influence at the Agency means that he might be able to help Michael recapture the respect he had before he was burned by an evil cabal years earlier.
McGinley will make his first appearance in the second episode of Season 6, which will also feature an appearance from Taryn Manning, a.k.a. Cherry on "Sons of Anarchy." Her character, Nicole, is in prison alongside Fiona, who went to the slammer at the end of the previous season of "Burn Notice." Nicole, like many of Manning's characters, is a tough chick; but the low-profile inmate is also friendly and helpful to Fi, who is no shrinking violet herself but no doubt needs as many allies as she can get on the inside.
Also appearing in the second episode of the new season of "Burn Notice" is Anthony Ruivivar as a Mexican drug cartel kingpin named Montero, who is a bit of a wild card. The episode will be directed by Jeffrey Donovan, who previously directed a Season 4 "Burn Notice" episode as well as the prequel movie "The Fall of Sam Axe."
Two predictions: Season 6 of "Burn Notice" will arrive in June or July, which is when every other season of the show has premiered; and McGinley's character will not call Michael Westen by a girl's name, which was one of Perry Cox's favorite ways of annoying Dr. John Dorian on "Scrubs." "Burn Notice" certainly has its lighter moments, but the odds are that feminine nicknames would not go over well with Westen, one of TV's most tightly-wound espionage agents.