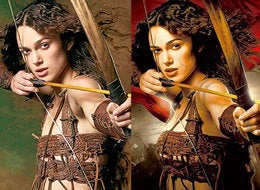 I always thought she was gorgeous. That face. That skin. That elegant willowy body. And talented. Period English films. Pirate action movies. A teenage soccer movie. What couldn't that girl do?
In addition to all that, Keira Knightley, age 23, now becomes my inspiration. For standing up to the Hollywood system and the popular culture and for demanding that she be accepted as she is: with micro breasts.
By doing this, Keira seems to be speaking directly to me. Directing me to do what she did. Demanding that I be accepted as I am: with missing breasts.
Unlike Keira I didn't grow up knowing the particular agony of being a flatchested teenage girl. In fact, I had the opposite experience. My breasts were nearly full blown by age 9, when my mother forced me to get my first bra -- a size 34B. And my cup size didn't stop there. So my bustline was the opposite of Keira's -- and I always envied the flatchested girls.
Which proves we all want what we don't have.
And also proves that you should be careful what you wish for.
Because when I was 45, I got my wish. My breasts betrayed me. They conspired with my body to commit treason. They were tried by a jury of doctors, and found guilty of pre-meditated murder. As the intended victim, I served as the judge. And I sentenced my breasts to death. I cut them off.
This was in the 90's, when the trans-flap breast reconstruction surgery was just becoming popular. It truly was a brilliant idea -- they take your excess abdominal tissue and use it to make breasts -- making this one of the very few perks for women who need mastectomies. New perky breasts and a tummy tuck at the same time. For me, the chance to fulfill my fantasy of having an A cup size.
My other lifetime fantasy was to be thin. Thanks to cancer and chemotherapy, I was thinner than I had ever been. And that meant, according to all the plastic surgeons I consulted, they could not perform the new state of the art surgery. I didn't have enough tissue in my tummy to make even one A-size breast, let alone two.
I was too thin? Another good example of "Be careful what you wish for."
So much of life is about timing. Today, 12 years later, I have enough tummy tissue to make breasts for the whole neighborhood. But at the time, my only option was implants.
I'll spare you the details and cut to the chase. After living with the implants for a few months, my body rejected them. Leaving me flatchested. Not flatchested like Keira -- but with scars and lumps and bones and skin. So I did what most women did in my situation: I wore fakes.
I could write a book about my adventures with breast prostheses. I would get dressed every morning like every other woman, only my routine was a little different. Panties, bra, breast, breast. Since I hated mastectomy bras and stuck to real lingerie, my fake breasts would occasionally slip or wander out of place when I wasn't looking. I am embarrassed to admit to environmentalists that I accidentally lost a pair while snorkeling at the Great Barrier Reef. And I always wonder whether some future tourist will think they're discovered some strange new species of coral.
After 10 years with two mounds of rubber perched on my chest, I finally gave them up. Just stopped wearing them. I'm lucky that my husband could care less; I am past the days when construction workers would hoot at me; most people who know me know I had breast cancer. So why was I bothering to live a fantasy? Like Keira, I chose not to have my body artificially enhanced.
I adapted my wardrobe to include more scarves, more shawl collars, and got a bonus from the fashion industry when babydoll tops and other loose styles suddenly got popular. I was good to go.
It's been almost two years since I tossed out my breasts and honestly if I had not written this piece, I would bet that most people who know me never noticed I stopped wearing them.
But I'm glad I got this off my chest.
And it is thanks to Keira Knightley that I came out of the closet.
Women of my generation burned our bras to make a statement. That isn't going to work because I don't wear a bra anymore. And apparently, neither does Keira.
But my hope is that by her simple act of defiance, Keira inspires a new generation of women to accept their bodies -- and all women to realize that our breasts don't define who we are.
Related