"http://images.huffingtonpost.com/2015-09-21-1442848323-7173719-laudatosi432x242pxhq.jpg">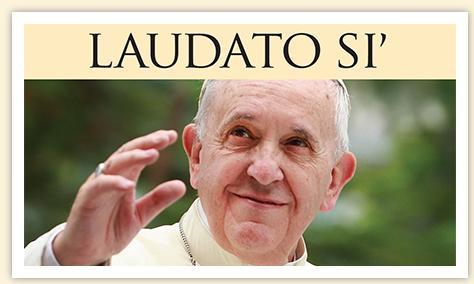 Climate Change is the great moral crisis of our time.
Nothing demonstrates religion's irrelevance in our time more than its unwillingness or inability to fully engage the power of its agency to have already compelled its followers to live differently. Religion's complicity with the privilege of wealth and status, coupled with the consumptive habits of its adherents who live with an ethos of acquisitiveness, has conspired to render religion utterly useless to do what it was built to do: prevent the greatest injustice and resulting disaster this planet has ever known.
There is going to come a time when my grandchild is going to ask me: "What did you know; and when did you know it." There will be little to say in response. I chose not to know what was there to be known until it was too late. It would be very easy for me, a liberal who is the leader of one of religion's most progressive institutions, to point the finger at climate deniers from other religious traditions and blame them for the great cover up.
But a.) that hides the bitter truth about my and my church's responsibility for doing too little too late; just enough, really, to afford us the opportunity to point the finger at someone else and once again feel self-righteous about what we did; and b.) it doesn't matter: when your ship is sinking and all the inhabitants aboard it are dying it doesn't do any good to convene a task force to figure out who's to blame.
I'm going to both Washington DC and to New York next week to participate in a series of events at which religious leaders from across the faith spectrum and the country will gather to celebrate Pope Francis' visit. Our particular focus will be his recent encyclical on climate change: Laudato Si'.
If religion is to matter ever again, it must use its collective agency for change to transform life on this planet as we know it. This is a hard ask, and one that religion has refused to accept yet.
As a leader of the United Church of Christ, I am certainly proud of the partnerships we have utilized throughout our history to effect meaningful and lasting change. From abolitionist movements to civil rights crusades; from a call for suffrage to the development of feminist, womanist, and queer theologies; from marriage equality to LGBT ordination rights; from the call to open the airwaves to local radio outlets to labor justice; from private prisons to refugee and immigrant justice: this religious movement of which I am a part has proven its bona fides in the justice arena.
This may be our greatest test of faith. Can we conspire to solve the justice issue that will trump all others? If we don't solve this one, every other justice issue will cease to be a justice issue before too long as the planet rejects and ejects from it every species this evolutionary cycle has produced, in order to heal itself and make way for others millions of years from now.
We are burning down the house. We are acting like we don't know or don't care. If that doesn't change soon, I and my religion's allies are even more irrelevant than the millennials think we are.
Calling all HuffPost superfans!
Sign up for membership to become a founding member and help shape HuffPost's next chapter