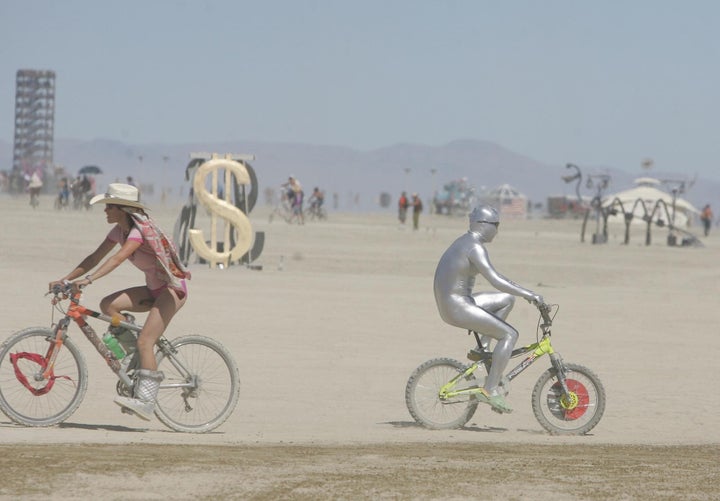 SAN FRANCISCO -- On a recent Friday afternoon, organizers of Burning Man, the arts festival that pops up in the Nevada desert for a week each summer, sent a message to members of their community.
"For all the frustration, anxiety, stress, and heartache we've caused, please accept another humble apology," it read. "Burning Man is a participatory and collaborative event, and many collaborations are perilously close to falling apart."
The Burning Man organizers were referring to the outcome of their January ticket lottery for the upcoming Aug. 27-Sept. 3 festival, an effort to address increasing demand after last year's event sold out for the first time in history. Some 80,000 eager attendees registered for the 30,000 tickets available in the lottery; winners were randomly selected. As a result, many of the people who make up the fabric of the festival, from camp leaders to community organizers to artists and performers, were left stranded.
"There's no sugar coating to be put on it," the message continued. "The majority of the people who have previously built, created, contributed and participated -- not just those who've been before, but who have created the foundations of Burning Man -- don't have a ticket to the event this year."
Since its inception in 1986, Burning Man has grown from a small gathering of friends on San Francisco's Baker Beach to a year-round international subculture that culminates in the summertime festival. The main event draws some 50,000 "Burners" to Nevada's remote Black Rock Desert for a week of, to borrow a favorite phrase from founder Larry Harvey, "radical self-expression."
For seven days, an otherwise hostile stretch of desert transforms into Black Rock City, a bustling community surrounding a massive central area dubbed the playa. The playa economy relies solely on "gifting," or the friendly exchange of goods and services, to sustain itself. Buying and selling is strictly condemned (except for, say, ice from the general store).
Participants spend mind-boggling amounts of time, money and energy building the art installations, planning the infrastructure and organizing the "theme camps" that make the festival thrive -- and then they burn it all. The camps, many of which return year after year, take on a variety of shapes and sizes, from 200-person villages that serve elaborate breakfasts to smaller entities that offer one-off performances or group meditation ceremonies.
Anything goes on the playa. You're just as likely to spot a shirtless man in "Cat in the Hat" headgear, with his shorts around his ankles and his arms out wide, getting a blow job on a pedestal 15 feet in the air -- as one HuffPost reporter saw several years back -- as you are to observe several tractor-trailers stacked vertically on top of each other.
At night, the only time the climate is bearable, the playa thumps with electronic beats and sparkles with Day-Glo colors adorning bodies and bicycles and "art cars," including Mack trucks converted into roving double-decker raves, complete with bars and DJs.
"Burning Man is many things, but it's all facilitated by the art and culture," said Joe Anderson, the leader of a popular theme camp who preferred not to be identified by his real name because it might compromise his camp's position within the community. "There are a lot of people for whom this is a huge part of their lives."
The Burning Man culture has spread faster than the event organizers can handle. Tickets to last year's festival sold out in July, shocking regulars who never predicted a gathering that promotes "radical inclusion" would be forced to exclude members of its own community.
But the Bureau of Land Management, which Burning Man organizers have spent years negotiating with, permits only 50,000 individuals in the space at one time. And resources are scarce regardless. Thus a grim reality emerged: Not everyone who wants to attend Burning Man will be able to attend Burning Man.
In an effort to tackle the scarcity issue early this year, event officials introduced a price-tiered lottery that hopeful attendees entered with their credit card information. Loyal Burners were livid at the time, worried the lottery, which allowed participants to request more than one ticket, would provide a venue for scalpers and exclude integral community members.
"There was simply a massive influx of new Burners bidding on Burning Man tickets, because it's impossible to keep the most amazing event in the universe a secret," said festival regular Micah Daigle, whose event-mapping program, Burner Maps, was used by thousands of attendees last year. "But the most amazing event in the universe exists because there's a community of amazing people who have been building it for the past two decades. And most of that community is now ticketless."
Since the lottery winners were informed Feb. 1, Burning Man organizers have worked long hours to come up with solutions for distributing and redistributing tickets, holding forums with theme camp leaders and soliciting feedback from the community. They decided to allocate the remaining 10,000 tickets, which were originally to be sold in a second open sale, to theme camps and other infrastructure groups. In addition, the competitive scholarship program offers 4,000 tickets at a lower price. (Several thousand additional tickets were sold in an early-bird sale at the end of last year.)
Those with extra tickets on hand will be able to resell them, but only to individuals who initially registered for the lottery. Organizers hope sellers will use Burning Man's own Secure Ticket Exchange Program, an online system that launches at the end of February and aims to combat scalpers by requiring that tickets be resold at face value.
Many of those who criticized the lottery from the start voiced specific concerns about scalpers.
"It's a shame," said Anderson, who thinks organizers should limit sales to one ticket per customer. "Some people are willing to spend more than $10,000 for a ticket, but the people who make Burning Man awesome are not the millionaires who sit in their RVs all day. It's the people who scrape to make their camps awesome, and those people can't pay 10 grand for a ticket."
Burning Man organizers, for their part, are less worried about the threat of scalpers. "We aren't selling Lady Gaga tickets," festival spokeswoman Marian Goodell told HuffPost. "We're a different beast."
According to Goodell, true Burners will neither buy nor sell tickets at a price above the standard $390, and as a result there's little market for scalpers. "The expensive tickets are online, but they aren't sold. They're just sitting there," she said. "We've found about 100 tickets available [at increased prices] so far, but Burners aren't paying for them."
In reality, the Burning Man subculture has simply outgrown what one week in the Nevada desert can handle. Since its birth a quarter century ago, Burning Man has spawned more than 190 individual communities in countries from Japan to the Netherlands, organizations like Burners Without Borders that send thousands of volunteers on relief projects throughout the world, and a host of smaller events during the year.
Any group or event seeking the Burning Man stamp of approval must adhere to the community's Ten Principles, which emphasize gifting, participation, self-expression and, of course, radical inclusion.
The Burning Man Project, a nonprofit launched last year out of the Burning Man headquarters in San Francisco's Mid-Market neighborhood, aims to foster and facilitate such communities. "We're focused on growing the culture out into the world," Goodell said. "Eventually, the event itself will just become one subset."
Goodell believes the widespread adoption of the Burning Man culture, especially in the past few years, reflects a growing dissatisfaction with society as it stands.
"We're an antidote to a lot of what's happening around the world that has people unsettled. Technology, cellphones, our fast-paced society ...," she said. "Being in the desert is transformative. You come away wanting to connect with people and think differently."
"We offer that thing that seems so scarce in our world: authenticity," said founder Harvey, whose first event on Baker Beach consisted of a handful of friends and a wooden statue of a man they burned ceremoniously. In celebration of those roots, a figure of a man still burns at the end of the festival each year.
Despite the flood of eager attendees, festival organizers say they have no immediate plans to relocate the event from the Black Rock desert, nor do they expect to double their numbers anytime soon.
"When a town grows too quickly, the infrastructure can't keep up with it," said Goodell, who pointed to congestion on Black Rock City's single two-lane road as an example. Last year, festival-goers waited up to 10 hours in traffic both arriving at and leaving the event.
Goodell also noted that the Burning Man community has spent 15 years navigating the local politics in Nevada and remains in good standing with the Bureau of Land Management. "We know the people, we know the area, and we have a lot of support," she said. "We're not particularly inspired to move."
Festival officials do, however, hope to expand the event from its current 50,000-person capacity to a 70,000-person limit in the near future, regardless of its location.
Meanwhile, initial lottery frustrations aside, many Burners remain enthusiastic about this year's event.
"The real test of the community is its ability to turn this challenge into an opportunity," Daigle said. "How can those of us who received tickets make this the most amazing first-year burn for thousands of people? How can the rest of us spend that week building something new in our communities?"
Anderson added that he's willing to be flexible about the size and scale of his theme camp this year, depending on how many of its members end up with tickets. "We might not be able to do a big project with light, sound and water installations," he said. "But we have our core infrastructure, and we can make [our camp] happen one way or another."
Still, the irony persists: How do you promote radical inclusion at an event that simply won't be able to include everyone?
"The principles are not designed as guiding lights for ticket sales," said Goodell. "Radical inclusion is about how we welcome a stranger into our culture, not about how many people we can fit into the clown car."
Ryan Grim contributed to this report.
Related
Popular in the Community