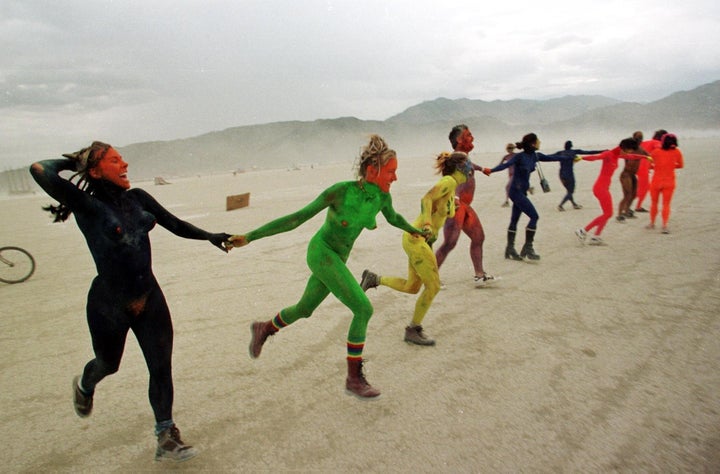 Calling all Burning Man fans who prefer to plan ahead: The moment you've been waiting for has arrived.
Starting Monday, festival organizers will debut their new lottery-style ticketing system, releasing a limited number of pre-sale tickets to next year's event for $420 a pop. (Coincidence? Highly doubtful.)
Early registration ends December 11, and hopeful attendees have a chance to enter their credit card information on the official Burning Man ticketing website from now until then. A lucky 3,000 names will be drawn in the first round.
Following the early bird special, the majority of passes will be sold during the main ticketing lottery, which runs from January 9-22, 2012. Those who register for the lottery must indicate the highest tier of pricing they're willing to pay: 10,000 tickets will be made available for $240 each, followed by 15,000 for $320 each and 15,000 for $390 each. Results will be announced on February 1, 2011.
Those who miss out on the contest will still have a chance to pick up general admission tickets, 10,000 of which go on sale in March and also cost $390 each. Festival officials have also set aside 3,500 low-income and scholarship tickets, made available through an application process only.
Burning Man executives announced they'd be switching to a lottery system earlier this month in an effort to quell the inevitable online purchase rush and address an increased demand. Tickets to this year's festival sold out for the first time in the event's 25-year history, and an estimated 54,000 individuals descended on Black Rock City for the big burn -- far exceeding the federal Bureau of Land Management's 50,000 limit.
But the new policy drew the chagrin of Burning Man's most loyal followers. "I've been speaking with a lot of people, and it's very rare to find someone who thinks the lottery is a good idea," Burning Man regular Micah Daigle, who founded an online festival directory called BurnerMap, told The Huffington Post earlier this month.
For their part, festival officials remain confident that the revised system will appease a number of the problems that have arisen since the playa's surge in popularity.
"Our understanding of supply and demand right now is that there's only a small percentage of people who won't be able to get tickets at all," Burning Man spokeswoman Marian Goodell told HuffPost. "When people start doing the math and putting the numbers together, they will realize there are many ways to get in the door."
Next year's event runs from August 27 through September 3, 2012. Click here for more information on how to get your tickets.
Support HuffPost
The Stakes Have Never Been Higher
Related
Popular in the Community