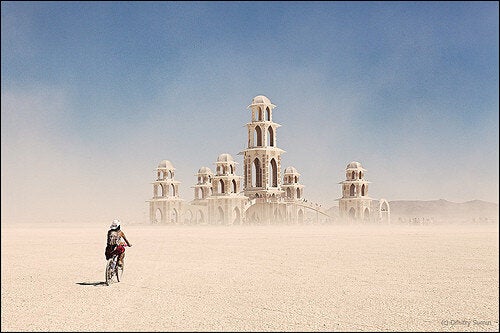 San Francisco cleared out considerably over the weekend as tens of thousands of artists, dreamers, hippies, techies, corporate professionals, newcomers and veteran Burners made a mass exodus to Nevada for the annual Burning Man festival in the Black Rock desert.
But Burning Man isn't just a week-long celebration of human expression. Its community thrives all year round, especially here in the Bay Area, where the whole thing began modestly among a small group of friends on Baker Beach in 1986.
And preparing for the big event is the core focus of many attendees' energy. Participants spend months before the event designing intricate campsites, organizing performances, building ornate sculptures, constructing the famous "art cars" that will navigate the festival grounds and holding flashy fundraisers to pay for their creations.
In the past few weeks, workshops and design studios like Oakland's NIMBY and the Box Shop in Hunters Point have bustled with Burners putting the finishing touches on massively elaborate (and massively expensive) projects, some years in the making.
Aaron Liebling always dreamed of pioneering his own art car. For years, he camped with The Duck Pond, which was famous for its giant slip n' slide, full bar and tower with a gleaming duck statue affixed to the top. He met his wife camping in the Geisha House, an air-conditioned geodesic dome whose inhabitants serve sake, across the way.
Along with a team of friends, the couple invented the Cloud 9 car, which will be snaking its way through Burning Man's giant desert sprawl (known as the "playa" among insiders) for the next seven days. The vehicle was constructed from an old Dodge van Liebling purchased on eBay, which Liebling and his cohorts transformed into a giant, fuzzy, glowing cloud on wheels.
"We've put a tremendous amount of effort and love into it and the response has been overwhelmingly positive," Liebling, who spent $15,000 and 120 full work days on his creation, told The Huffington Post. "We're going to cruise the playa; take people wherever they want. We have no set schedule."
Local nonprofit ReAllocate, meanwhile, spent the past year experimenting with a different form of transportation for their Burning Man contribution: quad-copter drones. The company's "Blue Sky" project will scan images of attendees who pose in their photo booth. The drones will then use GPS technology to deliver the pictures directly to the individuals based on their location on the playa at any given moment.
The Blue Sky team has been working vigorously on Treasure Island to bring their vision to life cutting and welding steel and hacking computer code. According to ReAllocate communications director Bill Landers, more than 500 hours of prep work and $40,000 went into their creation.
"We want to develop a system that can be shipped into any environment in the world and come out swinging," Landers told HuffPost. "The Black Rock Desert is an incredibly harsh environment that will test our capacities to the limit and beyond."
Meanwhile, local engineer Alexander Green poured $45,000 of his own money into an art installation he calls "Sugar Cubes."
Green, who's part of Shady Waffle, a theme camp known for its grandiose breakfasts, worked with a programming team to construct 85 steel cubes and 17,000 LED lights that use various sensors to illuminate in a series of patterns.
"I think it's a whole new medium of interactive art," he said to HuffPost. He'll have a DJ playing music at the center of the cubical statue, and the LED lights will react to the sounds as a kind of "musical visualization."
"The possibilities are endless," he added.
Other noteworthy projects and installations this year include a flaming pendula, a propelled moving castle, two mobile "serpent twins" and a 12-course gourmet meal served aboard a giant scorpion.
Of course, Burning Man wouldn't be complete without its infamous "burning of the Man" ceremony, an interactive spectacle that involves dancers, music, fire and the destruction of a giant statue of a man and a corresponding temple.
Maya Hernandez will be performing during the burn with Oakland-based troupe the Dreamtime Circus. The group has been rehearsing for months and their show includes hula hooping, dance and martial artistry.
"We really put all our energy and effort into this, all year round," she told HuffPost. "It's all a huge buildup to that night. It feels really special."
Check out some of the projects-in-progress below: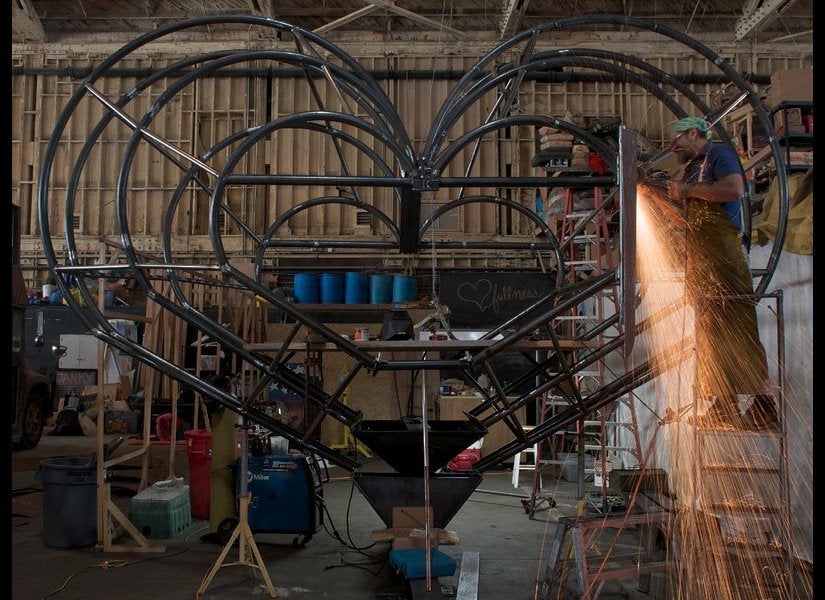 Burning Man 2012 Art Projects
Related
Popular in the Community