One of the very best things about Burning Man, the week-long, post-apocalyptic celebration of creative expression that pops up in the Nevada desert each August, is the awe-inspiring collection of art on display.
The Huffington Post was lucky enough to preview a handful of the projects that will be on hand at this year's event, which kicks off in mere weeks and is built around the theme "caravansary." As artists scramble to put the finishing touches on their brainchildren and raise the final funds to bring their weirdest dreams to life, we've rounded up what will undoubtedly be some of the most influential works of Burning Man 2014.
From a giant, glowing vagina to a collection of mechanical lotus flowers that light up to the rhythm of your heartbeat, take a look at some of the bizarre creations that will grace the world's dustiest canvas this year (Grover Norquist not included):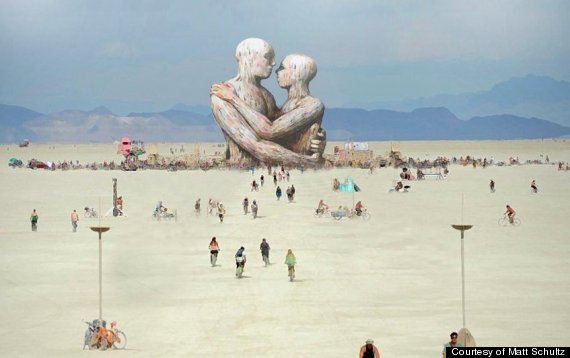 Though enormous in scale, the piece is simple -- a 72-foot sculpture of two figures embracing. But creator Matt Schultz hopes his work will convey a deeper message to onlookers, one that was inspired by the loss he felt when his stepfather passed away two years ago. "Embrace is a reminder to take the time out of your busy life to spend time with those that you love," he told HuffPost. "We hope that people will think of all of the relationships in their lives, past present and future, and consider what has made them so important."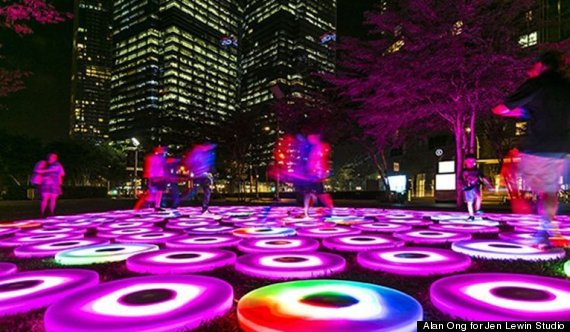 The Super Pool is a bigger and more badass version of the legendary Burning Man installation The Pool. For this new and improved iteration, sculptor Jen Lewin has created a 5,000 square foot immersive LED playground where participants can interact with circular pads of light through their own unique movements. "Imagine a giant canvas where you can paint and splash light collaboratively," Lewin told HuffPost in a statement.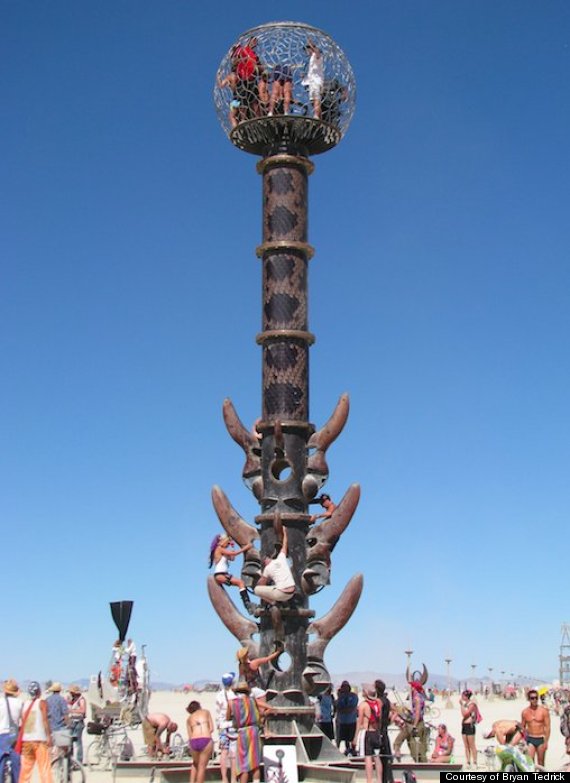 Bryan Tedrick's climbable psychedelic totem pole first debuted at Burning Man in 2010, and he's reprising it this year. "This lighthouse of the desert draws people to it and naturally becomes a point to gather and meet," he explained, adding that the trip to the top is not for the weak of mind or body. "The climb can be arduous, a gritty challenge progressing from the coarse to fine, from the earth to the sky, from the physical to the spirit."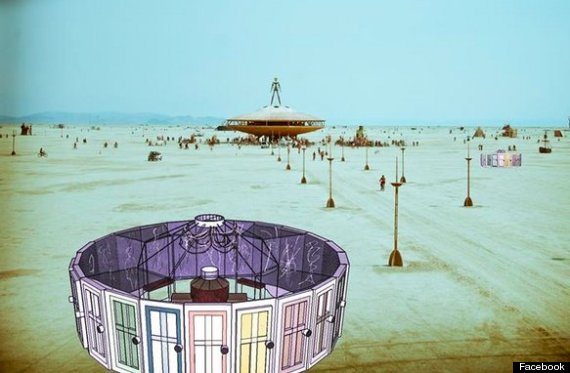 The all-female designed and produced installation features a massive spinning wheel emblazoned with tarot card designs, a gazebo area where spectators can relax and, of course, a chandelier made of fire. And it's all powered by solar energy, to boot. "It's made of salvaged and reclaimed materials and will also act as a large compass, a place for personal reflection, card readings, high teas, and insight," project designer Jill Sutherland told HuffPost in a statement.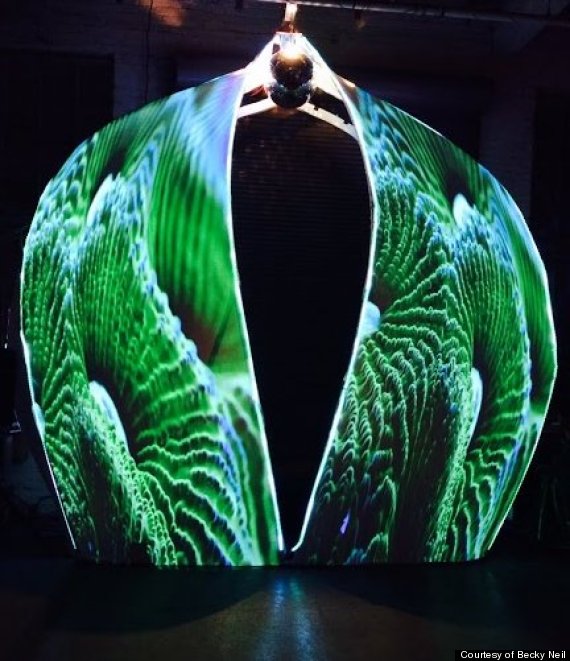 Who's more fit to build a behemoth tribute to the female anatomy than a group called the Clitterati? The 18-foot tall, LED-lit vagina will also feature video projections of feminine forms and sensory fabrics called the "erogenous zone." "We're delighted when the name makes someone uncomfortable," the Vulvatron's lead designer, Rebecca Frisch, told HuffPost in a statement. "We're using this opportunity to engage in conversation, and we're eager to help each other explore our triggers and push social boundaries imposed by our culture."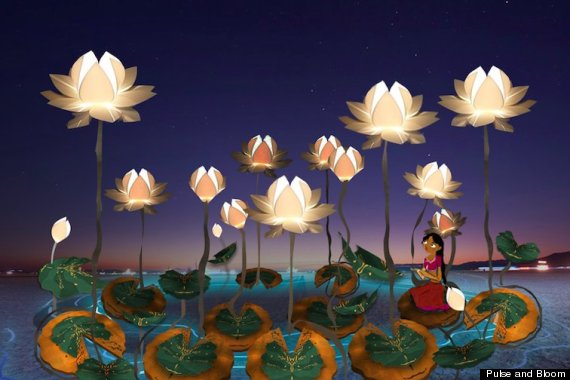 An entirely interactive experience, Pulse and Bloom is made up of 25 mechanical lotus flowers. When participants touch the flowers, they light up to the specific rhythms of their heartbeats. "We want to use technology to make our inner invisible worlds more visible," artist Saba Ghole told HuffPost.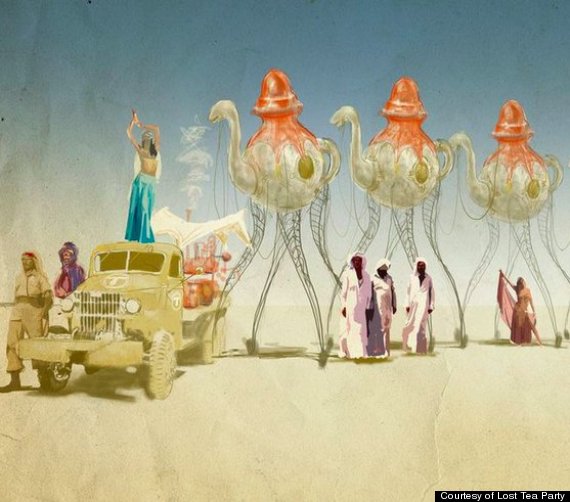 More art caravan than art car, the Lost Tea Party will traverse the playa as a train of enormous teapots breathing real steam. Revelers are encouraged to climb aboard and will be guided by "bedouin tea-pod pullers dressed in traditional desert garb." According to the artist Wreckage, who's spearheading the project with the Mutoid Waste art collective, the piece looks like the unlikely union of Alice in Wonderland meets Lawrence of Arabia.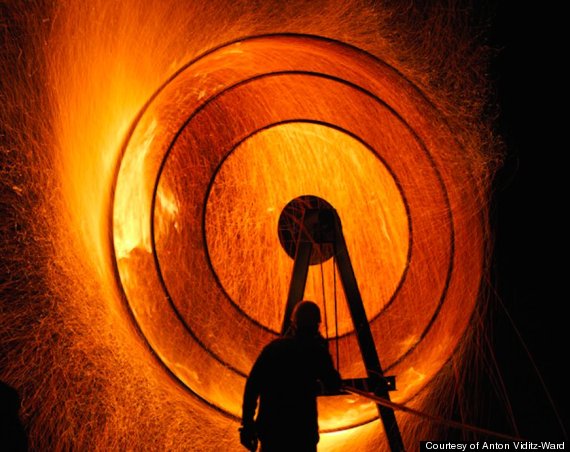 This year's Wheels is the sixth iteration of a series of human-powered spinning fire wheels that artist Anton Viditz-Ward told HuffPost are inspired by watching Burning Man's legendary fire dancers.
Celestial Mechanica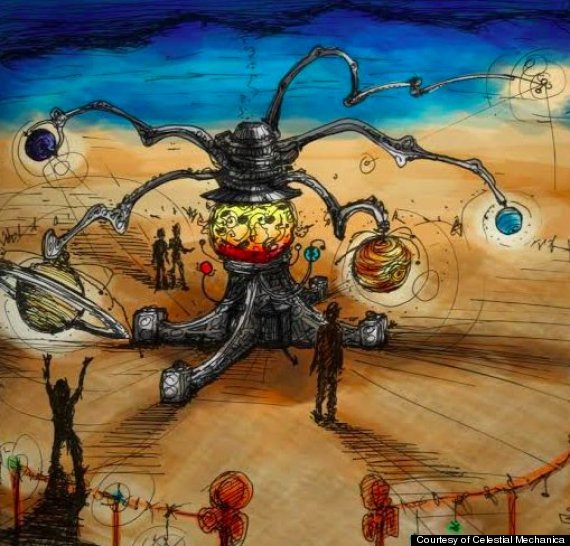 Viewers are encouraged to interact with artist Jessika Welz's churning, 50-foot replica of our planets revolving around the sun. "We'll provide the opportunity to experience our solar system's beauty and power with all five of your senses," Ashley Ortega, who volunteers on the team creating the piece, told HuffPost. "At night, each planet will glow from within."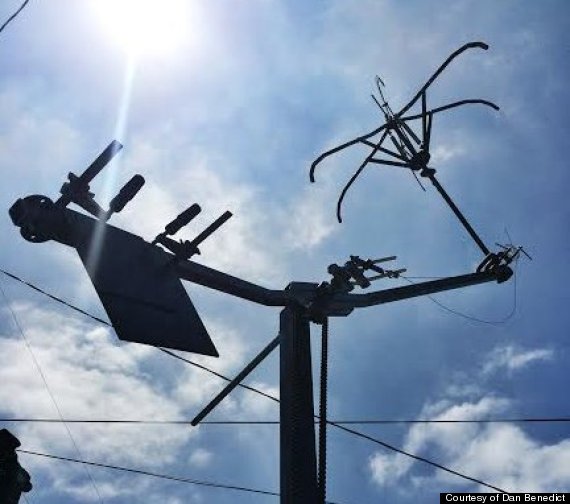 First time Burning Man artist Dan Benedict, who hopes to keep the aesthetics of his piece a surprise until it debuts, describes the project as "a large ring of red parasols that pass through a human figure while closed. As the parasols exit the figure and rise they open, blossom toward the apex and close again on their way down." He added that, as a former member of the Mormon church, he often turns to his art as a means of connecting with others.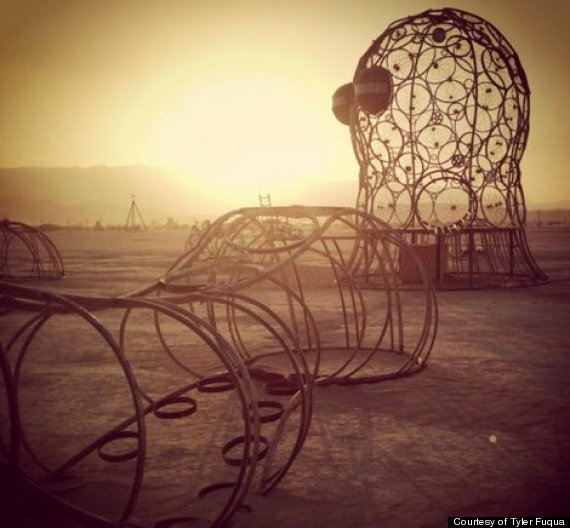 "We are the only art installation you're supposed to lock your bike to," artist Tyler Fuqua told HuffPost of his octopus-shaped creation, which first made an appearance at last year's Burn and has since been updated with new tentacle sections. "I mean, who will forget they locked their bike to a giant octopus?"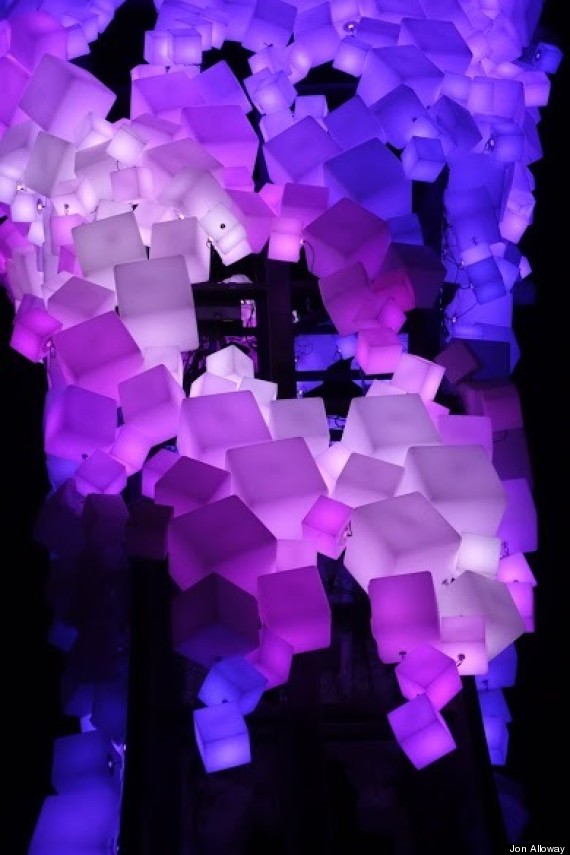 Charles Gadeken's 50-foot-tall tree, made entirely of LED-lit cubes attached to square steel tubing, "reflects the universe of complexity, mystery, and serendipity that defines our journey through time and our emergence into the future age," he told HuffPost in a statement. "The tree provides shade during the day and a magical light show when from dusk till dawn."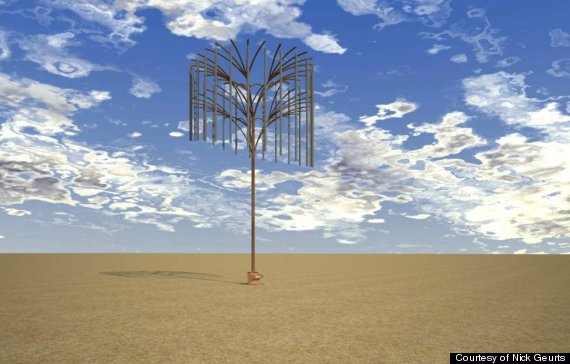 The Tree of (Im)permanence rises from a tiny toy piano that, when it's played, activates tubular bell chimes that form its branches. At night, the branches light up as their note is played, and creator Nick Geurts hopes individuals will lead yoga and meditation sessions beneath it. "This is meant to be not only an auditory experience but a journey of self-discovery," he told HuffPost.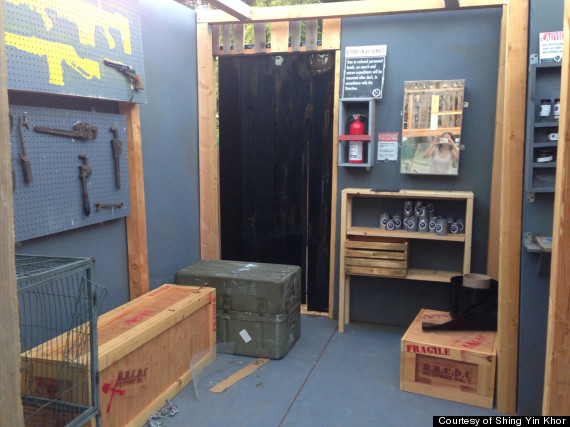 A house that will haunt the darkest corners of your psyche, the Last Outpost is an "immersive experience" that tells the story of a group of Burning Man volunteers who mysteriously disappear. "I love slow, psychological, horror and science fiction and fantasy, and this installation is pretty much like building a set for an insidiously scary play that no one has written yet," artist Shing Yin Khor told Huffpost. "I hope that people will wander through this house, and spend some time unraveling the mystery within it."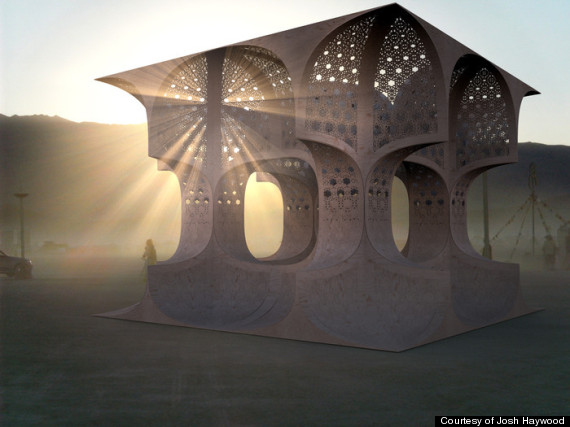 Designer Josh Haywood drew his inspiration from the Moorish buildings he studied as a graduate student of architecture. He hopes his "tiny palace named for love" will serve as a physical and spiritual retreat for passersby. "The structure provides a refuge from the heat of the sun and an intimate spiritual place for people to gather and rest," he told HuffPost. "During the night the four pillars illuminate like a giant lantern."
Support HuffPost
The Stakes Have Never Been Higher
Related
Before You Go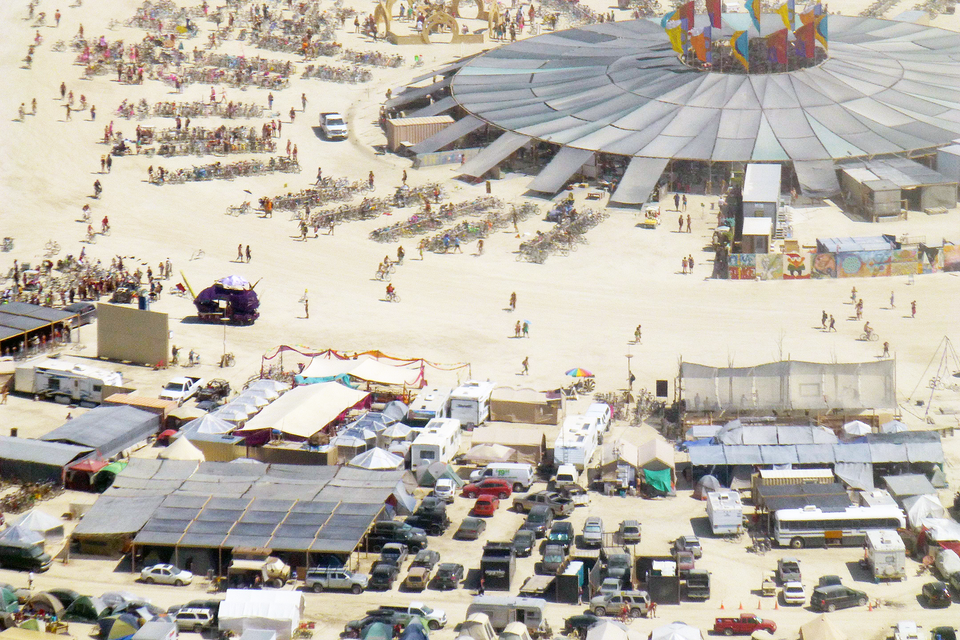 Burning Man 2013
Popular in the Community