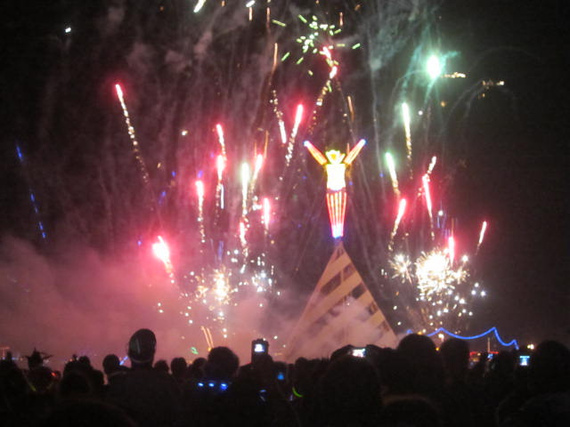 I got it bad and that ain't good. Each year I say I'm finished with Burning Man, yet soon I find myself aching as the days count down till the man burns. I've gone ten times. People have asked, "What is Burning Man?" This is an impossible question to answer as it is unlike anything else on Earth. My personal answer is this:
Imagine in your mind combining "Mad Max the Road Warrior," the Woodstock Festival, Gay Pride, Carnival in Rio, a Hells Angels biker rally and make that into a meatball of humanity which you blast through a black hole in space to land at the bar in Star Wars at happy hour and the punch is spiked with acid.
That is the only way I can describe Burning Man. Or, it could just be a camping trip with family. Your choice. It's also an idea. An idea of community based on being responsible for one's self, being a creator amongst a community of creators, and having the bandwidth to have a whole lot of fun with 65,000 dusty friends for a week.
I've camped with Kostume Kult, Disorient, Entheon Village, Audrey's Love Jungle, Squid Row, and even a now defunct camp named the Pink Pussycats aka the Pink Pussy Posse. The PPP was my first camp in 2001 and to pay my dues I volunteered to drive the 40-foot RV alone from Oakland, California up thru the Sierra Rockies all the way to Gerlach, Nevada. Big mistake! I didn't realize that when you hit the brakes on an RV it simply doesn't slow down for a while, let alone stop.
So what is this Burning Man Cinderella Syndrome (BMCS) you may wonder? It's that for whatever reason I've chosen not to attend Burning Man whilst the rest of my friends go. Then a week or so before the event, everyone is posting online about how excited they are, how fabulous their costumes are, and I start to second guess and dream of those nights back in 2005, 2007, 2010 when I stayed up all night with my best friends on a magic carpet art car seeing the sights until sunrise at the trash fence at the farthest reaches of the perimeter. That feeling of the cold dark night giving way to the golden muffin of a crisp, desert dawn is like a cactus flower opening.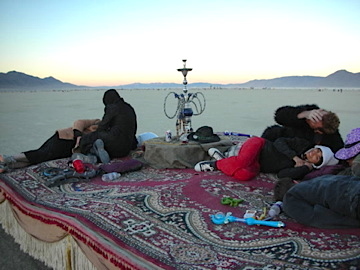 Many friendships have been made, perfectly good running shoes have cracked and been discarded and afterward a new sense of possibility both personally and for the world has been instilled in me. A wonderful alright-ness to it all.
So, this year I made a clear decision, especially after vying unsuccessfully into purchasing tickets because in one round of ticket sales, hackers found a backdoor in the website code and hacked into the front of the line and snatched up many of the tickets. I responded with the now cliché: "I'm over Burning Man, it wasn't as good as last time."
So I settled into The Hamptons to enjoy pool parties, beach bonfires, and survived a minor apocalypse: a rosé wine shortage. I was happy. Still, when no one was around I'd sneak online to see if anyone had posted pictures to Facebook, or surfaced from the current group I camp with to live vicariously thru their postings. Once upon a time there was no cell phone service or wifi at Burning Man. For a week we were all simply being here now. This led to hand held device withdrawal. There was no checking email, no texts or sexts, or any distraction.
So when a dear friend came to stay with me the weekend the man burned, I felt like we'd have our own party and even show off a bit on social media to our friends at the burn (now wifi and hotspot plugged in) that we too were having a blast, complete with towels, ocean, and pleasant smelling bathrooms.
When the reports started coming in that this year was rough; very cold nights, many days of windstorms which blow up the alkaline 'playa' dust, I felt concerned for my beloved friends, but another part of me felt glad for another's misery. A type of secret validation for not going took hold. I'd tell myself see it was a crappy year and I was smart for skipping it.
BMCS Syndrome can also be like a tossed salad for my business, throwing things into the air. This year I had to wait for my attorney to return to close a nifty consulting deal with a fast growing tech company. Another west coast music attorney I have spent many nights till dawn with in years past, I've had to invoke the client-attorney privilege with. Unlike his oath to keep clients secrets confidential, many times I have had to abide by the oath to not reveal illegal and delightful things I have witnessed my music attorney doing. Johnny B. Badd you know who you are!
There is however a dimension of Burning Man which gives me goose bumps; the temple. A sacred structure that is funded by donation each year as a space for people to come and heal, grieve, meditate, let go, breath. One year whilst I was there a procession of people entered carry a small wooden box. The man holding it said that it contained the ashes of his son who was en route to Burning Man the year before but died in a tragic motorcycle accident. The man had never even heard of Burning Man but after his son died as a tribute in his memory, volunteered to raise the money and build the temple. His son was just 18 years old.
This is my Burning Man Cinderella Syndrome dilemma. A kind of dammed if I do or don't emotional state. People get married at Burning Man. People meet the love of their lives there. People bring the ashes of their son, daughter, mother or father to burn in the sacred temple burn. It is a vortex of experience unlike any other.
And through all the media drama of biblical plague proportions, floods, insects carrying West Nile virus, dot-commers, it remains stoic. Each year, it weathers the storms of time, taste as old timers and newbies alike make the pilgrimage to the desert to find out who they are, and to even for a brief, fleeting moment glimpse a better more cooperative world. A world that through all the suffering and white outs arises from the ashes to birth a better tomorrow.
So the man burns in 360 days or so. I'm going. Next year was so much better anyway.