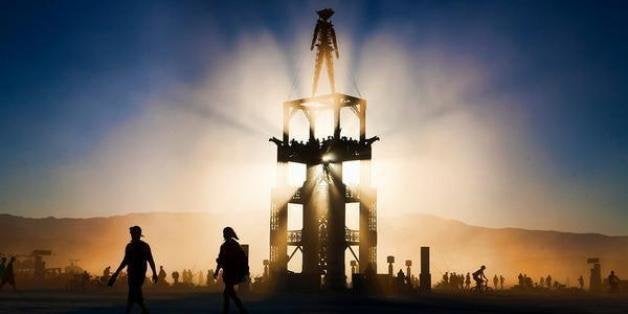 Burning Man 2014 is upon us. Like, really upon us. Come August 25, the sands of Black Rock City will be covered in the footprints of desert urchins who just want to burn shit soak up the meditative suns of Nevada. So -- in the days leading up to the blessed art festival -- we asked our friends, our esteemed colleagues, our Twitter followers and BM veterans we know to help us compile a guide to the desert essentials everyone should pack.
If you could only bring one thing to Burning Man 2014, what would it be? we asked.
And you answered. Below is a list of 20 "one things" you need to bring to the playa. May you experience a healthy dose of eye-rolling and squeals of delight.
2. Sunscreen. Starting off strong.
4. A mobile home with everything in it that you need.
5. A lifetime supply of Runa. That's Burning Man-speak for energy drinks.
6. A flying carpet. Like, a real one.
7. A towel. Practical. Many uses.
8. Bacon. This seems ill-advised.
10. LED lights. You know, so your friends can see you at night.
11. A (decorated) bicycle. #diy #fixie
12. A tutu. Who needs water, food or shelter when you have tulle?
13. An ice box. Just, a box of ice. Good.
14. Gifts for strangers. Because only Burners would think of other people in the faux-apocalyptic conditions they've put themselves in.
16. A pair of goggles. Dust, man.
17. Water. Give us all the water.
18. Towels. Again? Is it even really practical?
19. A ticket to somewhere else.
20. A Shewee. You win, ma'am. You win.
Calling all HuffPost superfans!
Sign up for membership to become a founding member and help shape HuffPost's next chapter
BEFORE YOU GO
PHOTO GALLERY
Burning Man 2013