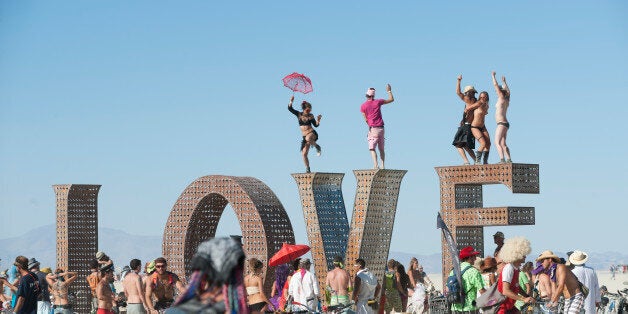 This is how Burning Man, the experimental community that pops up for a week in a remote stretch of Nevada's Black Rock desert each August and then disappears without a trace, describes itself on its website: "Trying to explain what Burning Man is to someone who has never been to the event is a bit like trying to explain what a particular color looks like to someone who is blind."
Before I attended for the first time last summer, I was convinced that was the most pretentious sentence I'd ever read. I've been to festivals and I like weird parties. Can hanging out in the desert for a week with some cool art and music really be all that different?
Turns out, it can. And trying to describe the experience accurately here, too, would indeed be a nearly impossible feat. It's like being on Mars, except I've never been to Mars.
But there are certain takeaways one can glean from building a world from scratch, spending seven days celebrating and connecting and expressing and exploring, and then burning it all to the ground. Every stranger has a story to tell. Reveling in the bizarre can be beautiful. When you learn to rely on yourself, it becomes easier to rely on those around you. I could go on, but I'm starting to sound like a self-righteous hippie, and that's not the point.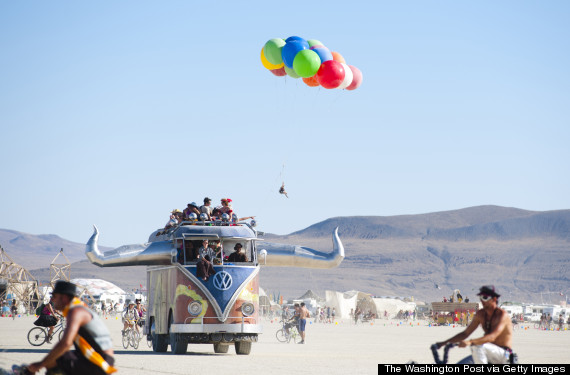 Burning Man 2011.
The point is that the brains behind Burning Man just made it a whole lot easier to distill the most important aspects of the event and its surrounding culture and apply them to other arenas that stand to benefit. On Monday, they announced Burning Man had officially transitioned to a nonprofit organization that, in addition to producing the annual desert bacchanal, would support related projects and foster its year-round community.
"After 24 years of tending our garden in the desert, we now have the means to cultivate its culture worldwide," said founder Larry Harvey in a statement. "Sometimes things just pop, and this is one of those moments."
In the late 1990s, nearly 15 years after the first "burn" took place among a handful of friends on a San Francisco beach, organizers created Black Rock LLC, a limited liability corporation that handled the ins and outs of running the event (now, with nearly 70,000 attendees, Burning Man costs upwards of $20 million each year to execute). A few years ago, the team formed the Burning Man Project, a company dedicated to maintaining Burning Man's core values -- which include radical self-expression, civic responsibility and communal effort -- through efforts that take place outside the festival itself.
The new nonprofit will unify the two entities, solidifying its cultural stronghold and creating a hub for projects seeded at Burning Man and/or based on its principles to live and thrive year-round. The Temple of Hope, an art installation, is set on fire at Burning Man 2006.
"We'll be taking the momentum people were getting from their experience at Burning Man and working to manifest it in our own communities," Marian Goodell, who will oversee the new nonprofit, told The Huffington Post. "There are opportunities for people to do what they've learned at Burning Man outside Burning Man. We'll help them tap into each other." Burning Man from above, 2008.
Goodell said she hopes the larger nonprofit will become a portal that connects regional Burning Man groups around the globe, providing funding for certain projects and receiving funding from others. "We'll be a philosophical center and a network node, connecting individuals and groups to one another," she said.
"In our more exciting moments, any one of us who has been to Burning Man thinks it can change the world," she added. "It brings people hope, and it makes people less afraid of others. It transcends religion and politics. It's worth it to expose others to what we've learned from this cultural experience."
Perhaps a bunch of weirdos running around for a week in the desert won't change the world. But bringing art to underserved communities and creating a lasting dialogue around the importance of civic responsibility might.
Before You Go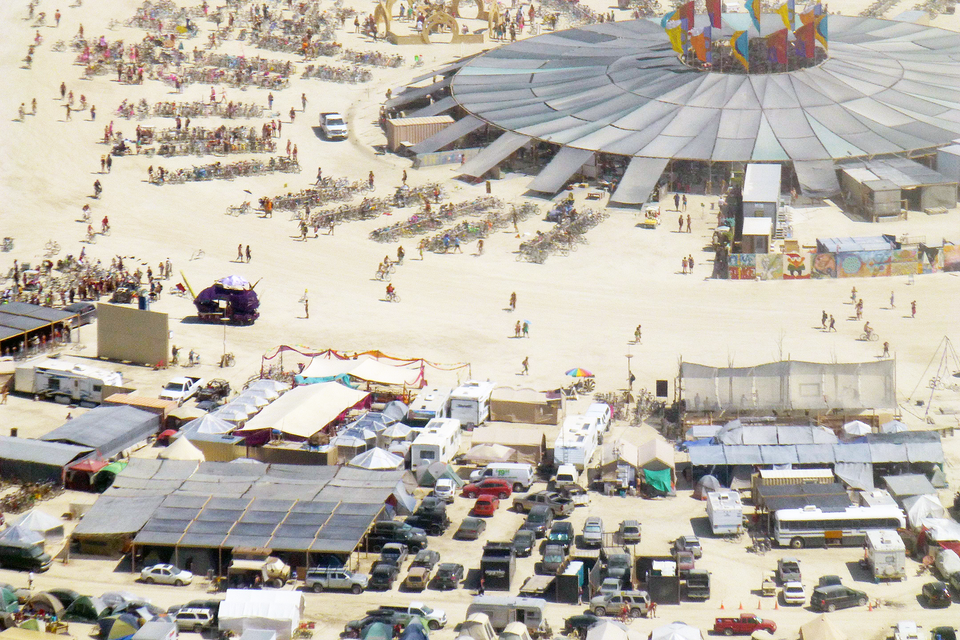 Burning Man 2013
Popular in the Community