 After spending ticket-selling season dealing with swarms of angry festival attendees, Burning Man organizers have again found themselves in the hot seat -- but this time, pressure is coming from Nevada's Bureau of Land Management.
The BLM has placed Black Rock City LLC, Burning Man's San Francisco-based parent company, on probation after officials reported that the population of last year's event exceeded the set limit by thousands. As a result, festival organizers have only been issued a one-year permit to stage Burning Man 2012, and their efforts to obtain a five-year permit are now in jeopardy.
"Population is a very important issue. That's a big focus of the environmental analysis on which the permit is based," Cory Roegner, who monitors Burning Man on behalf of BLM's office in Winnemucca, Nev., told the San Francisco Bay Guardian.
Black Rock City LLC recently submitted a proposal that would grant their organization a five-year permit as well as gradually increase the festival's population cap to 70,000 participants. If the probation isn't overturned, organizers will only be able to apply for permits on a yearly basis.
And if the amount of attendees exceeds the limit during this year's event, Burning Man may be banned from the Black Rock desert entirely.
A population increase would certainly be welcomed by the Burning Man community. The festival's popularity has swelled to unprecedented proportions in recent years.
Tickets to last year's event sold out for the first time in its 25-year history. In an attempt to manage the increased demand, organizers staged a lottery to allocate 2012 passes. But the deluge of entrants and scarcity in supply left many festival regulars out in the cold.
"There's no sugar coating to be put on it," a message in the Burning Man newsletter Jack Rabbit Speaks read earlier this year. "The majority of the people who have previously built, created, contributed and participated -- not just those who've been before, but who have created the foundations of Burning Man -- don't have a ticket to the event this year."
For their part, organizers remain confident about their relationship with the local government. Goodell told The Huffington Post in February that Black Rock City LLC is on good terms with the BLM. "We know the people, we know the area, and we have a lot of support," she said, noting that they only plan to expand the festival's population very slowly and carefully. "When a town grows too quickly, the infrastructure can't keep up with it."
According to Goodell, the probationary status won't affect the organization's five-year permit application, which is currently under environmental review.
Take a look at some of our favorite images from past burns below: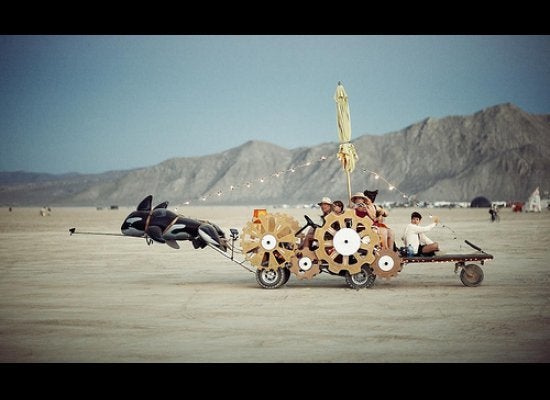 Support HuffPost
The Stakes Have Never Been Higher
Related
Popular in the Community