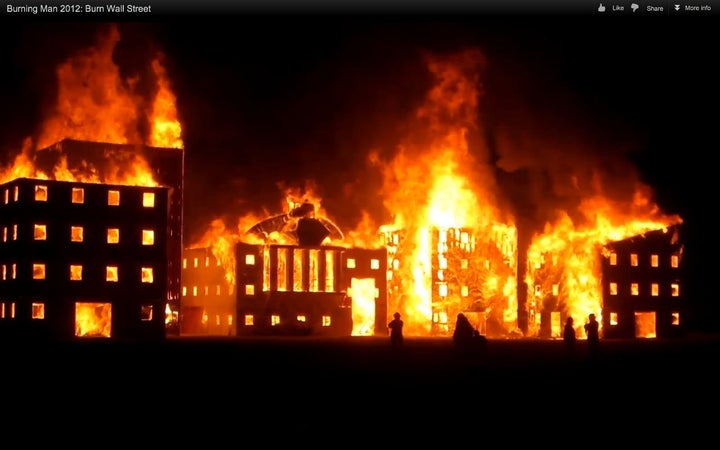 What do you think of when you think of Burning Man? For me, having never been, I imagine a sort of Utopia, where you are safe and free to be whoever you want to be. Whenever you hear about Burning Man, you hear about the art, the peace, the spiritual enlightenment, and, most importantly, the freedom. Some burners, as the attendees like to be called, even feel as if that is their home and they can't wait to get back to it every year.
What kept me from going all of these years are the weather conditions. I cannot imagine being in 106 degree heat during the day with the chance of storms on a regular basis. Yet many people have said that in these awful conditions comes serious enlightenment, so I give more and more thought to attending every year.
This year, I saw all the posts about how 2012 was by far the best burn ever, and then I saw a very different post entitled "Serial Rapist on the Playa." Upon reading the blog entry, I became aware that a 19-year-old girl was strangled, drugged, and raped one night on the playa this year. According to the blog, she was found face down behind Emerald City seemingly overdosing. The people who found her assumed she had overdosed and took her to the medical tent. After being attached to an IV all night, they released her. Upon returning to her tent, the bruises that appeared made it clear she had been strangled and raped.

When you hear of Burning Man, you never hear of crime, and you certainly don't hear about a rape. When the victim reported the assault on the playa, she was informed that Burning Man is not equipped with rape kits. If you are assaulted while at Burning Man and you want a rape kit, you have to travel to Reno. Joseph Pred, Burning Man's Emergency Services Operations Chief confirmed, "Rape kits do not exist in Black Rock City. Forensic exams are incredibly complex issues that have to do with the court system and are not something that is really easily taken on. In Northern Nevada, there is only one facility that does that type of exam."
I found this curious, so I contacted a hospital in Northern Nevada and asked if rape kits were only done in specific facilities. A charge nurse in the ER said that when a person is brought in for rape, they are instructed by law enforcement to conduct a special exam and it can be done in any hospital in Northern Nevada.
This is not the first, nor will this be the last sexual assault that occurs on the playa. Burning Man is a city, and in keeping with that belief, it has a responsibility to provide rape kits for its attendees, as well as a better way of handling a situation like this.
Megan Miller, Burning Man's Public Relations Manager, explained that if an attendee is sexually assaulted and they want to go to the hospital, then they drive the person to the facility and bring them back to the burn, if they so choose. So, they do offer transportation, but how much evidence do they lose along that drive? As equipped as Black Rock City claims to be, clearly this a situation that calls for better planning and sensitivity. This has not soured me on Burning Man and I am not trying to tarnish this event. But, that 19-year-old girl will never be the same and her burning man story will be very different than most.