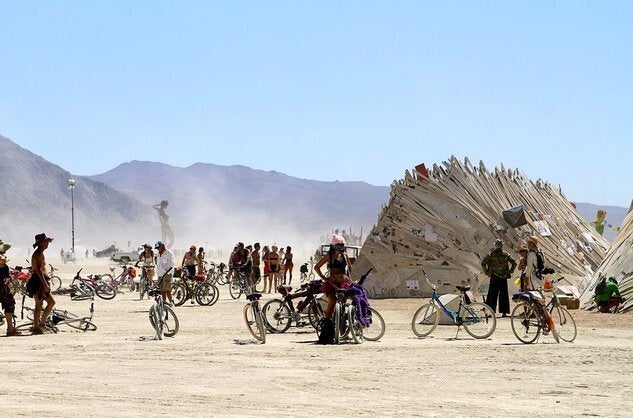 SAN FRANCISCO -- It all started when the desert sold out.
For the first time in its 25-year history, Burning Man -- the all-inclusive music and arts fairyland that pops up in Nevada for a week each August -- ran out of tickets. Anger and confusion ensued as the festival's loyal attendees, some of whom spend their entire year preparing for those seven magical days, scrambled to find a way in. Scalpers took to Craigslist, raising prices into the thousands. Many of the famous DJs slated to perform were forced to stay behind.
In an effort to prevent a repeat catastrophe, Burning Man organizers revealed last Friday a radical overhaul of the event's ticketing process, which begins in January. An email sent to subscribers of the festival's Jack Rabbit Speaks newsletter outlined a brand-new lottery system in which participants will enter their credit card information and then be randomly selected for various pricing "tiers." Those not chosen at all will be out of luck.
"This solution offers a two-fold benefit," the newsletter read. "It eliminates the annual ticket sales rush by spreading out registration over time (no more sitting in "line" all day, no more getting kicked out of the queue, no sudden unwieldy server demand!) -- and it begins to address the challenges of scarcity."
But the Burners didn't buy it. Rage-fueled rants filled online forums following the announcement, with one commenter going so far as to quip, "F*ck everything about this."
And the sentiment among desert regulars appears to be universal. "I've been speaking with a lot of people, and it's very rare to find someone who thinks the lottery is a good idea," Burning Man regular Micah Daigle, who founded an online festival directory called BurnerMap, told The Huffington Post. "Turning it into a raffle goes against the reality that Burning Man is a community. It's not about showing up to a concert. It's a participatory event that people put thousands of hours into."
As Burning Man's popularity has swelled in recent years, addressing scarcity concerns has posed a very real challenge for festival officials. The Federal Bureau of Land Management permits 50,000 attendees on the allotted land (also dubbed "the playa" and "Black Rock City" by insiders), and demand now far exceeds that limit. Organizers said they're working on raising the cap to 55,000 for 2012 and up to 70,000 by 2016.
Daigle and a few fellow burners are in the process of exploring an alternate ticketing solution. While he remains mum on details at this stage, he explained that his proposal would help identify and rank playa hopefuls based on who has been most integral to the Burning Man community, while still maintaining space for newcomers. "If Burning Man is going to be exclusive because of a ticket limit, then we'd like to find a democratic way for the burner community to prioritize some of the 'elders' that have played a key role for decades," he said. "But we should also ensure that access is granted to those who want to experience the event for the first time."
Perhaps ironically, among the festival's famed "ten principles" is a call for radical inclusion. "Anyone may be a part of Burning Man," its official website promises.
Burning Man organizers are quick to refute claims that the lottery system will make gaining access to tickets more difficult. "People hear the word 'lottery' and it reminds them of taking chances," Marian Goodell, the festival's director of business and communications, told HuffPost. "It's really just a tool for managing the flow of tickets."
Goodell explained that Burning Man officials are employing a variety of tactics for distributing tickets to next year's event, including releasing a handful of tickets for general sale after the lottery ends and allotting even more for the application-based scholarship program. According to Goodell, 40,000 tickets will be made available during the lottery -- more than the amount sold in the first month last year.
"Our understanding of supply and demand right now is that there's only a small percentage of people who won't be able to get tickets at all," she said. "When people start doing the math and putting the numbers together, they will realize there are many ways to get in the door."
Calling all HuffPost superfans!
Sign up for membership to become a founding member and help shape HuffPost's next chapter