Burning Man officials announced Friday that demand for tickets to the 2012 festival far exceeded the amount available, and many will be denied their requests when the results of the event's first-ever lottery system are announced next week.
"Turns out, people are VERY EAGER to go to Burning Man this year," organizers wrote in the official Jack Rabbit Speaks newsletter. "So much so, in fact, that they found creative ways to increase their odds of getting tickets in the Main Sale. As a result, there are a lot more tickets being requested than there are tickets available -- an inordinately large number, in fact, and far more than we projected even after last year's sold-out event."
Now take a deep breath and don't panic -- yet. The powers-at-be are in the process of designing a Burning Man-exclusive reselling platform in which members of the Burner community offer their extra tickets at face value.
"If someone is looking for a ticket, we don't want them to go to eBay or Craigslist, we want them to turn to their community," festival founder Larry Harvey told the San Francisco Bay Guardian. "We think the community is a better distributor than anyone."
Burning Man officials have taken heat for implementing a new, price-tiered lottery ticketing system, an effort to address unprecedented demand (last year's event sold out for the first time in its history). Indeed, what started as a small gathering on San Francisco's Ocean Beach in 1986 has since ballooned into a full-blown pop-up city in the Nevada Desert.
But the Bureau of Land Management only permits 50,000 individuals in the space, and if this year's ticket requests are any indication, thousands more are scrambling to secure their spot on the playa.
Authorities believe many of the participants in the lottery padded their odds by having family and friends request extra tickets, too. "The reality is that there are now a lot of tickets held by our community that will now simply be redistributed to those who need them," the newsletter reads.
Hopefuls can also try their luck when 10,000 additional tickets are placed on sale on March 28 for the highest-tier lottery price of $390.
Still, organizers admit they didn't anticipate such a tidal wave of enthusiasm, and the lottery system may have not been the most effective way to distribute access. "We won't know how it's working until we get to the event and see if people are happy," spokeswoman Marian Goodell told the Guardian. However, she added, in the short term "I'm going to have a lot more unhappy people than I was counting on."
What do you think of the Burning Man lottery: A creative solution, or adding to the problem? Weigh in in the comments, and in the mean time, check out our user-submitted slideshow of images from last year's event (and be sure to add your own if you haven't yet!):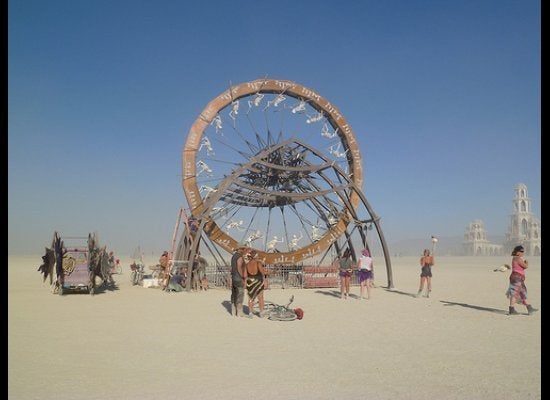 Burning Man
Popular in the Community