I spent the week before Labor Day away from the church I serve participating in Burning Man. Every year in the dust of a dry lakebed at 4,000 feet elevation, volunteers build from scratch a temporary city, this year with a population of 68,000 people. The site lies 110 miles north of Reno accessed by only a single-lane road.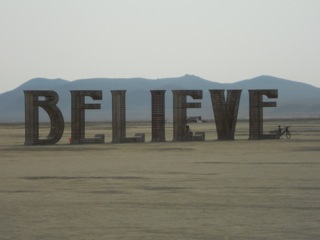 Some who do not know me well wondered if I was suffering from a mid-life crisis. They had seen pictures of only partially clad people in outlandish costumes wildly dancing to electronic music. My cousin wondered if it would be like visiting Sodom and Gomorrah with everyone around me tripping out on psychedelic drugs in the physically punishing desert climate.
We all had different motivations for being there. I went to become a temporary citizen of another country, another America, with different rules and values. In our culture we can feel powerless to make our world more humane. It may be difficult to even imagine alternatives to pictures of reality that limit or distort us. Burning Man gives me a clearer idea of how to serve in God's kingdom, because God's reign is not just what happens when you die. It is continuous with the way we live right now.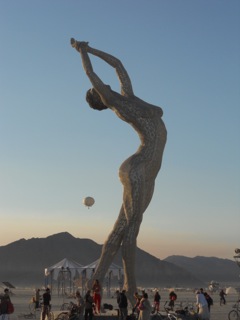 A similar energy motivated the Desert Fathers and Mothers of the fourth and fifth centuries whose spiritual breakthroughs ultimately led to the invention of monastic life. Those early Christians wanted to explore alternatives to the cruelty, slavery, exploitation, and the arbitrariness of the dominant Roman culture. I went for similar reasons, to experience an alternative to the consumerism, bureaucracies and hierarchies that color every interaction we have with each other.
The desert monks articulated rules that governed their lives together. Burners similarly have ten principles written by Burning Man founder Larry Harvey. These include: radical inclusion of everyone, generosity, freedom from commerce (no buying, selling or even displaying corporate logos), self-reliance, self-expression, community, responsibility, environmental stewardship, participation and the value of immediate experience.
Burning Man will not cure all the ills of a broken, decadent and unjust society. It is not a replacement to our economic system that will last forever. It is a temporary experiment in how we treat each other. It is a chance to step into a more generous place with different freedoms and constraints, hazards and blessings. We came from different worlds but shared one experience in common -- generosity, hospitality and openness to meeting new people.
The most striking element of this experience is giving. Walking down the street people gave me hotdogs, shave ice, steak, pancakes, drinking water, beer, a telephone call home, clothes and costumes, Polaroid pictures, Pop Tarts, jewelry, fresh peaches, entertainment, a newspaper, books and music.
In the desert I saw hedonism and self-sacrifice, narcissism and generosity, indifference and grace, despair, self-destruction and signs of wonderful new life. The people went there for different reasons and brought with them different expectations. But the one thing we all shared was the radical giving at the heart of that community, a kind of hospitality that should inspire all people of good faith.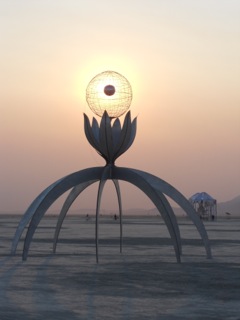 Calling all HuffPost superfans!
Sign up for membership to become a founding member and help shape HuffPost's next chapter