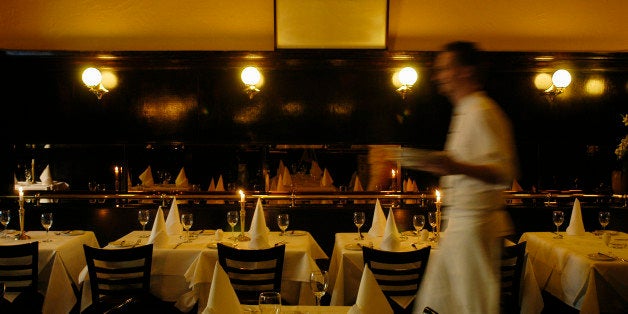 Co-authored by Ai-jen Poo, Director of the National Domestic Workers Alliance
Earlier this week we celebrated Labor Day, which was established to celebrate workers and their contributions to the strength and prosperity of the country. We celebrate teachers, nurses, restaurant workers, firefighters, and domestic workers, among innumerable other roles that exist to serve and protect all of us. To paraphrase Dr. Martin Luther King, Jr., when carried out with the intention of uplifting humanity, every one of these jobs has dignity.
Yet from where we stand today, something has gone awry. Many Americans who put in a hard day's work are treated without dignity or opportunity, rather they struggle to survive on poverty wages. Twenty-three percent of domestic workers, who provide essential family care support, are paid below the state minimum wage. They rarely receive employment benefits, lack control over their working conditions, and frequently face physical and verbal abuse. Restaurant workers and teachers face similarly dismal circumstances. Seven of the 10 lowest paid occupations in the country are in the restaurant industry, and tipped restaurant workers live in poverty at three times the rate of the rest of the U.S. workforce. For teachers, salaries have declined for the past 40 years and in 11 states more than 20 percent of teachers work second jobs for additional financial support. And many teachers and other critical public servants have lost their jobs as a result of cuts to our public budgets.
Much has been written about Ferguson, Missouri in recent days. In many ways what has taken place in Ferguson is a direct reflection of this reality. Ferguson and communities like it around the country are the communities where working people who lack economic security and opportunity live. Rather than invest in working families and in the care and human potential of people young and old, we have treated entire communities, particularly black communities, as disposable at best, criminals at worst.
Racial violence and police brutality are not just the responsibility of the individual offenders, rather they are the result of an economy, politics, and a culture that has dehumanized and divested from people and their potential, and prioritized punishment over opportunity and care. This same misguided logic allowed for the state government in Mississippi who received millions of federal dollars for child-care for low-income working families, to give a $14.7 million contract to Xerox to develop a security system requiring working mothers using daycare vouchers to scan their fingerprints when they come to get their children.
Not only have governments failed to create jobs or raise wages to meet increases in the cost of living over the last 40 years, the allocation of state budgets geared toward criminalization and incarceration have skyrocketed relative to increases in education and critical social programs to support American working families. In fact, public education and most social programs to support low-income families are under threat. And, despite the fact that the United States has the highest documented incarceration rate in the world, our nation remains unsafe and plagued by gun violence.
Punitive and exploitative methods have failed us. And they have robbed us of the human potential and economic contributions of Michael Brown and the millions more who, unlike Brown, are caught in our criminal justice system. Our failure to recognize the humanity and dignity of all workers and their communities has meant that some of the most important work in our economy is the most unsustainable. Too many working families are trapped in poverty and enormous human potential is left by the wayside. We are burning the candle at both ends at our own expense.
Pope Francis said it best, in his General Address at St. Peter's Square on May 1, 2013, "Work is fundamental to the dignity of a person... it gives one the ability to maintain oneself, one's family, to contribute to the growth of one's own nation." This Labor Day, we call for a shift toward Pope Francis's message. It requires creating an economy based on a different set of values and priorities. It requires a real shift from punishment and prisons and the violence that results, toward investments in human potential and dignity and the opportunity that will undoubtedly follow.
Popular in the Community