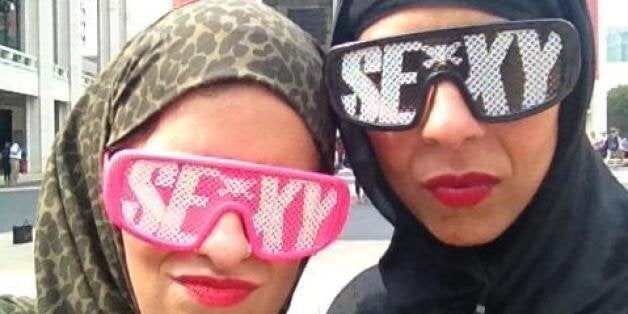 If there's one thing I'm an expert in, it's lying. Growing up in the U.K., in a conservative Pakistani Muslim family, I got plenty of practice.
I told my first lie when I was seven. The beneficiary of this lie was Mrs. Longmeure, the white mother I wished was mine. She smelt of Chanel and intimidated me with her long red fingernails.
"For Christmas, Mama and Papa took my brother, Kevin and I, to Los Angueleez, and it was just lovely." In actuality, my brother's name was Khurram, and we had spent our holidays in the putrid heat of Karachi with my 70 cousins, on rooftops, where we flew kites and drank Lassi out of tin cups.
I lied to the English, because I wanted to be like them. But it didn't stop there. I also lied to my family.
"Abbu (Urdu for "father"), I'm staying late after school for a debate -- it's on the objectification of women in media. I'm arguing on the side of modesty." There was no debate. It was my first secret date. With a boy. I knew if I told my father the truth, there would be no date, no high school and no life. In fact, they'd probably drug me up with some aspirin, throw me in a black bin liner and scoot me off to the airport, gagged and delusional. "One way ticket to Pakistan please!" -- followed by me waking up mid-coitus to some Pakistani dude named Mr. Khan, who is conveniently now my husband.
I lied to the English because I wanted to be like them.
You see, as a Pakistani Muslim girl, I wasn't allowed to talk to boys, let alone go on dates. I couldn't show the contours of my body or the contours of my mind. I wanted to be an astronaut but was informed that girls didn't fly around in space. They stood neatly wrapped, like Christmas presents preparing delicately seasoned biryanis for their husbands. I only liked eating biryani, but the more I ate, the bigger my buttocks grew, and the more I was told that no one would marry a "Fatty Fatty Fatso." After all, marriage is the reason why Pakistani women exist.
When the host culture encourages individuality and independence, and your native culture reinforces conformity and tradition, one is left trapped in a ravine between liberty and limitation. I was in unstable territory, swinging between two different worldviews. My lies kept me safe.
I was sent to an English school for my academic education, but my cultural rooting came from the home. When Ammi (Urdu for "mother") told me that I would start bleeding at 12, she never explained why; just that this was something else a female had to endure, on the path to making a man very, very happy. Of course, my British education taught me otherwise. Miss Hamilton put an unwrapped condom onto a large banana in front of the entire class, explaining the facts of the animal kingdom. I could never tell my parents what had actually happened in the classroom. They would have beaten me with the banana and forced me to eat it, as I begged forgiveness for my sins.
My Pakistani parents came to the West for its degrees, democratic institutions and dentists who wore shiny leather shoes. What they didn't anticipate were the drugs, dancing and drunk girls teaching their darling daughter the difference between a hand job and a blow job. I wanted my family, but I also wanted my freedom.
I was in unstable territory, swinging between two different worldviews.
When my white friends came back from discos reporting their successful snogging marathons and their forgoing of Mrs. Hamilton's advice for what to use on a banana, I was concerned. This wasn't the kind of freedom I had envisioned.
I needed distance from it all. So, I applied to a university as far away from home as possible. Then I met Brendan, an Irish Catholic bartender, the first love of my life. I no longer had to lie about who I was. Brendan's love was unconditional.
For my family, love came with condition. When Abbu discovered photos of me in a bikini wrapped in the arms of my Irish lover, his heart flopped out of his mouth and smacked the kitchen floor, squirming like a machli (Urdu for "fish"). "My daughter is a playboy cover!" he said, tears streaming down his face. "Nadia, marriage is not about two people coming together. It is about two families coming together." Brendan was ripped out of the photo, and also out of my life, and Abbu started making arrangements for my marriage.
"Nadia, I have bought you a golden clock," Abbu's accountant said, as he asked me to pull over mid-driving lesson. "This clock is ticking, and so is your female radiance. Now, which one of my sons would you like to marry? I have three." He proceeded to describe the attributes of his wonder boys. But I couldn't spend my life married to any of them. I couldn't spend my life being a wife to someone who had a predetermined mold of who I was supposed to be: a dainty, obedient woman, who made perfectly round chapatis. I knew I would never be that, but I also didn't know who I really wanted to be.
My Pakistani parents came to the West for its degrees, democratic institutions and dentists who wore shiny leather shoes.
It wasn't until I started writing about my life that I found the deepest contradictions lived within me. Enmeshed in a web of my own lies, I started to unravel on the page.
I lied because I couldn't trust -- my home, my environment but mostly, myself. It was exhausting and lonely, and I spent so much time pretending to be free and pretending to conserve the honor of my family. I had no honor or freedom left for myself.
I had spent most of my life "performing." Sometimes behind a burqa, sometimes behind a bikini, I had been trying simultaneously to find and conceal myself. It wasn't until I stood on stage and told my story, that my "performance" became authentic. In sharing the truth of my past, I became free from the need to lie.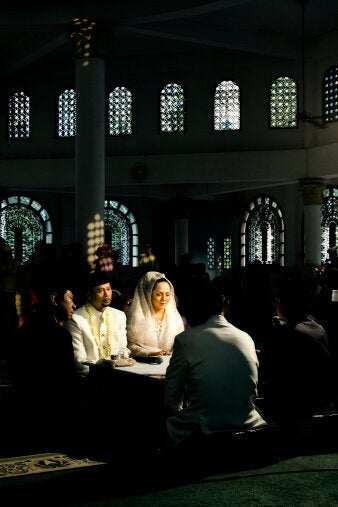 8 Things To Know About Muslim Weddings
Related
Popular in the Community