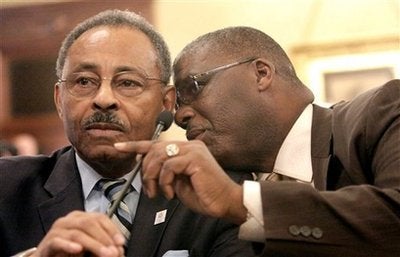 Inches away from securing a seat in the United States Senate, Roland Burris suffered what could be a serious setback on Thursday.
Appearing before an Illinois House impeachment committee, Burris acknowledged that he had reached out to a close friend and former chief of staff to embattled Gov. Rod Blagojevich to discuss the Senate seat. That appears to contradict Burris' statement in a sworn affidavit that he had no contact with any of the governor's "representatives." The former chief of staff, Alonzo Monk, is named as "Lobbyist 1" in the criminal complaint, and ran Blagojevich's most recent reelection campaign.
Grilled by members of the Illinois House, Burris said he brought the idea of filling Obama's Senate seat to "Lon" Monk -- whose cell phone was tapped by federal agents investigating Blagojevich's pay-to-play scheme.
Moreover, Burris testified that the meeting with Monk was to drum up state business from the lobbyist -- the image of back channel dealing that Burris has sought to avoid during his Senate roll-out.
In a sworn affidavit filed January 5, Burris stated that before he was asked by Blagojevich staff if he was interested in the Senate position, "there was not any contact between myself or any of my representatives with Governor Blagojevich or any of his representatives regarding my appointment to the United States Senate."
During Thursday's hearing, Burris insisted that the conversation with Monk was innocent, saying that he merely wanted to let the governor's people know that he was interested in the post and believed he was qualified for it.
"He said, 'I think you are too,'" Burris said of his conversation, emphasizing that he did not talk to Monk or anyone else on the governor's staff after Blagojevich's arrest.
Nevertheless, the revelation casts something of a shadow over the behind-the-scenes process by which Burris obtained Blagojevich's favor. Burris, by his testimony, appears to consider Monk a representative of the governor, since he was confident that a message given to Monk would get to Blagojevich. That would contradict his sworn assertion in his previous affidavit.
A high-ranking Democratic Senate aide said Burris' remarks should give Congress pause. "It shows people should perhaps slow down just a little bit in their rush to seat Mr. Burris and wait until all questions are answered regarding his relationship and conversations with Blagovich and his associates who might have been linked in the criminal complaint."
Monk is a longtime friend of Blagojevich. He resigned as chief of staff shortly before becoming a lobbyist in early 2007, but avoided the "revolving door" ethics law that requires government employees to wait a year before lobbying by leaving government to run Blagojevich's reelection campaign.
Monk did not return a call for comment.
Burris suffered other, smaller, trip-ups during the day's proceedings. He admitted that he had not read the criminal complaint against Blagojevich. He was also asked to explain the donations -- which are on the small side -- that he and his firm had made to the governor's political campaigns. He said that he had not donated nor held a fundraiser for Blagojevich since June. Finally he was pressed on the reports that his lobbying partner had tried to help Blagojevich's wife get a job with the Chicago Christian Industrial League, on whose board the partner serves. Burris claimed to not know anything about how the first lady got the job.
Towards the end, a representative put the whole inquiry in the bluntest terms possible: asking Burris whether he had promised Blagojevich anything in return for the Senate seat.
"I can before this committee state that there was nothing legal, personal, or political exchanged for my appointment to this seat," Burris replied.
Popular in the Community