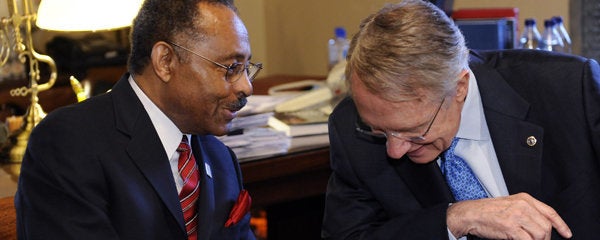 Roland Burris, the newest senator from Illinois, might be setting a new record for the quickest dash from the swearing-in ceremony to the Senate Ethics Committee.
A statement just out from Jim Manley, spokesman for Majority Leader Harry Reid (D-NV) effectively clears the way for the committee to look into the situation. "Senator Reid supports Senator Burris's decision to cooperate with all appropriate officials who may review this matter, including state agencies and the Senate Ethics Committee," said Manley in a statement. Burris has invited the ethics investigation.
"I have made an effort to be as transparent as I can, and I'm willing to take a further step as I have nothing to hide," Burris said in a prepared statement to reporters in Peoria.
A spokesman for Sen. Barbara Boxer, who heads the committee, responded with the following statement. "Whenever allegations of improper conduct are brought to the attention of the Senate Ethics Committee, we open a preliminary inquiry," said the California Democrat's communications director, Natalie Ravitz.
Meanwhile, good government groups aren't willing to let the process play out with the traditional Congressional sluggishness. Citizens for Ethics and Responsibility in Washington put out a statement late Tuesday evening calling for the Senate to expel the Senator, which would require the support of 67 members.
From CREW Executive Director Melanie Sloan: "The evidence suggests Sen. Burris lied under oath when he failed to disclose these contacts earlier. As a result, prosecutors should investigate and see if Sen. Burris can be prosecuted for perjury." Sloan continued, "Separately, the Senate Select Committee on Ethics should commence its own investigation to determine if Sen. Burris lied to Senate leadership or the Senate Rules Committee when the Senate was considering whether or not to seat him. If so, the ethics committee should recommend that the Senate expel Sen. Burris for improper conduct that reflects upon the Senate."
Calling all HuffPost superfans!
Sign up for membership to become a founding member and help shape HuffPost's next chapter