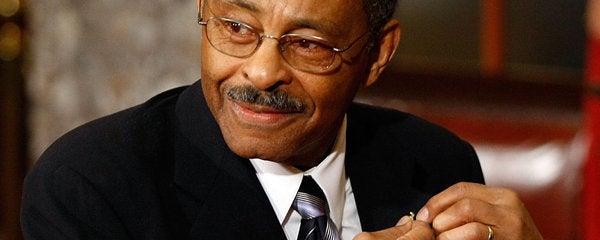 By admitting that he tried, without success, to raise money for former Gov. Rod Blagojevich prior to Blagojevich appointing him to the U.S. Senate, Sen. Roland Burris has exposed himself to whole new set of complex and potentially damaging legal hurdles, ethics lawyers say.
No longer is the question -- as was the case during Burris' controversial appointment -- whether or not he is qualified to serve in office. Now it is a vaguer dispute over whether, by acknowledging that he left out information during his impeachment committee testimony and (unsuccessfully) tried to fundraise for the embattled former governor, Burris has exhibited conduct that deserves reprimand, censure or even expulsion from the Senate.
"We are beyond the constitution now," said Ken Gross, a Washington lawyer who heads Skadden Arp's Political Law practice. "It is within the Senate's authority to expel him from office. And the standards are amorphous... In recent history I don't know if a flat perjury conviction has ever been the basis for removal but it certainly could be. And in this case the Senator came in with two strikes against him already. There won't be many people standing up for him now."
The Senate has the authority to remove Burris from his current post, provided two-thirds of the body votes to do so. The process by which that would happen, however, seems far-fetched. For starters, as Gross notes, history shows that such punishments "are few and far between." Senate Democrats would have to willingly submit themselves to the same political histrionics that accompanied Burris' initial appointment. Even if they decided to walk down that path, there is hardly a guarantee that they would have the votes, though Gross says it is conceivable. Democrats could unanimously support the measure but be stymied by Republicans trying to keep an ethically tainted Burris in office as long as possible.
"My hunch is that if they want to go through this again, to wind up the machine one more time, they will fail to garner a 2/3 majority," said Tom Gerety, a legal professor at New York University and former president of Trinity and Amherst College.
And yet, the wheels are turning. Good government groups are already demanding Burris' expulsion, even before perjury has been proven. In the meantime, the Senator himself and Majority Leader Harry Reid have supported sending the matter to the Senate Ethics Committee, though that institution is notoriously slow and often lenient when it comes to investigating its own. Certainly the optics are damaging enough that it could spur the type of political reprimands that Congress rarely sees.
"What Congress can do ultimately is to censure him if they find his testimony was not consistent," said Stan Brand, an ethics expert with the Brand Law Group. "Theoretically they could expel him, though they would have to find that somehow this was intimately related and germane to his fitness to serve in the Senate and that his misstatements, if they were such, went to the heart of the Senate's agreeing to his being seated."
Complicating matters for Burris is the fact that he lacks the type of institutional support structure that has saved the hide of embattled officials in the past. He's served only a few weeks into office and came into the position under an ethics cloud. Senate Democrats view him as a liability who endangers their chances of holding unto the seat.
"It's becoming ridiculous," one senior Democrat told the Huffington Post. "It's time for the drama to end so we can actually win this Senate seat. We need this seat in 2010 -- it's the President's seat -- and while the Republicans are lining up solidly behind a potential [Rep. Mark] Kirk candidacy, we have a deep bench of talented candidates who can't jump in yet because of Burris."
In short: when Burris needed a smooth transition into office, he got a bumpy ride; when he needed distance from Blagojevich, he was drawn closer; and when he could use backers, his corner is empty. Whether this is enough to endanger his spot in the Senate seems unlikely. And yet, he has handed Democratic leadership in Washington an excuse to (at the very least) push him to sidelines in 2010 and (at worst) consider a more extracting punishment in the weeks and months ahead.
"It seems to me," said Brand, "that the Senate can argue with some force: 'Look, we stepped back because we thought he was qualified to serve. But if in the very act of him qualifying to serve in the Senate he perjured himself, how than can we not take cognizance of that?'"
Popular in the Community