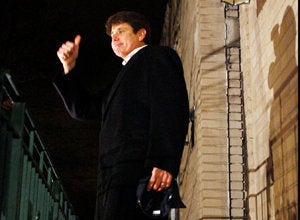 It was with sadness that we learned that newly appointed Illinois Senator Roland Burris has contracted Blagojevitis (also called "denialism"), a disease in which government officials accused of corruption claim that they don't know what people mean - they've done nothing wrong - until they expire while still babbling, "I'm innocent, not a taint, no wrongdoing. . . ."
Blagojevitis involves a cognitive confusion over the two great scandal-suppression techniques all public figures learn: "deny, deny, deny," and "confess, apologize, and move on." Connecticut Senator Chris Dodd is stuck on the horns of that dilemma right now, figuring out as he approaches his re-election campaign whether to shift from a strategy of denying that he received favorable treatment from the mortgage company he was charged with regulating to one of confessing to, minimizing, and apologizing for it. A newcomer in the "denial"-"apology" loop, pop star Chris Brown on Sunday claimed accounts of his assault on his girlfriend Rihanna were untrue, and then apologized: "Words cannot begin to express how sorry and saddened I am over what transpired."
Choosing a strategy is especially difficult for Burris when denial worked so well initially in his gaining the Senate seat. Faced with the impossible situation of being nominated by a completely infeasible soon-to-be-ex governor, who called him "a good and decent man with a long history of public service," Burris repeatedly intoned he was blameless, that he had never done anything wrong, and that his selection by a discredited figure was completely legal - and he was actually seated as a U.S. Senator!
(I'm about to reveal the deepest research secrets of a Huffington Post Blogger - just search "Burris denies wrongdoing," and you'll have enough material for either ten Huffington posts, or if you have a real life, dinner conversations for a month.)
News results for "Roland Burris denies wrongdoing":
Burris not accused of wrongdoing - Feb 16
Burris, who has not been accused of wrongdoing, revealed that his lawyers were contacted by "federal agents" after his January testimony. Neither he nor his attorney, Tim Wright, would elaborate whether this contact - or the content of federal wire taps - motivated Burris to issue his new affidavit.
Burris denies any wrongdoing in contacts with Blagojevich camp - Feb 15
Freshman Sen. Roland Burris released an affidavit on Saturday that contradicts his statements last month to a committee investigating Blagojevich's impeachment. But an adamant and sometimes emotional Burris told reporters in Chicago later Sunday that he hadn't done anything wrong and never misled anyone. "I've always conducted myself with honor and integrity," he said. "At no time did I ever make any inconsistent statement." Burris explained that he didn't tell the full story since the questioning had moved on before he had a chance to explain his contacts with the Blagojevich camp further.
In interview, Burris says "no taint" on being seated as Illinois senator - Jan 12
Q: As you know, and along the same lines, a lot of just regular people view your appointment as tainted. How do you plan to win skeptics over, over the next -
MR. BURRIS: There's no such thing as taint. There's nothing in the statute about taint. And that is -- that is a -- more of a -- of an -- political-type emotional-stirring activity that's been drawn up by someone. But there's nowhere in the statute that the governor with legal authority -- made an appointment under his constitutional duty.
Burris Denies Improper Deals - Jan 8
U.S. Senate appointee Roland Burris said he's never been involved in an improper deal in his two decades in government and didn't strike any agreement to become embattled Gov. Rod Blagojevich's pick for the U.S. Senate. "I can before this committee state that there was nothing .... legal, personal, or political exchanged for my appointment to this seat." But the former Illinois attorney general declined to answer questions about whether he would have gone to federal authorities if he'd been offered such a deal. For his part, the second-term governor, Rod Blagojevich [who was yet to be removed from office] has denied any wrongdoing.
REAL LIFE. REAL NEWS. REAL VOICES.
Help us tell more of the stories that matter from voices that too often remain unheard.