Reynolds died Thursday morning in Florida, his manager, Erik Kritzer, told The Hollywood Reporter. The actor died of cardiac arrest, his agent, Todd Eisner, told NBC News. "No comment, just heartbreaking," Eisner said.
Reynolds' family released a statement to THR shortly after the actor's death: 
Reynolds rose to the top of the acting world in the 1970s in dramas such as "Deliverance" and action-comedies such as "Smokey And The Bandit" and the "Cannonball Run" series. Modern audiences may best remember him, however, for his Oscar-nominated role in the 1997 film "Boogie Nights."
People reports he had battled several health issues in recent years, including going to rehab for prescription drugs, undergoing bypass surgery in 2010 and spending time in an intensive care unit of a Florida hospital for treatment of flu symptoms, including dehydration.
Born Burton Leon Reynolds Jr. in Lansing, Michigan, the actor told people he was born in Waycross, Georgia, because he liked how it sounded, according to his 2015 memoir, quoted in the Lansing State Journal.
However, he grew up in Palm Beach County, Florida, with a childhood dream of being a pro running back. Although Reynolds earned a scholarship to Florida State University, his career was cut short when he suffered a knee injury in a car accident, according to Variety.
Reynolds moved to New York and struggled until he was cast in a revival of "Mr. Roberts," opposite Charlton Heston, in 1956.
From there, he turned his career toward television and spent most of the 1960s doing guest shots on shows such as "Alfred Hitchcock Presents" and "The Twilight Zone." He went on to play a Native American man on "Gunsmoke" for three seasons. 
He married his first wife, actress Judy Carne, in 1963 and divorced her in 1965.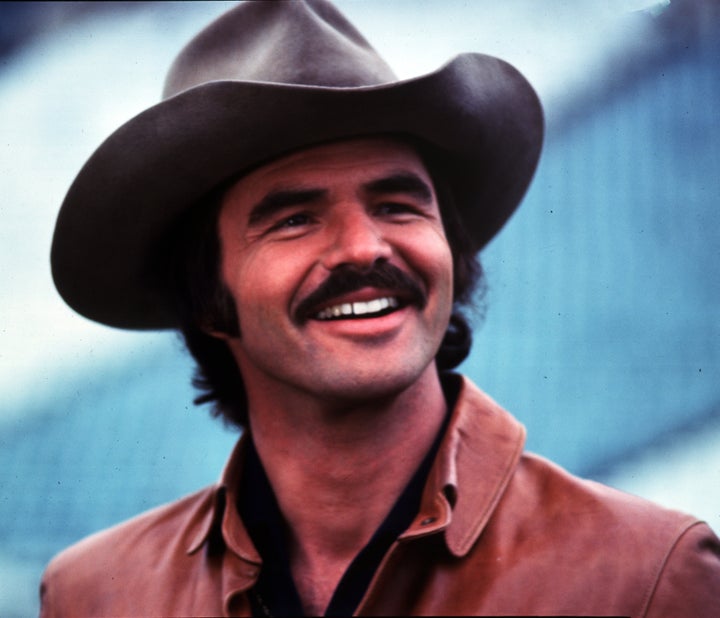 Reynolds didn't become an entertainment icon until 1972, when he starred in Best Picture nominee "Deliverance" and posed as a male centerfold for Cosmopolitan magazine.
That tastefully nude spread made him a sex symbol, but it was a career decision he later said he regretted.
"It was really stupid. I don't know what I was thinking," Burt said during a South by Southwest panel in 2016. "Probably, knowing me, it was like, 'You won't do that, you chicken,' or something and I went, 'Well, that's all I had to hear,' of course. I said, 'Yeah, I will.'"
Reynolds was a huge star in the 1970s thanks to sports comedies like "The Longest Yard" and "Semi-Tough," action films like "Gator" and romantic comedies like "Starting Over."
But his biggest hit of the era was "Smokey And The Bandit," a comedy featuring Reynolds as Bo "Bandit" Darville, a man hired to transport 400 cases of beer from Texas to Atlanta in 28 hours in his black Pontiac Trans-Am.
The low-budget car-chase flick was a huge success and introduced Reynolds to actress Sally Field, his partner for five years. He would later call Field "the one that got away," according to the San Diego Union-Tribune.
When screen stardom faded in the 1980s, Reynolds moved back to TV and won an Emmy for his early 1990s comedy series, "Evening Shade," which he also produced, according to Variety.
Reynolds married actress Loni Anderson in 1988 and divorced her in 1993.
In 1997, Reynolds was nominated for the Best Supporting Actor for "Boogie Nights," losing to Robin Williams for "Good Will Hunting." Reynolds had been favored to win, but Variety said he hurt his chance by shunning publicity for the film and firing his agent for casting him in the part.
Reynolds joked about his image, telling The Associated Press in 2001: "My career is not like a regular chart, mine looks like a heart attack. I've done over 100 films, and I'm the only actor who has been canned by all three networks. I epitomize longevity."
Reynolds is survived by his son, Quinton, whom the actor adopted in 1988 with Anderson.
CORRECTION: A previous version of this story misstated the location of Reynolds' birth as Georgia.
Calling all HuffPost superfans!
Sign up for membership to become a founding member and help shape HuffPost's next chapter
BEFORE YOU GO
PHOTO GALLERY
Burt Reynolds