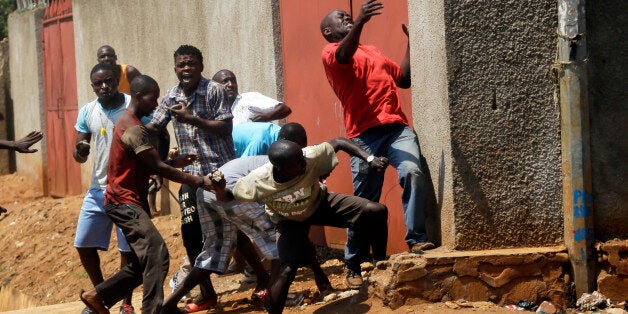 By Edmund Blair and Goran Tomasevic
BUJUMBURA, May 21 (Reuters) - Street battles and gunfire erupted again in the Burundi capital on Thursday as protesters against President Pierre Nkurunziza rejected his calls for calm in the east African nation, an ethnic tinderbox with a long history of civil war and genocide.
Soldiers and police fired tear gas and warning shots in the air as they faced off against scores of young men throwing rocks and burning makeshift barricades in the roads, Reuters witnesses said.
One man was shot in the leg by police, his friends said. Another man, hit in the head by a bullet, was almost certain to die, a Reuters photographer said.
More than 20 people have been killed in almost a month of unrest, including a failed coup, and the struggle to stop Nkurunziza seeking a third term risks re-opening old wounds between Burundi's Hutu and Tutsi ethnic groups.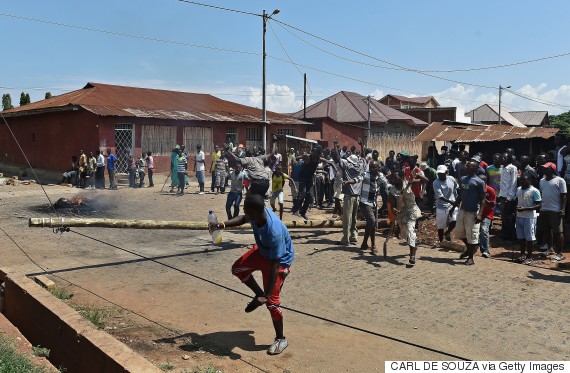 Protesters opposed to the Burundian president's third term, bring down a telephone mast to construct a barricade in the Ngaragara neighborhood of Bujumbura, on May 21, 2015. (CARL DE SOUZA/AFP/Getty Images)
In a state television address late on Wednesday, Nkurunziza stressed the need for national unity, saying that Burundi's bloody past - including a civil war that only ended in 2005 after the deaths of 300,000 people - could not be ignored.
"No Burundian wants to revive the tensions of ethnic division or any other nature," Nkurunziza, who has mixed Hutu-Tutsi parentage, said. "The blood that was spilt in the past has taught us a lesson."
The protesters dismissed his words as a charade.
"We don't consider this a speech for the nation," 42-year-Jean-Claude Gakiza told Reuters. "Someone who violates the constitution is against Burundians. All we want now is that he gives up his third term."
In another area, there were chaotic scenes as soldiers and police tried to restore order but without any coordination.
"You cannot throw stones at police," one soldier told the protesters. "We are near them. You will hurt us."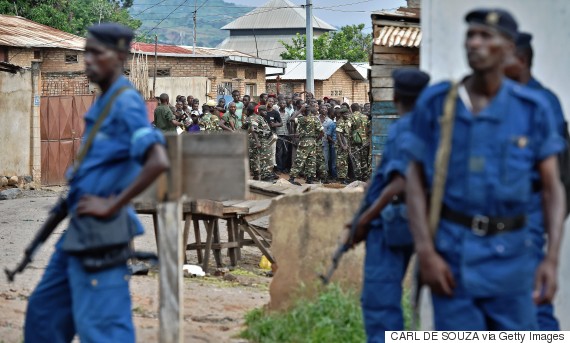 Soldiers try to contain protesters opposed to the Burundian President's third term from confronting police after the police threw a grenade at them during a demonstration in the Musaga neighborhood of Bujumbura on May 20, 2015. (CARL DE SOUZA/AFP/Getty Images)
Thursday's violence followed a night of heavy gunfire in the restive neighborhood of Musaga, where residents spoke of several hours of running battles between police and gangs of youths.
"There was shooting through the night. Tension was very high," 28-year-old Musaga resident Bosco, who did not want to give his last name, told Reuters.
Pascal Nyabenda, chairman of the ruling CNDD-FDD party, dismissed the protesters as paid thugs. He did not identify the purported source of their funding.
"Those are youth who are paid," he told Reuters. "It's like a job."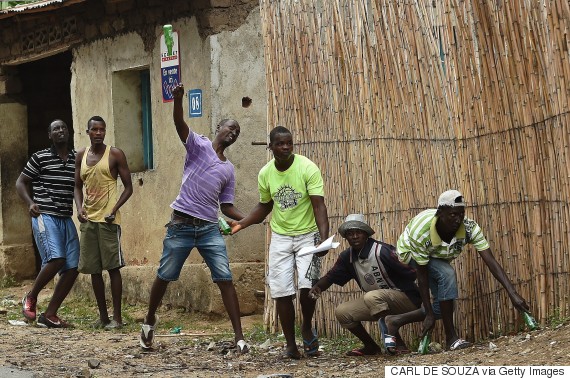 Protesters throw glass bottles at the police in the Musaga neighborhood of Bujumbura on May 20, 2015 during a demonstration against the Burundian President's third term. (CARL DE SOUZA/AFP/Getty Images)
With more than 110,000 refugees in neighboring Rwanda, Democratic Republic of Congo and Tanzania, where at least 33 have died of cholera, regional leaders have been calling for calm and restraint on all sides, but to little effect.
South Africa, which played a central role in brokering the 2005 peace, said this week the June 26 presidential election at the heart of the crisis should be postponed indefinitely. So far, Nkurunziza's only concession has been to push next week's local and parliamentary elections to June 5.
The 51-year-old former sports lecturer argues that his ambitions do not break a two-term limit in the constitution, as his first term, in which he was appointed by parliament rather than directly elected, does not count. (Reporting by Edmund Blair; Writing by Ed Cropley; Editing by Dominic Evans and Susan Fenton)
Calling all HuffPost superfans!
Sign up for membership to become a founding member and help shape HuffPost's next chapter
BEFORE YOU GO
PHOTO GALLERY
Protests Rock Burundi