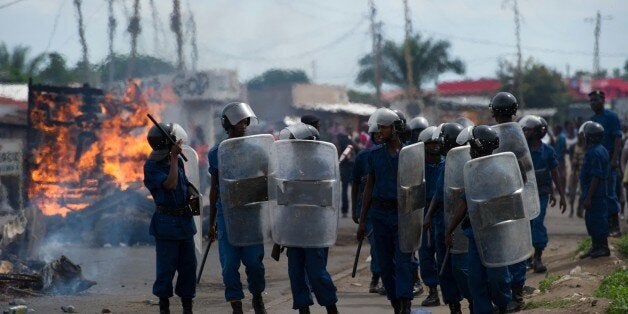 By Patrick Njuwimana and Njuwa Maina
BUJUMBURA, May 7 (Reuters) - Protesters burned a man alive in Burundi's capital on Thursday, saying he was a member of the ruling party's youth wing which had attacked them during their demonstrations against the president's bid for a third term, a witness said.
Protesters have been on Bujumbura's streets for almost two weeks, often hurling stones at police who they say have fired live rounds, which police deny.
Opponents of the government say the June 26 presidential election should be delayed by a few weeks because of unrest. President Pierre Nkurunziza's spokesman said that was unnecessary as most of the country was calm.
The violence has plunged the African nation into its worst crisis since the end of a civil war in 2005 that pitted the ethnic Hutu majority against the Tutsi minority.
"They put tires around his neck and then burned him," a witness told Reuters after seeing the man killed in the Nyakabiga district of Bujumbura.
Local media also reported the incident, while the Red Cross said a man was killed in Nyakabiga but, in line with its usual practice, did not say how he died. It said a woman was killed in another area on Thursday.
Protesters said the victim of the burning was a member of the Imbonerakure youth wing of the ruling CNDD-FDD party, which they say has attacked them. The government has repeatedly dismissed charges that Imbonerakure is fomenting violence.
Condemning the killing, presidential spokesman Gervais Abayeho said: "We don't want the situation to degenerate and take us back to those years when people were killed on the streets in broad daylight."
Activists say at least 14 people have been killed since the protests erupted. Police give lower figures.
Several opposition figures say the vote should be delayed, provided the parliamentary and presidential elections now scheduled for May and June are held before Nkurunziza's current term expires on Aug. 26.
"It is needed," said presidential hopeful Agathon Rwasa, who like Nkurunziza once led a Hutu rebel group. "There is no security."
The country's constitution and peace agreement limit a president to two five-year terms. A constitutional court ruled on Tuesday Nkurunziza's first term, when he was picked by lawmakers rather than by popular election, did not count. The opposition says the court is biased.
"I would like to assure the national and international community that in case I am elected now, this will be my last term," Nkurunziza said in a televised address on Wednesday.
He has called the protests an "insurrectional movement."
"We ask all those protesting against the third term to continue to demonstrate peacefully and show restraint," Gabriel Rufyiri, a prominent opposition activist, told Reuters.
Fearing a relapse into bloodshed, foreign ministers from the East African Community nations were in Bujumbura this week to discuss the crisis. A regional summit on Burundi is to be held in Tanzania on May 13.
Neighboring Rwanda suffered a genocide in 1994 in which 800,000 people, mostly Tutsis and moderate Hutus, were slaughtered.
Almost 40,000 people, many of them Tutsis, have fled from Burundi to neighboring states. (Writing and additional reporting by Edmund Blair in Nairobi; editing by Andrew Roche)
REAL LIFE. REAL NEWS. REAL VOICES.
Help us tell more of the stories that matter from voices that too often remain unheard.
BEFORE YOU GO
PHOTO GALLERY
Protests Rock Burundi