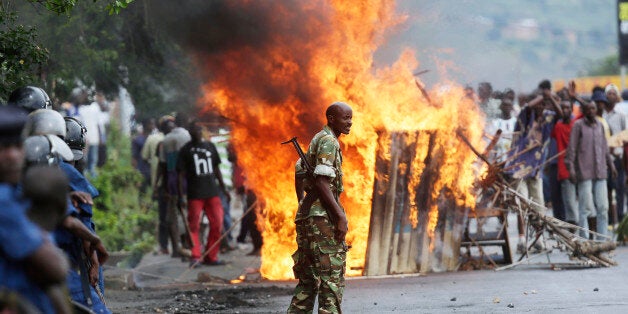 BUJUMBURA, May 6 (Reuters) - Burundi's president said on Wednesday that, if elected for a third term in June, it would be his last and he would not run for office again after that, his spokesman said on Wednesday.
President Pierre Nkurunziza's decision to run for a third term has triggered protests in the past week. Protesters say the constitution limits the president to two terms he has served.
The constitutional court ruled his first term did not count because he was picked by lawmakers not elected by a vote. But the opposition say the court is biased and have vowed to keep protesting until he backs down.
The row has plunged the nation into its worst crisis since the end of a 12-year civil war that pitted rebels from the majority Hutu ethnic group against the then Tutsi-led army.
East African foreign ministers met Nkurunziza in Burundi on Monday to discuss crisis, which has stoked tensions in a region with a history ethnic conflict and driven almost 40,000 Burundians to flee to neighboring states.
"He told them (the ministers) that if re-elected he would not seek another term," presidential spokesman Gervais Abayeho told Reuters, adding the president would deliver the same message in an address ready for broadcast later on Wednesday.
Nearly 40,000 Burundians have fled to neighboring Rwanda, Tanzania and Democratic Republic of Congo in the past month as tensions have ratcheted up over Nkurunziza's third-term bid, the U.N. refugee agency UNHCR said.
The tensions particularly worry Rwanda, which has the same ethnic mix as Burundi and suffered a 1994 genocide that killed 800,000 people, most of them Tutsis and moderate Hutus.
Burundi's Red Cross said 16 people were injured in protests held in different parts of the capital on Wednesday. Protests have shown little sign of spreading beyond Bujumbura so far.
Civil society groups say the death toll has reached at least 12 people since protests erupted after Nkurunziza, a former leader of a Hutu rebel group, announced his decision on April 25 to run again. Police put the death toll at half that number.
Presidential challenger Audifax Ndabitoreye was arrested at a hotel in the capital Bujumbura where the east African ministers held meetings on the crisis. It was not immediately clear if he was participating in the talks.
Ndabitoreye, who is not affiliated to the main opposition parties and wants to run as an independent, told reporters as he was led away by police that he was arrested for "participating in an insurrection movement."
"I am a victim because I have been protesting clearly against the third term for Nkurunziza which is illegal and unconstitutional," he said.
The government calls protests an insurrection and has detained scores of people. Nkurunziza told the ministers he was ready to release those under 18 and would also give an amnesty to others if protests stopped, the presidential spokesman said.
"All lights are blinking in Burundi. All alarms are going. So where's the fire brigade," Jan Egeland, the head of the Norwegian Refugee Council and former top humanitarian official for the United Nations, told a news conference in Geneva, calling for international action.
U.S. Secretary of State John Kerry said this week in Nairobi during a regional trip that running for a third-term "flies in the face" of the constitution. Washington has said it would take measures against any individuals responsible for violence.
Britain's Foreign Office noted in a statement: "Reports of intimidation against members of the constitutional court do not give the impression of an independent court that was able to come to an impartial decision."
A senior member of the court was reported to have fled the country this week. The government dismisses charges of intimidation and says it allows free speech. (Additional reporting by Tom Miles in Geneva and Edmund Blair in Nairobi; Writing by Edmund Blair and Edith Honan; Editing by)
Related
Before You Go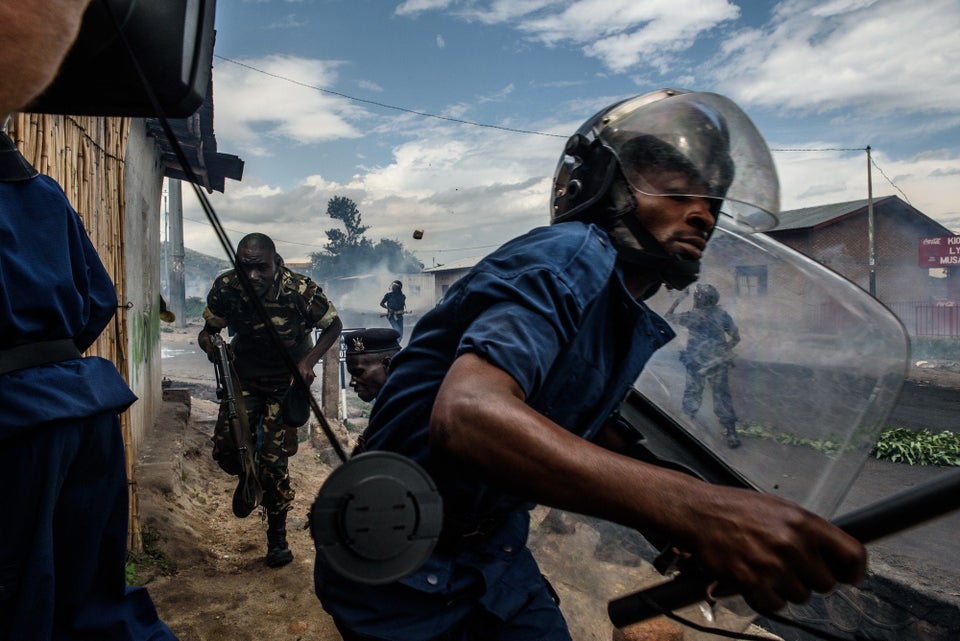 Protests Rock Burundi
Popular in the Community