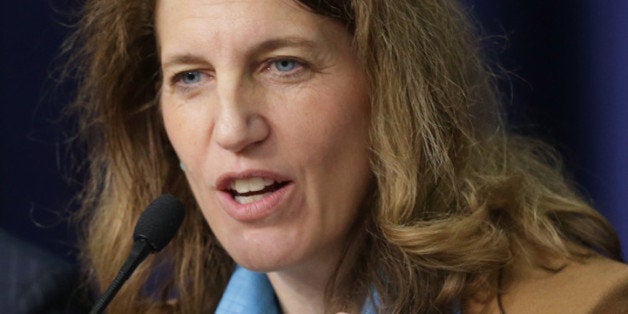 WASHINGTON, May 1 (Reuters) - Republicans are relishing the chance to use confirmation hearings for Sylvia Mathews Burwell, President Barack Obama's nominee as U.S. health secretary, to re-energize their election-year attacks on his signature healthcare initiative.
Republicans, who are seeking to take control of the Senate in the Nov. 4 congressional elections, view a pair of Senate hearings for Burwell as their best chance to put a spotlight on Obamacare since the program's botched rollout in October.
Burwell's first hearing is scheduled for May 8 before the Senate Health, Education, Labor and Pensions Committee. She is expected to testify later before the Senate Finance Committee at a date yet to be set.
Republican strategists say the more dramatic moments in the hearings, where Burwell will face a litany of tough questions from Republican lawmakers, could yield rich material for television ads and social media campaigns.
"Ultimately, it may be Republicans' only opportunity, certainly before the end of the summer and maybe before the election, to have a senior administration official available to answer these questions," said Lanhee Chen, who advised Republican presidential nominee Mitt Romney on domestic policy during the 2012 campaign.
One Republican aim is to trip up the 48-year-old White House budget director and force embarrassing slip under the glare of the televised proceedings.
"One gaffe and they lose the news cycle," a Republican Party strategist said.
Obamacare is the No. 1 issue for Republicans in the November elections. While opinion polls show that most Americans dislike the law, the party needs to keep the intensity of its attacks high to turn out key electoral blocs including the Republican faithful, senior citizens and conservative-leaning independents.
"The confirmation process is likely to focus on all of the Obamacare-related disasters," said Brook Hougesen, a spokeswoman with the National Republican Senatorial Committee.
For the benefit of independent voters, Burwell will be grilled about tax penalties for individuals and businesses that fail to comply with the law's coverage mandates, as well as the canceled insurance plans that Republicans say belie Obama's pledge that people would be able to keep their health plans.
For senior citizens, a dependably major presence in midterm elections, there will be questions that showcase Republican charges that Obamacare represents a danger to Medicare benefits. Republicans boast that the same message helped them to victory in a special congressional election in March in Florida, where Republican David Jolly defeated Democrat Alex Sink in a district with a large elderly population.
Republicans also intend to use the hearings to pressure vulnerable Democrats into breaking ranks with the White House by voting against the Obama nominee, joining an expected majority of Republican senators. This week, Louisiana's five Republican congressmen called on Democratic Senator Mary Landrieu to place a hold on the Burwell nomination - a largely symbolic gesture intended to delay a final vote.
Republican officials, Senate aides and lobbyists say the party's aim is not to prevent Burwell's confirmation, or attack her directly. She is viewed by both sides as a capable public servant and is widely expected to be confirmed by a divided chamber.
"Cursorily, she looks very good to me. But she's going to have to answer some really tough questions is all I can say. And I'll have plenty of questions," said Senator Orrin Hatch of Utah, the top Republican on the Senate Finance Committee.
For weeks, Republicans have looked on with frustration while Obama and his Democratic allies enjoyed a run of upbeat news on Obamacare.
More than 8 million people have signed up for private health coverage, a performance that surpassed the most optimistic forecasts. Instead of the feared sticker shock on premiums, the cost of insurance in new Obamacare marketplaces has been lower than expected, as is anticipated federal spending.
Administration officials say Burwell's nomination could also start a new, less-polarizing chapter in the law's four-year history, if she is confirmed as the replacement for Health and Human Services Secretary Kathleen Sebelius, who resigned in April.
Analysts say none of this has put Republicans on the defensive. Forty-six percent of Americans hold an unfavorable view of Obamacare, versus 38 percent who favor it, according to polling data from the nonpartisan Kaiser Family Foundation in April. In states where Democratic Senate candidates face tough contests opposition runs as high as 60 percent. (Reporting by David Morgan; Editing by Mohammad Zargham)
Calling all HuffPost superfans!
Sign up for membership to become a founding member and help shape HuffPost's next chapter
BEFORE YOU GO
PHOTO GALLERY
Health Care Reform Efforts In U.S. History