DALLAS, Texas ― Stephanie Hughes hadn't planned to become a funeral home director. But her light-heartedness and intuitive sense of empathy made for a natural fit when she married into the business six years ago, casting aside a career as an attorney.
Now, alongside her husband DeWayne, she comes face to face with the politically charged violence that has become a fixture of the national news cycle. Teens shot by police, victims of drunk drivers, fallen gang members and officers killed in the line of duty have all come to rest at the Hughes Family Tribute Center, which has carved out a niche serving the families of violent crime victims.
"We love all our families," Hughes said. "It doesn't matter how they get here."
Dallas is not a particularly violent city. Its homicide rate of 10.7 per 100,000 in 2015 was the city's fourth-lowest since local police first started tracking the figure, according to the Dallas Morning News.
The impact of fatal violent crime is firmly on display at a victim's funeral, where everyone comes together to say goodbye to someone lost too soon. HuffPost visited the Hughes Family Tribute Center to find out how the center orchestrates such events and provides comfort to distraught family members.
DeWayne Hughes' grandfather, a devotee of the Assemblies of God, founded the family's funeral home company in 1946. The Hugheses aim to make services affordable for people of any faith. They're assisted by the state of Texas, which runs a Crime Victims Fund that pays $6,500 to cover funeral costs for people who die as the result of violence.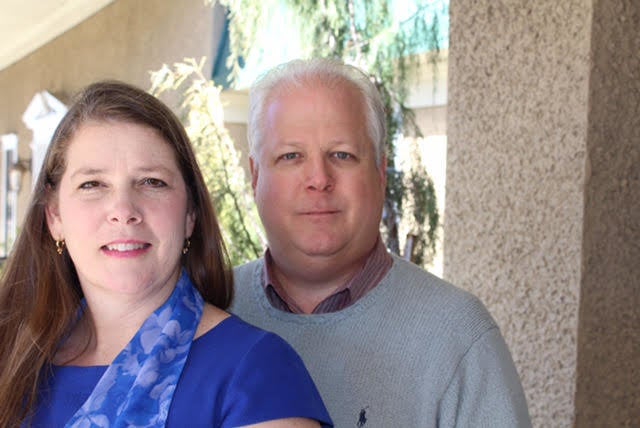 The Hughes family likely takes on more than its share of violent crime victims. But state payments are notoriously slow to get disbursed, routinely taking between six months to a year to pay out. "Sometimes funeral homes won't mention [the fund]," Stephanie Hughes said. "Or they refuse to do it."
And they have the added challenge of helping families navigate grief after a loved one has been all over the news. When HuffPost visited the center last week, Hughes was meeting with the family of Janeera Gonzalez, who was killed on May 3 in a murder-suicide at North Lake College in a Dallas suburb by a man who was allegedly stalking her. In March of last year, they hosted the funeral of 16-year-old José Cruz, who was shot to death by off-duty police officer Ken Johnson.
The widely publicized violence weighs on the Hugheses, who aim to offer a neutral place for people to commemorate someone who has died. When politicized violence is involved ― as it was in Cruz's death ― their job is complicated by the fact that families are often understandably consumed by anger, which robs them of time and energy for grieving.
"Murder's a tough one," Stephanie Hughes told HuffPost from the waiting room of the home, which was decorated with floral wallpaper and dark wood furniture. "And when it's murder by someone you're supposed to trust, it's even harder."
Cruz's service exemplified how difficult it is for families when their relative's death becomes a public event. It became a flashpoint over police accountability, and reporters flocked to the service.
Hughes said she found the journalists respectful, but their presence was also intrusive at times. She insisted they use just one camera and share the tape, since every reporter inside the chapel meant one less space for a family member or friend.
"The service was all about justice and not about healing," Stephanie told HuffPost. "I was balancing between helping the family heal while letting them get the publicity they needed, without it becoming a circus." One year later, after the news story faded from the front pages, the family held a second service to remember Cruz.
Murder's a tough one. And when it's murder by someone you're supposed to trust, it's even harder.

Stephanie Hughes
Serving crime victims has also given the Hughes family other unique capabilities, including the ability to prepare the deceased for an open casket service regardless of how he or she died.
Most embalmers can mask a bullet wound in the face by suturing the torn skin and covering the blemish with wax and makeup. But if a bullet ricochets through the cranium, it can leave a shattered skull behind. To all but the most skilled embalmers, that means draping the skin of the face over a collapsed pile of bone with nothing to hold it in place. Unable to make the face recognizable, many embalmers will consider displaying the body a lost cause.
DeWayne Hughes, however, belongs to a small subset of embalmers who operate more like plastic surgeons. He became a licensed embalmer in 1983, and likens his work to that of an archeologist who assembles shattered pieces of pottery back to their original form.
Hughes says he learned those skills out of a sense of obligation to the families. A closed-casket funeral can leave people in denial that their loved one is dead, he explained.
"We always felt it's important for families to see the body," he said. "Your mind will give you a lot of different things. And if someone tells you [the deceased] can't be seen, you think the worst. And you spend the rest of your life with the image your mind created. And most of the time, it's nowhere nearly that bad."
Sometimes the damage is too extensive for even Hughes to mend. This month, a young man who died in a car accident couldn't avoid a closed-casket service. Instead, Hughes left his hands exposed so the family could at least see some part of him.
The family business has been part of Hughes' life from the time he was old enough to pick up a vase of flowers or help unpack a van. In the decades since, he says he can't tell whether violent crime has gone up or down ― only that he sees it in spurts.
Like his wife, he feels a strong connection to local police, whom the Hughes Family Tribute Center has served in the past. But when the wrongful deaths of people like José Cruz happen, he believes it's important for the courts to punish the guilty swiftly so the families can begin to heal.  
"It's like this young man in Mesquite," DeWayne said, referring to Jordan Edwards. "The family need their time. Hopefully, they'll get it and justice will be served quickly, so they can move on."  
Calling all HuffPost superfans!
Sign up for membership to become a founding member and help shape HuffPost's next chapter