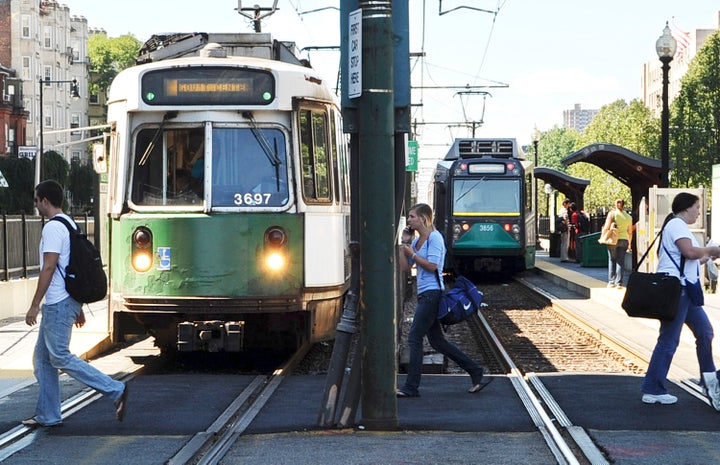 Faced with the clashing imperatives of protecting public health and preserving the fiscal well-being of public transportation, Boston transit officials banned liquor ads from area commuter trains, buses and boats in late January. The ban will go into effect this summer.
"The system is in trouble," said Jonathan Davis, acting general manager for the Massachusetts Bay Transportation Authority, also known as the T. "But we felt that it was the right thing to do."
The T's decision comes at a time when transit systems around the country are looking more closely at advertising and the revenue that it can bring. Federal, state and local funding is stagnant and, in many cases, declining. Last week, a U.S. House committee approved a measure that could strip another $25 billion in federal support from local transit agencies over the next five years. The financial situation is driving transit systems in at least five cities to sell ad space on the sides of buses, inside transit shelters, on the backs of subway passes and on digital signs that scroll.
"There's a lot of stress in the transit world right now," said Mantill Williams, a spokesman for the Washington, D.C.-based trade group. "Most transit systems are taking advantage of every opportunity to deal with their financial situations. It's looking like ads may be a big part of that in a lot of places."
Most systems bar anything featuring nudity, obscenity and other generally offensive content, Williams said. Some ban alcohol ads. But both Chicago and New York, two of the biggest public transit systems in the country, have declined to remove alcohol ads even though they've received similar requests from public health advocates.
No nudity, obscenity or alcohol is the approach the Culver Citybus has followed. The Culver City system, one of about 20 large and small operations that shuttle commuters around the Los Angeles area, runs a fleet of 52 buses that move about 6 million people a year. This year, for the first time, the system's $16 million operating budget received a small boost from ad revenue: $200,000, according to Art Ida, transportation director for Culver Citybus.
The ad revenue will help to avert a fare increase or service changes next fiscal year, Ida said. His predecessor resisted a similar move. Now, other Los Angeles-area systems are watching Culver City to see what happens, said Ida.
"Like every other public agency, we are having to put out services for the public with less money," he said. "Bus advertising is one way of generating revenue without changing the level of service in our case. And that's really my goal."
In Boston, public health advocates argued for at least three years that the alcohol ads -- wrapped around Boston buses, hanging on train walls and adorning commuter boat interiors -- contributed to under-age drinking, said Catherine Sugarman, assistant director of the Revere CARES Coalition. A Boston University School of Public Health Study supported the community health group's claim.
"We aren't prohibitionists," Sugarman said. "But the subway is, in many ways, the de facto school bus for a lot of Boston-area kids. You would never imagine it being OK for there to be alcohol advertising on a school bus."
According to Davis, the T administrator, the transit system's outside sales staff said recruiting replacement advertisers would not be a problem. Still, the decision took courage, Sugarman said.
Only about 10 percent of the T's annual ad revenue has typically come from liquor ads. And this fiscal year, advertising of all kinds is expected to bring in just $16 million of the T's $1.6 billion operating budget. But when the new fiscal year begins in July, Boston transit officials face a $161 million deficit. System officials are considering service cuts and fare increases that could boost the cost of riding a bus by more than 40 percent and halt train service after 10 most nights.
Davis said that T officials are also exploring ways to expand the menu of spaces on which companies can advertise.

Related
Popular in the Community