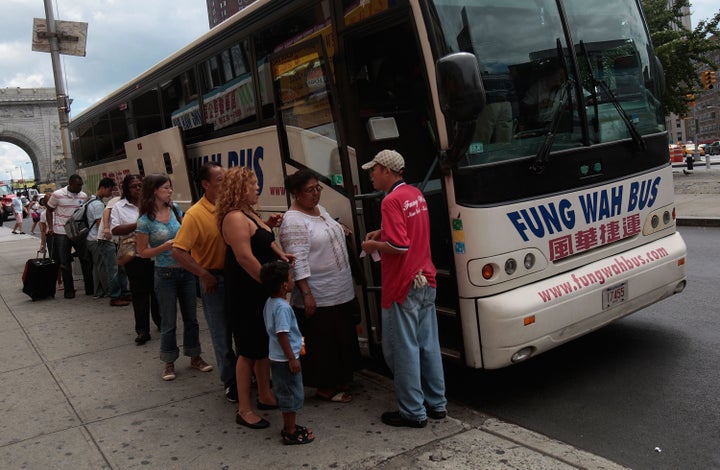 Because in the future everything will be graded, Senator Chuck Schumer pushed a bill through the Senate Wednesday requiring all curbside buses like MegaBus, Greyhound, Bolt Bus and Fung Wah to post their safety letter grades.
Schumer introduced the bill last year in response to a string of deadly bus accidents in New York, including a horrific crash in the Bronx that killed 14. "Today, the Senate gets an 'A' for passing this crucial bill that will finally alert passengers about bus companies safety records before they buy a ticket, and I urge the House to make the grade and pass the legislation immediately," said Schumer in a statement.
Ya-Ting Liu, the public transit campaign manager at advocacy group Transportation Alternatives, approved of the bill, telling The Metro, "Having more information empowers riders and customers to make the best decision for themselves."
Dale Moser, chief operating officer of CoachUSA, which owns Megabus, said he supports any measure that improves safety but took issue with a part of the bill that will allow random safety searches of buses while they're en route.
"To have buses stopped on an interstate seems like an inconvenience to customers and will certainly add time to a trip," Moser said. "It may cause customers to stop riding motorcoaches and get back into their cars."
Although we understand why New York restauranteurs are upset about their letter grading system, grading buses actually seems like a good idea. There were, after all, a lot of deadly bus crashes last year.
Now, if only Shcumer can do something about drunk, obnoxious seatmates trying to make small talk, then we'll have a really good thing going.
Calling all HuffPost superfans!
Sign up for membership to become a founding member and help shape HuffPost's next chapter