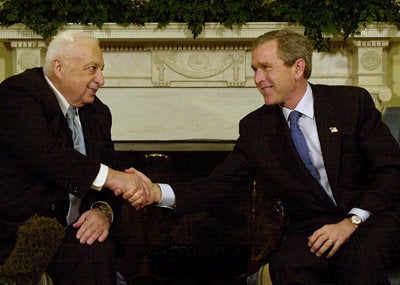 A letter that President Bush personally delivered to then-Israeli Prime Minister Ariel Sharon four years ago has emerged as a significant obstacle to the president's efforts to forge a peace deal between the Israelis and Palestinians during his last year in office.
Ehud Olmert, the current Israeli prime minister, said this week that Bush's letter gave the Jewish state permission to expand the West Bank settlements that it hopes to retain in a final peace deal, even though Bush's peace plan officially calls for a freeze of Israeli settlements across Palestinian territories on the West Bank. In an interview this week, Sharon's chief of staff, Dov Weissglas, said Secretary of State Condoleezza Rice reaffirmed this understanding in a secret agreement reached between Israel and the United States in the spring of 2005, just before Israel withdrew from Gaza.
REAL LIFE. REAL NEWS. REAL VOICES.
Help us tell more of the stories that matter from voices that too often remain unheard.