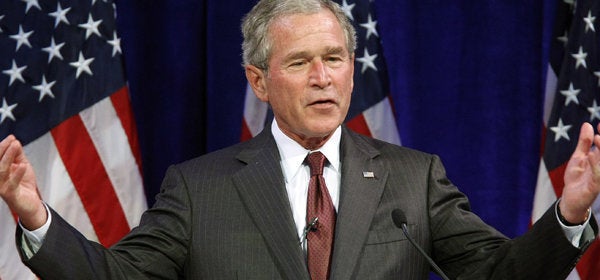 Former President George W. Bush has been remarkably reticent since Barack Obama took office, saying that the new commander in chief "deserves my silence." Apparently, that's no longer the case. At a speech in Erie, Pennsylvania Wednesday night, Bush broke his vow in all but word.
"I told you I'm not going to criticize my successor," he said. "I'll just tell you that there are people at Gitmo that will kill American people at a drop of a hat and I don't believe that persuasion isn't going to work. Therapy isn't going to cause terrorists to change their mind."
ABC News has pointed out that it was the Bush administration that sent terrorists to therapy -- a Saudi jihadi rehabilitation camp -- with "decidedly mixed success."
Bush's critique extended to Obama's domestic policy.
"Government does not create wealth," Bush said. "The major role for the government is to create an environment where people take risks to expand the job rate in the United States."
Asked during a question-and-answer session if he thought his successor's policies were "socialist," Bush began saying "depends on..." then stopped and concluded, "We'll see."
In a recent speech in Michigan, Bush defended his actions in office but did not reference the current administration's policy. I didn't like it when a former president criticized me, so therefore I am not going to criticize my successor," he said at the time. "I wish him all the best."
In Thursday's White House briefing, Press Secretary Robert Gibbs responded to Bush's criticisms.
"We kept score last November, and we won," Gibbs said. But he did address some specific policy disagreements.
On the administration's involvement in the economy, Gibbs said Obama inherited "massive unemployment, a huge deficit, insolvent banks," and faced car companies "being handed billions of dollars" but still "coming back every few months to ask for more."
On Guantanamo, Gibbs pointed to the Bush administration's transfer of detainees to Saudi Arabia and said he didn't understand the former president's point of view.
"I'd be happy if he can clarify," Gibbs said.
Popular in the Community