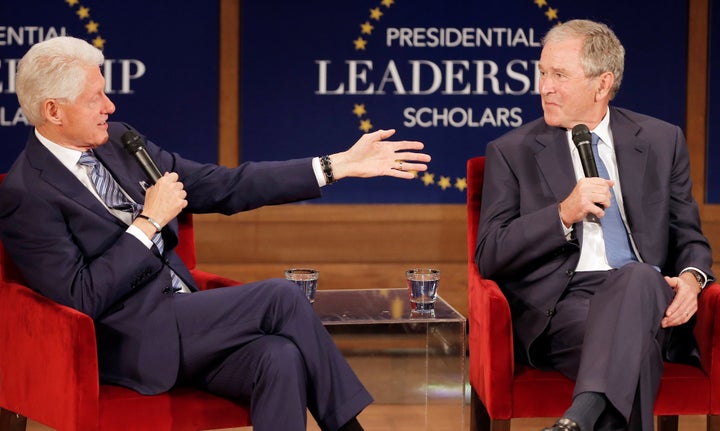 The pair, speaking in Dallas at the George W. Bush Presidential Library, spoke about their post-office friendship, and, although they didn't mention the current president by name, several reporters noted their comments appeared to indirectly reference the current climate in the White House.
"I think it starts with Bill Clinton being a person who refused to lord his victory over dad. In other words, he was humble in victory, which is very important in dealing with other people," Bush, speaking about Clinton's 1992 defeat over his father, George H.W. Bush, told a crowd gathered for the graduation of the Presidential Leadership Scholars program. "I think Dad was willing to rise above the political contest. It starts with the individual's character, and both men in my judgment displayed strong character and therefore their friendship was able to be formed."
Bush was also asked what the most important quality is to be commander in chief. His reply: "Humility."
"I think it's really important to know what you don't know and listen to people who do know what you don't know," he said, according to NPR.
Clinton continued with a similar sentiment: "If you want to be president, realize it's about the people, not about you."
"You want to be able to say, 'Things were better off when I quit, kids had a better future, things were coming together,'" he said. "You don't want to say, 'God, look at all the people I beat.'"
During the talk in Dallas, former President Clinton lamented the current state of American politics, saying an increasing divide between political ideologies had him worried about the future.
"One of the things that is wrong with America today, that bothers me more than anything else about our future, is we have separated ourselves into like-minded communities," Clinton said. "Diverse groups make better decisions than homogeneous ones. Everyone knows that, but they almost can't help themselves."
The pair, however, both said they'd recommend the presidency to young people today, with Clinton noting he'd advise the next generation to seek to hold the office "in a heartbeat."
Watch the entire conversation between the two below:
Popular in the Community