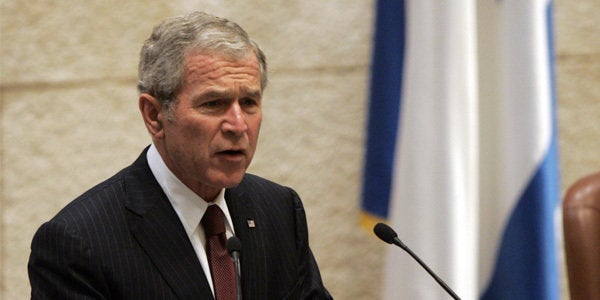 President Bush has said repeatedly that he would not insert himself into the presidential race, but that stance changed dramatically today during his trip to Israel. After likening Iran's President Mahmoud Ahmadinejad to Osama bin Laden, Bush compared Barack Obama to Nazi appeasers:
"Some seem to believe we should negotiate with terrorists and radicals, as if some ingenious argument will persuade them they have been wrong all along," said Bush, in what White House aides privately acknowledged was a reference to calls by Obama and other Democrats for the U.S. president to sit down for talks with leaders like Iranian President Mahmoud Ahmadinejad.

"We have heard this foolish delusion before," Bush said in remarks to the Israeli Knesset. "As Nazi tanks crossed into Poland in 1939, an American Senator declared: 'Lord, if only I could have talked to Hitler, all of this might have been avoided.' We have an obligation to call this what it is -- the false comfort of appeasement, which has been repeatedly discredited by history."
Obama himself quickly responded to the comparison, calling it a false attack and listing past presidents who didn't think that diplomacy was such a bad idea:
"It is sad that President Bush would use a speech to the Knesset on the 6Oth anniversary of Israel's independence to launch a false political attack. It is time to turn the page on eight years of policies that have strengthened Iran and failed to secure America or our ally Israel."

"Instead of tough talk and no action, we need to do what Kennedy, Nixon and Reagan did and use all elements of American power -- including tough, principled, and direct diplomacy -- to pressure countries like Iran and Syria. George Bush knows that I have never supported engagement with terrorists, and the President's extraordinary politicization of foreign policy and the politics of fear do nothing to secure the American people or our stalwart ally Israel."
It was only yesterday that Secretary of Defense Robert Gates argued that United States needed to engage with Iran:
"We need to figure out a way to develop some leverage . . . and then sit down and talk with them," Gates said. "If there is going to be a discussion, then they need something, too. We can't go to a discussion and be completely the demander, with them not feeling that they need anything from us."
UPDATE: What are the odds? Sen. Lieberman sides with Bush on this one:
"President Bush got it exactly right today when he warned about the threat of Iran and its terrorist proxies like Hamas and Hezbollah. It is imperative that we reject the flawed and naïve thinking that denies or dismisses the words of extremists and terrorists when they shout "Death to America" and "Death to Israel," and that holds that--if only we were to sit down and negotiate with these killers--they would cease to threaten us. It is critical to our national security that our commander-in-chief is able to distinguish between America's friends and America's enemies, and not confuse the two."
UPDATE: Obama's communication director has also weighed in on what he calls "cowboy diplomacy":
In a telephone interview on CNN just a few minutes ago, Robert Gibbs, the communications director for Senator Barack Obama, called Mr. Bush's remarks "astonishing" and an "unprecedented political attack on foreign soil."
UPDATE: Rahm Emanuel has chimed in as well:
The tradition has always been that when a U.S. President is overseas, partisan politics stops at the water's edge. President Bush has now taken that principle and turned it on its head: for this White House, partisan politics now begins at the water's edge, no matter the seriousness and gravity of the occasion. Does the president have no shame?
UPDATE: Howard Dean has called on McCain to reject Bush's statements:
"On the same day John McCain is talking about putting partisanship aside, the President launched a cheap political attack while on a state visit honoring the 60th anniversary of Israel, one of America's greatest allies. Bush's outrageous comments are an embarrassment to our country, not based in fact and bring us no closer to our goal of ending terrorist attacks against Israel and bringing peace to the region. If John McCain is really serious about being a different kind of Republican, he'll denounce these remarks in the strongest terms possible."
UPDATE: John McCain isn't listening to Dean. He has agreed with President Bush's statements, and even thrown in a reference to Neville Chamberlain:
"Yes, there have been appeasers in the past, and the president is exactly right, and one of them is Neville Chamberlain,'' Mr. McCain told reporters on his campaign bus after a speech in Columbus, Ohio. "I believe that it's not an accident that our hostages came home from Iran when President Reagan was president of the United States. He didn't sit down in a negotiation with the religious extremists in Iran, he made it very clear that those hostages were coming home.''

Asked if he thought that former President Jimmy Carter, who struggled with the hostage crisis, was an appeaser, Mr. McCain replied: "I don't know if he was an appeaser or not, but he terribly mishandled the Iranian hostage crisis.''
UPDATE: Nancy Pelosi has echoed Howard Dean and Rahm Emanuel's comments:
House Speaker Nancy Pelosi said Thursday that Bush's remarks were "beneath the dignity of the office of the president and unworthy of our representation" at the celebration of Israel's 60th anniversary.

Referring to Sen. John McCain, Pelosi said: "I would hope that any serious person that aspires to lead the country, would disassociate themselves from those comments."
UPDATE: Sen. Reid has joined the pile on:
"Not surprisingly, the engineer of the worst foreign policy in our nation's history has fired yet another reckless and reprehensible round. More than seven years into his Presidency and in the sixth year of the directionless Iraq war, President Bush has yet to learn that his brand of divisive partisan rhetoric is precisely what has made America and our allies less secure. And for the President to make this statement before the government of our closest ally as it celebrates a remarkable milestone demeans this historic moment with partisan politics.

"President Bush's own actions demonstrate that he believes negotiations - at the right moment, under the right conditions and with the right leaders - can both show strength and produce results. He has relied on negotiations with North Korea and Libya, two state sponsors of terror. And by conducting discussions with Russia, China, Libya, North Korea and Iran in recent years, President Bush has demonstrated his belief that negotiations can be a tool to advance America and Israel's national security interests. I call on the President to explain the inconsistency between his Administration's actions and his words today."
First, it's absolutely shameless that an American President would use a speech in front of a foreign government to launch such a petty political attack. President Bush has abused the dignity of the office in ways that make especially ironic his long ago pledge to "restore dignity and integrity to the Oval office."

Perhaps worse -- he's not even right on the facts, and he knows it. Like Representatives Boehner and Cantor, President Bush just makes up policies to attack. Barack Obama opposes negotiating with terrorists. And always has. This is just another example of the disingenuous habit of this administration to create "some people" whom they can argue against, strawman arguments that they can use in their disgusting political attacks.
"This is bullshit, this is malarkey. This is outrageous, for the president of the United States to go to a foreign country, to sit in the Knesset ... and make this kind of ridiculous statement."
"He is the guy who has weakened us," he said. "He has increased the number of terrorists in the world. It is his policies that have produced this vulnerability that the U.S. has. It's his [own] intelligence community [that] has pointed this out, not me."

Biden noted that Secretary of Defense Robert Gates and Secretary of State Condoleezza Rice have both suggested that the United States ought to find a way to talk more with its enemies.

"If he thinks this is appeasement, is he going to come back and fire his own cabinet?" Biden asked. "Is he going to fire Condi Rice?"
Popular in the Community