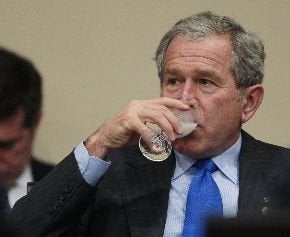 The Peru news agency Andina notes that President Bush was drinking a Peruvian cocktail during the recent APEC summit:
Peru has successfully promoted its national drink "Pisco Sour" during the Asia Pacific Economic Cooperation (APEC) Leaders' Summit, Peru's Environment Minister Antonio Brack said Sunday.

He noted that the flagship drink of Peru was well acepted by international guests, including Japan's Prime Minister, Taro Aso.

"Pisco Sour has been the "star" of the APEC Summit, the drink was served in several meetings at the Government Palace and the APEC Summit venue," he told CPN Radio.

...

U.S. President George W. Bush, who quit drinking at 40, was apparently drinking a Peruvian cocktail during a meeting on Saturday.

Pisco Sour is a cocktail containing Pisco (a Peruvian brandy), lemon juice, egg whites, simple syrup, and regional bitters.

Bush is pictured drinking the cocktail here: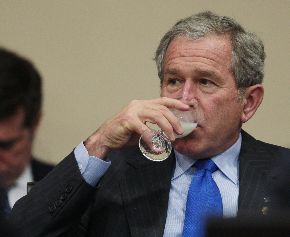 Of course, the president often drinks non-alcoholic beer; he could easily be drinking a non-alcoholic Pisco Sour in this shot.
Popular in the Community