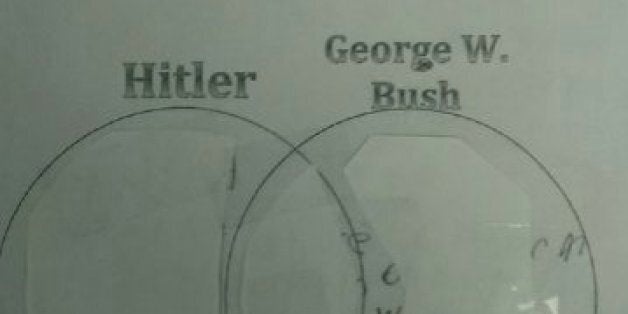 A Washington, D.C., middle school assignment asking students to compare former president George W. Bush with Adolf Hitler has upset some parents and community members.
The assignment at McKinley Middle School asked sixth graders to compare the two figures in a Venn diagram, according to USA Today. Instructions say students "have read about two men of power who abused their power in various ways," and asks them to refer to the articles "Fighting Hitler -– A Holocaust Story," and "Bush: Iraq War Justified Despite No WMD."
A statement from D.C. Public Schools said the teacher "admits to extremely poor judgment and short sightedness and will apologize to students. The school will also send a letter home to families explaining the incident and offering to address any additional questions should they arise."

The statement said that the assignment is not part of district curriculum, although students are expected to learn about broader ideas surrounding war and peace. It continued:
This week, a DCPS teacher created a worksheet to assign as homework which asked students to compare and contrast President George W. Bush and Adolf Hitler, after reading two texts. No DCPS curriculum materials suggest in any way that teachers should compare the texts in this manner or compare Hitler to any other individual … The teacher deeply regrets this mistake, and any suggestion to malign the presidency or make any comparison in this egregious way.
Kaya Henderson, chancellor of D.C. Public Schools, addressed the incident on Twitter:
No DCPS curriculum says to make these comparisons in any way. A deeply apologetic teacher used poor judgment & will apologize to students.

— Kaya Henderson (@HendersonKaya) September 11, 2014
Popular in the Community