In a shift of strategy that indicates an increasingly weakened political position, President Bush has included at least $2.51 billion for projects unrelated to the wars in Iraq and Afghanistan in his latest "emergency" supplemental request.
The additional funding belies Bush's repeated calls for spending bills without assorted extras.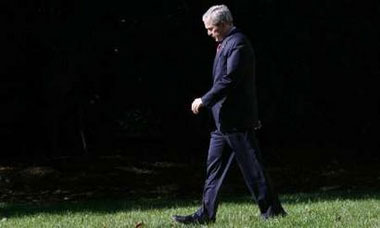 On Tuesday, the president criticized Democrats' for pursuing the "cynical" political strategy of tying education and health spending bills to defense and veterans funds in order to get the money past a threatened veto. Congress should pass "clean" defense spending bills, Bush insisted.
It was similar to a call Bush made last week when he unveiled his proposal for $46 billion in additional supplemental spending to fund the wars in Iraq and Afghanistan.
In considering the new request, Congress "should pass a good, clean bill as soon as possible," so that troops could the bullets and body armor they needed, Bush said.
But an analysis of the president's own supplemental request shows that he might be willing to muddy the waters a little bit, if it means that he can get an unpopular spending bill through Congress.
Tucked within the president's proposal are hundreds of millions of dollars for spending in countries as far-flung as Mexico, Central America, Sudan, Gaza, the West Bank, Pakistan, Djibouti and North Korea.
Among the programs folded into the war supplemental are $500 million in assistance to Mexico to fight organized crime and narcotics trafficking, $350 million in food aid to Africa and $723 million for peacekeeping and humanitarian aid in Darfur.
Although the dollar figures are a drop in the bucket compared to the overall funding request, they show that the president is trying to use non-war related items to win over lawmakers who might be wary of a supplemental spending package that the public largely opposes.
A Washington Post/ABC News poll conducted in late September showed that only a quarter of those surveyed supported the president's entire war spending plan, which now approaches $200 billion for fiscal year 2008.
"From a political standpoint it's a smart move," said one official at a D.C.-based anti-war advocacy group. "Ideally he would have submitted [the other items] as one-line item supplementals."
Other items include $106 million in energy assistance for North Korea, $35 million for refugees in the West Bank and Gaza, and $80.2 million for construction of dining and water facilities at a military base in Djibouti.
Democrats have said they will not consider the new war-funding plan until next year. As with all spending bills, the president's budget request is simply a proposal, and it will be up to lawmakers in the House of Representatives to craft the actual legislation.
Popular in the Community