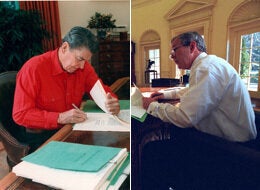 **Scroll down for slideshow**
One day after President Bush's former Chief of Staff Andrew Card blasted President Obama for breaking the Bush dress code, which reportedly required that a jacket be worn by anyone entering the Oval Office, we've unearthed a photo of, well, a jacketless President Bush in the Oval Office.
On Wednesday night, Card told "Inside Edition" that "there should be a dress code of respect....I wish that [Obama] would wear a suit coat and tie." Much has been made of Obama's informal appearance in a photograph taken on January 21st, the day after his inauguration.
The photo of Bush was taken on January 22nd, 2001--two days after his own inauguration.
Card also told "Inside Edition":
"The Oval Office symbolizes...the Constitution, the hopes and dreams, and I'm going to say democracy. And when you have a dress code in the Supreme Court and a dress code on the floor of the Senate, floor of the House, I think it's appropriate to have an expectation that there will be a dress code that respects the office of the President."
Ironically, the photo shows Bush signing papers with staff secretary Harriet Miers, whom he went on to nominate for the Supreme Court in 2005. (She later withdrew her nomination.)
It turns out that going casual in the Oval Office is a long, time-honored tradition that pre-dates the Bush administration: JFK did it. Gerald Ford did it. Ronald Reagan did it. Jimmy Carter did it. Clinton did it (a lot). See photographic evidence below.
In response to the Andrew Card controversy, Reuters' Jon Decker told MSNBC on Thursday morning that Bush "always wore a suit and tie in the Oval Office. There was never a picture of him that was seen by the public in which he wasn't wearing a suit and tie." Until now.
Will Andrew Card issue an apology? Only time will tell.
Related