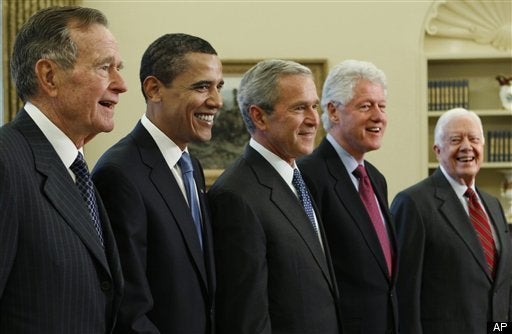 George W. Bush took a shot at fellow ex-president Jimmy Carter during this morning's closed-door reunion breakfast for Bush-Cheney alums, saying Carter "made my life miserable."
While discussing his future plans, according to Mike Allen, Bush implicitly criticized Carter for offering him unsolicited advice during Bush's presidency.
"I have no desire to see myself on television. I don't want to be a panel of formers instructing the currents on what to do. ... I'm trying to regain a sense of anonymity. I didn't like it when a certain former president -- and it wasn't 41 or 42 -- made my life miserable," Bush said.
As ThinkProgress noted, there's little question that Carter, No. 39, was Bush's target; the only other two ex-presidents living during his tenure -- Ronald Reagan, No. 40, and Gerald Ford, No. 38 -- didn't have much to say about the Bush administration. Carter, on the other hand, offered several unflattering assessments on the record. This is not the first time part of the Bush-Cheney camp has attacked Carter, either.
Popular in the Community