WASHINGTON -- The George W. Bush Presidential Library and Museum opened May 1 on the campus of Southern Methodist University in Dallas after much anticipation. The $250 million library brought together all living presidents for a dedication ceremony on April 25, where they showered praise on the 43rd president of the United States.
But according to the Democratic nonprofit group Bridge Project, which focuses on "exposing the conservative movement's dishonest tactics," the library's version of the Bush legacy suffers from selective memory loss. Bridge Project thus created a library of its own Thursday, in the form of a website BushRewrite.org, which the group said will "rectify the falsehoods and omissions of the Bush library."
The timing coincides with the eighth anniversary of Hurricane Katrina, a low point of Bush's two-term presidency. The Bush library has already been accused of glossing over Katrina, which killed 1,833 people and destroyed an estimated $81 billion in property. The library overlooks the Bush administration's delayed reaction and includes no pictures of the desperate crowds at the Louisiana Superdome or the New Orleans Morial Convention Center -- images that quickly spurred suggestions that race was a factor in the muted federal response.
The halls of the Bush library ignore other disturbing facts, the Bush Rewrite states on the website. The Huffington Post was offered an exclusive look at the website, which says that the Bush White House "was plagued by a series of scandals and controversies" and "policy failures." It contains pages with what Bridge Project calls a "stark reminder" of Bush's true legacy, ranging from the economy, which revisits events preceeding the 2008 financial collapse, to war and national security, which highlights the Bush administration's torture and rendition programs.
The Bush Rewrite also recalls Bush's record on education, environmental policy and Social Security. In some cases, the website displays pictures taken at the Bush Library to underscore the contrast between the museum's more favorable remembrance with media reports.
A section called "The Missing Wing" is dedicated to controversial moments under Bush's presidency that his library chose not to mention, such as the roles played by Vice President Dick Cheney and senior adviser-turned-deputy chief of staff Karl Rove, the Abu Ghraib prisoner torture scandal, and Bush's support for a constitutional amendment banning same-sex marriage.
Bridge Project also uses the website to argue that congressional Republicans continue pushing policies that are harmful today.
The Bush library contents are "American fiction," Eddie Vale, vice president of Bridge Project, told HuffPost. "The inaccuracies and omissions are a disservice to the annals of history, but ignoring the lessons of the Bush administration poses a threat to our nation's future. The failure to recognize the consequences of Bush's policy decisions is why today's congressional Republicans are even more ambitious than Bush ever was in pursuing the policies that served as the catalyst for the crises from which we are still recovering."
Before You Go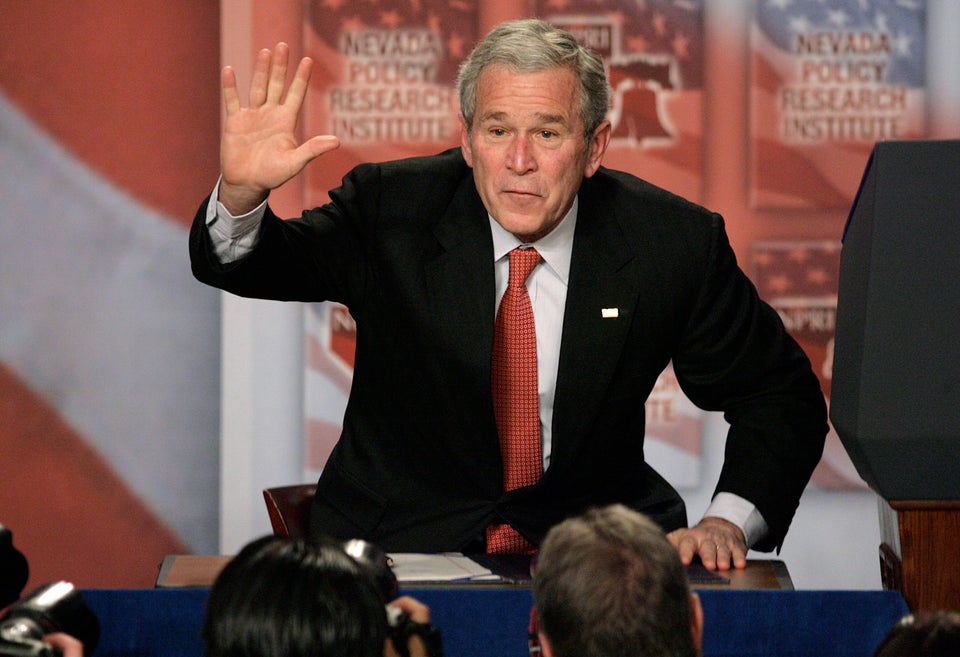 George W. Bush Does The Wave
Popular in the Community