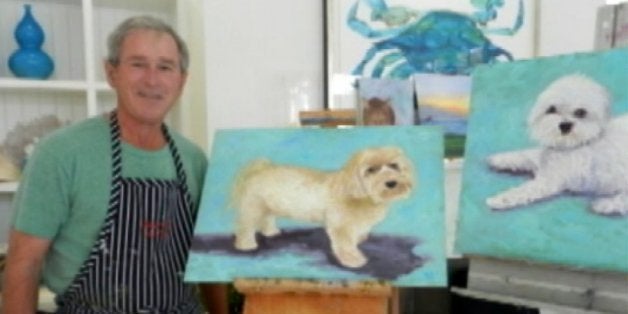 As Time notes, the George W. Bush Presidential Center in Dallas, Tex. announced yesterday that "more than two dozen never-before-exhibited portraits painted by President Bush" will be part of a special exhibition starting in April.
Critical opinion on Bush's artistry has been split so far. After those inexplicable tub portraits leaked last year, Gawker proclaimed them "awkward" and "simple," while Jerry Saltz saw a technique "part Grandma Moses, part Thomas Kinkade, part the dry, flickering, detailed brushwork of contemporary artist Ellen Altfest." (In other words, triple threat.) A recent Vanity Fair analysis even credited the flat, Alex Katzian paintings with making Bush "cool" all of a sudden.
In large part, the hubbub has to do with the ex-prez's quirky choice of subject. Since picking up the brush post-retirement, he's tended to paint either dogs, cats, or clinical renderings of himself naked in the bath.
These preoccupations probably won't be seen in Dallas though. According to the press release: "The Art of Leadership: A President's Personal Diplomacy will educate and inform visitors about the important role leadership plays in global diplomacy, and will provide an insider's view into President Bush's unique relationships with other world leaders."
Wild guess: these won't go over as smoothly as the cat pics.
Popular in the Community