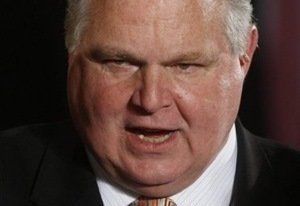 Former President George W. Bush pushed back Sunday against criticism -- levied most prominently by talk radio host Rush Limbaugh -- that his successor, President Barack Obama, was somehow politicizing the disastrous earthquake in Haiti.
"I don't know if -- what they're talking about," Bush declared during an appearance on NBC's "Meet the Press." "I've been briefed by the President about the response. And as I said in my opening comment, I appreciate the president's quick response to this disaster."
This past week, Limbaugh insisted that the Obama White House would use the catastrophe in Haiti to "burnish" the president's standing and credibility "with the black community, in the both light-skinned and dark-skinned black community, in this country."
"It's made-to-order for 'em," Limbaugh said. "That's why he couldn't wait to get out there. Could not wait to get out there."
Joined by former President Bill Clinton during a series of interviews on the Sunday shows, Bush also touted the need to get relief to the Haitian people, in both a streamlined and responsible way. Asked by host David Gregory if he drew any lessons from the recovery efforts after Hurricane Katrina (widely regarded as tragically bungled), Bush replied:
"First of all, it takes time to get the supplies in place. That shouldn't deter them. In other words, there's an expectation-- amongst people that things are going to happen quickly. And sometimes it's hard to make things happen quickly. Secondly, there is a great reservoir of good will that wants to help. And that's why he asked us to help, and we're glad to do it."
Popular in the Community